24 years after the tragedy, Journey continues its fight against drunk drivers Courts-Police-Fire
Jackie Esworthy (left) and her older sister Jennifer were killed by a drunk driver in 1997.

Provided

OGDEN – For 24 years, Ogden's Jim Esworthy has used the pain of losing his only two daughters to a drunk driver to get some positive fuel.
"I would never have imagined it," he said of the good that would come of Journey, a foundation he founded in July 1997 to provide police with better tools to combat disabled drivers.
On June 8, 1997, a Kankakee man with a history of drunk driving was on the broadside of the car in which he, his wife Barb, daughters Jennifer, 22 and Jackie, 18, and Jennifer's fiancé Daryl Brower were in the vicinity of Chebanse in the US were 45.
Jim and Barb Esworthy were seriously injured. Jennifer, who they called JJ, and Jackie died on the street. Brower also received broken ribs, cuts, and bruises.
A month later, with the help of many friends, the Esworthys launched Journey to buy cameras specifically for police cars so that drunk drivers could be tracked immediately and the information that was being used to track them could be recorded.
On Tuesday, Journey will give an additional $ 20,000 to the Champaign County's office and the University of Illinois Police Department, the two beneficiaries of the organization's years of generosity.
"It's about $ 174,000," said Jim of the running sum made available to the two departments.
The Esworthys lived in Ogden, which is under the jurisdiction of the sheriff's office. JJ had recently graduated from the University of Illinois and Jackie had been admitted for the 1997 fall semester.
"Such funding makes a lot of sense," said Sheriff Dustin Heuerman. "Not only does it help provide the resources we need, it also shows that the community is ready to work with the sheriff's office to make our roads safer."
Alice Cary, chief of police at UI, described Journey as "a great example of what we can do when we work together".
"It takes a persistent and extremely good-willed person to turn a tragedy like what the Esworthys experienced into something that benefits the community," she said. "It is very likely that lives were saved because they could."
Jim is 81 years old and continues to be Journey Treasurer. With him there are other friends on the board, including JE Miller and his sister Jo, whose family was also disturbed by a drunk driver years ago, and Ross and Carolyn Brower, whose son Daryl JJ is about to marry
But Jim's right-hand wife and Journey co-founder, Barb, passed away in September 2019.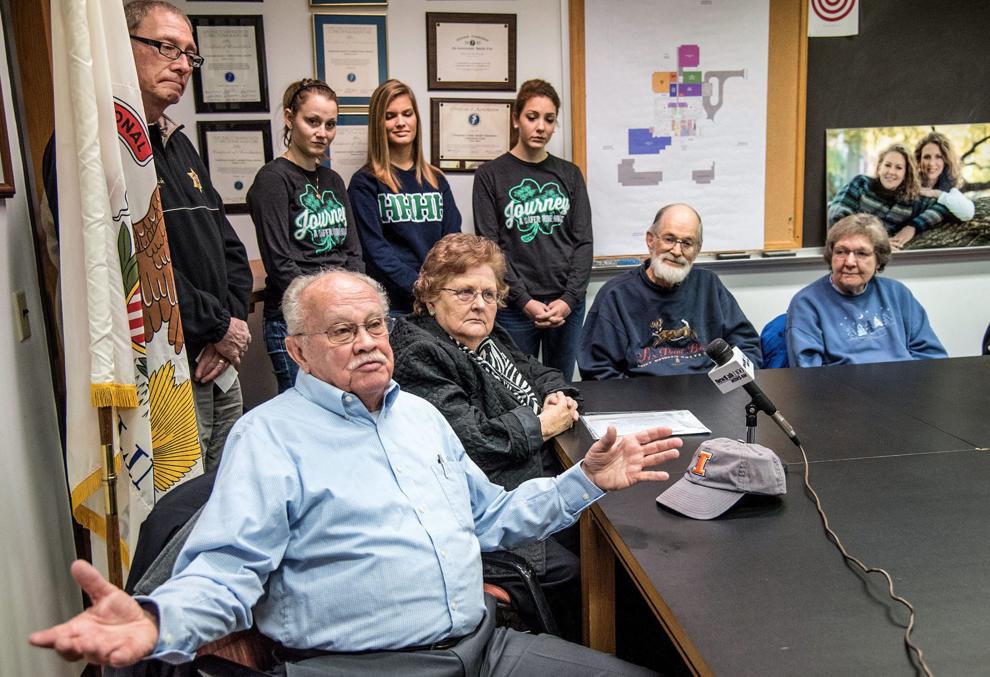 Jim and the late Barb Esworthy, whose daughters Jennifer and Jackie, far right in the photo, were killed by a drunk driver in 1997, discuss the need for further enforcement of DUI laws after receiving donations from Journey, the organization they founded, submitted to the Champaign County Sheriff's Office and the University of Illinois Police Department in December 2015 to help fund resources. Behind them is the then sheriff Dan Walsh from the left; Members of the UI 4-H house their daughters lived or planned to live in while attending the UI; and the board members of Journey, Ross and Carolyn Brower, whose son was engaged to the Esworthys' older daughter.

Heather Coit / The News-Gazette

In a completely random way – let's call it divine intervention – they got some kind of gift while Barb was near death that month at the Carle Foundation Hospital.
Jim was on his way home for the evening when he saw a woman in the hall pushing her husband into a wheelchair and heard them talk about the complexities of leaving the building with ongoing construction work.
He was ready to offer help when she asked if he was Jim Esworthy, "the father of the girls who were killed," and recognized him from previous news reports.
"I've wanted to talk to you for so many years, but I hated calling you because I didn't want to mention it," he recalled her statement.
But what Jim Esworthy heard next from the mouths of Judy and Paul Bottorff of Quincy, formerly Crescent City, pleased his heart.
"My husband and I came across this crash right after the accident," said Judy Bottorff to him.
Jim remembered being on the ground, Barb wandering around in a daze, Jackie died instantly of a broken neck, and JJ, they were told, was in a muddy cornfield unresponsive.
Judy Bottorff told him that her husband went to Jackie, kneeled next to her and covered her with his coat when a light rain came down.
She said to him, "I went to the other girl (JJ). I knelt next to her and she talked to me, "he said.
"I said, 'Really? 'We were told that neither girl had regained consciousness and this is all new information for Barb and me,' Jim told the Good Samaritans who have daughters about the ages of JJ and Jackie.
Although the Bottorffs were in a hurry to leave the hospital, Jim said he called them later and learned that JJ's last tedious words concerned her family and fiancé.
Instead of leaving the hospital that night, Jim returned to his wife's room and excitedly shared this little piece of information with her. Knowing that her daughter didn't die alone "only made Barb and me feel better."
Barb said, 'Boy, Jim, there are still good people in this world. I hope you told them how much we appreciated what they did, "he said, assuring her that he did it.
Barb's death and the isolation sparked by the pandemic six months later were a "double blow" to Jim.
Last fall, he was one of more than 20,300 Champaign Counties to contract COVID-19. He has since recovered with no apparent consequences.
The considerate retired farmer has attended funerals for years to comfort others who have lost loved ones to drunk drivers. He shared his family's story with high school students during prom and graduation to make them think twice about drinking and driving. He and other Journey members helped strengthen state laws.
The pandemic disrupted Journey's ability to make public donations to the departments, which they like to do to remind people that they are still active.
Journey receives ongoing support from the 4-H house on the UI campus where JJ lived and Jackie wanted to live. Since her death, numerous young women she had never known have planned and carried out fundraising campaigns for the organization.
Jim worries about the future of Journey when he and his fellow board members are gone. But as a farmer he said, "I have to be an optimist."
"I'm doing my best for Jennifer, Jackie and Barb," he said.