Cougarettes' 22nd national title highlights locals' strong weekend at national meet
BYU's Cougarettes perform in Provo on Saturday, Jan. 22, 2022. (Jeffrey D. Allred, Deseret News)
Estimated read time: 5-6 minutes
PROVO — Something strange happened last year when the BYU Cougarettes went to the National Dance Association and National Cheer Association Collegiate Cheer and Dance Championships in Daytona Beach, Florida.
They lost, finishing second overall, in the Jazz division — by two-tenths of a point.
And it's not that the dancers felt disappointed with a second-place finish in one of their top disciplines — they still won the hip hop category in Division IA, after all, and celebrated the 20th national title in program history.
But working hard is a standard, improving is a standard, and winning has become a standard in Provo. So within a few weeks of flying back to Utah, the Cougarettes got back to work.
Practice every morning, afternoon and evening; extra sessions long after co-head coaches Stacy Bills and Morgan St. Pierre had gone home. The Cougarettes were grinding, day in and day out, six days a week.
And by last Saturday, it all paid off.
Instead of the celebratory photo with one championship trophy, the Cougarettes had two, with scores of 96.9714 in jazz that beat out second-place West Virginia by more than two points, and a 98.5286 in hip hop for their third-straight championship since 2019 ( the 2020 championships were canceled due to COVID-19).
"We came back with a vengeance," said Bills, who won her third national title as a coach to go along with two from her days with the squad. "We had so many supporters that were there; it was a real nationals with thousands of people everywhere.
"Last year, it was two-tenths of a point that separated second and first," she added in an appearance on ESPN radio in Utah County. "A lot of our motivation this year was on tiny adjustments; don't let anything slip. … It gave this drive that was insane. We'd finish a three-hour practice, I'd be leaving, and helped my team was still in the studio continuing to work. Win or lose, they did not want to look back and say that they didn't do everything they could."
It's not that the Cougarettes expect to walk in and win every year. But with 14 championships since 2011, there's a standard at BYU. And the team, who all had to try out to make the squad last spring like dancers do every year, felt as if they didn't live up to that standard.
"With the legacy the Cougarettes have created, I would call BYU a dance school," said Rachel Hansen, a Corner Canyon product. "Every girl on the team has trained to be a Cougarette since they were 3 years old, just like I have.
"It's a grind. Once you make the team, you have to audition every single year. We practice six days a week; it's a total grind, and we feel the unity and hard work as we go to practice every single day together."
In climbing back to the top of the jazz mountain, the Cougarettes also did some things they've never done, jumps they've never attempted, turns they've never tried, full 360s that caused other squads to gasp.
When the Cougarettes walk into a competition, they can feel all eyes on the back of the jackets, Hansen said. Living up to the standard set by generations before them can be pressure, but pressure is also a privilege. Every year, they feel like they have to do something new — one-up themselves from the previous year. This year, that feeling multiplied exponentially.
"We've never done anything quite like either of them," Hansen told BYUtv of the jazz and hip-hop routines. "In Jazz, we normally take a more lyrical route, but this year was more contemporary. It was all very different.
"It was comforting to know that we were taking a risk, and we'll see what works."
Bills said she can usually find a mistake or small improvement to be made, maybe even a reason to criticize every one of her team's performances. But that was difficult to do in the Cougarettes' final performance to "Baseline" choreographed by Shandon Perez.
"It was dominant," she said. "They did nothing wrong; in all of my years, I've seen few things that were as perfect as they were (in hip hop). Judges said it was an honor to be in the presence of that."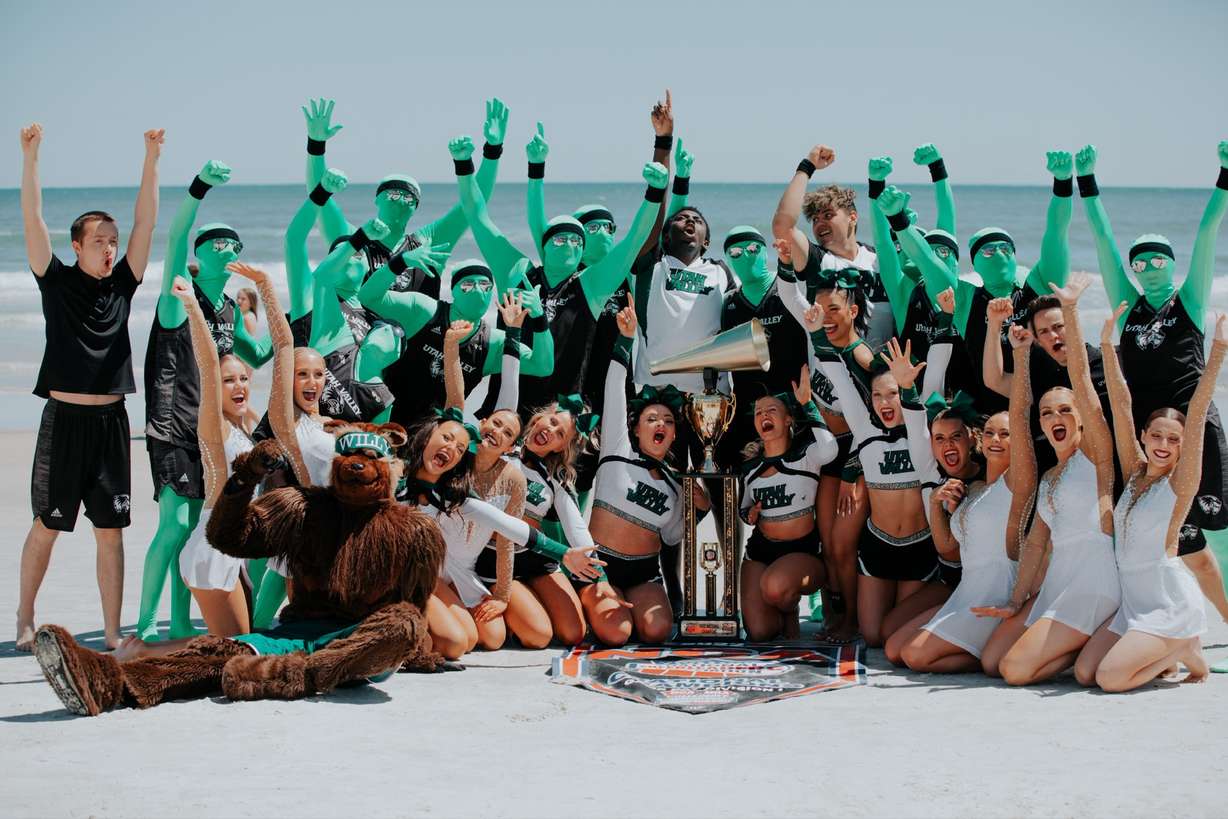 Utah Valley University's dance team placed first in the Jazz dance category by outscoring all 65 teams in all of the five collegiate divisions at the 2022 NCA/NDA Collegiate Cheer and Dance Championship at Daytona Beach, FL on April 8. (Photo: Utah Valley University courtesy photo)
The Cougarettes weren't the only ones, either. Dancers across the Wasatch Front brought home mounds of hardware from Daytona Beach.
Utah Valley brought home the national title in Division I jazz, beating schools like Sam Houston State, James Madison, California Baptist and Weber State, while finishing second in hip hop. The Wildcats also finished third in hip hop.
The Wolverines' spirit squad took first in the Division I Game Day routine en route to all-around third place in cheer.
"The talent and atmosphere at the NCA college national competition is electric," UVU spirit squad director Kati Marsing said. "And our students were simply amazing. Their hard work, grit, and determination paid off with exceptional performances. We are very proud of them."
Weber State won its fifth-straight national championship in Division I large coed cheer, posting a final score of 98.55 to win the event by nearly four points. The Wildcats also took home titles in Division I small coed, and took the top three spots in individual partner stunting.
The talent up and down the Wasatch Front was certainly something to behold in the flight home from Daytona Beach to Salt Lake International.
"It's interesting how talent breeds talent," Bills said. "If you have a demographic that is good at something, it spreads in that area. And then you have more people move into the area and make hip hop or jazz more accessible. It just continues to spread."
×
Photos
Related Stories
Sean Walker graduated from Syracuse University and returned to his home state to work for KSL.com covering BYU, prep sports and anything else his editors assign him to do. When he's not covering a game, he's usually listening to Broadway soundtracks or hiking with his dog.
More stories you may be interested in