'Doing it Nani's way': Falatea taking her shot to lead BYU women's basketball
BYU guard Nani Falatea takes a shot during the Cougars' win over Saint Mary's, Dec. 31, 2022 at the Marriott Center in Provo. (Donovan Kelly, BYU Photo)
Estimated read time: 4-5 minutes
PROVO — Growing up in a household of eight children, Nani Falatea was always hooping.
Whether against her older sister and Westminster guard Rae or one of her younger siblings, Falatea had a basketball in hand from a young age. Her mom Jamie and dad Charlie never drafted teams to play against each other — younger brother Michael was always committed more to football, any ways.
But it was rare for the two older Falatea sisters to not be playing, which is why when new BYU women's basketball coach Amber Whiting began calling her number for 32, 38 and even 40 minutes per game, Falatea didn't flinch.
This was normal — not the 3.2 points in 10.9 minutes per game she earned off the bench a year ago as a freshman.
The 5-foot-9 sophomore has rewarded her new coach in a big way, shooting 40% from the field for 13.7 points, 5.1 assists and 4.6 rebounds per game in 34.5 minutes per night for the Cougars ahead of Saturday's home tipoff against San Diego (2pm MST, BYUtv).
"Last year, I was definitely a role player, there to hit open shots and play solid defense," Falatea told KSL.com. "Now I have to do a little bit of everything, take more shots but also create more.
"I've had to flip it in my mind to do it rather than sit back and watch Paisley Harding or Shaylee Gonzales."
Falatea went off for a career-high 24 points on 10-of-16 shooting, including a pair of 3-pointers, in BYU's 66-41 home win over Saint Mary's, a win that helped the Cougars (7-8) to a third-straight victory to even up their West Coast Conference record at 2-2.
It hasn't always been easy for BYU, replacing Gonzales, Harding and roughly 85% of the offense from a year ago. But Falatea — along with double-double machine Lauren Gustin — have taken the changes in stride.
And boy, are there a lot of changes.
"Everything head-to-toe is new; it's a new team, new coach, and everything is different than it was last year," said Falatea, adding that Whiting's most consistent coaching drive is defense and fast play.
"There's a lot of running," she said with a laugh. "Lots of defence, lots of slides."
That's fine by Falatea, who won two state championships and was an all-state first-team selection by the Deseret News in back-to-back-to-back years at East High before her father moved her to Herriman as a senior when he got a new football coaching job.
The sharpshooter took that change in stride, too, earning 6A state player of the year while leading the Mustangs to a 22-4 record and a berth in the 6A championship game.
But in Whiting's first season, Falatea is proving she's more than a scorer, too. She also had seven assists, four rebounds, three blocks and three steals in that win over the Gaels. Even as a sophomore, Falatea's leadership has begun to show as a playmaking combo guard who can lead the Cougars into the Big 12 next year.
"She's taking a lot of pressure off her, and just playing ball," Whiting said. "At first, she kind of felt like she had such huge shoes to fill — and she has, but she's doing it Nani's way. It's not Shaylee's way or Maria's way or Lauren's way. That's what I've liked out of her; it's her leadership.
"I've been able to coach her a lot harder because I expect more out of her. But that's a really good thing."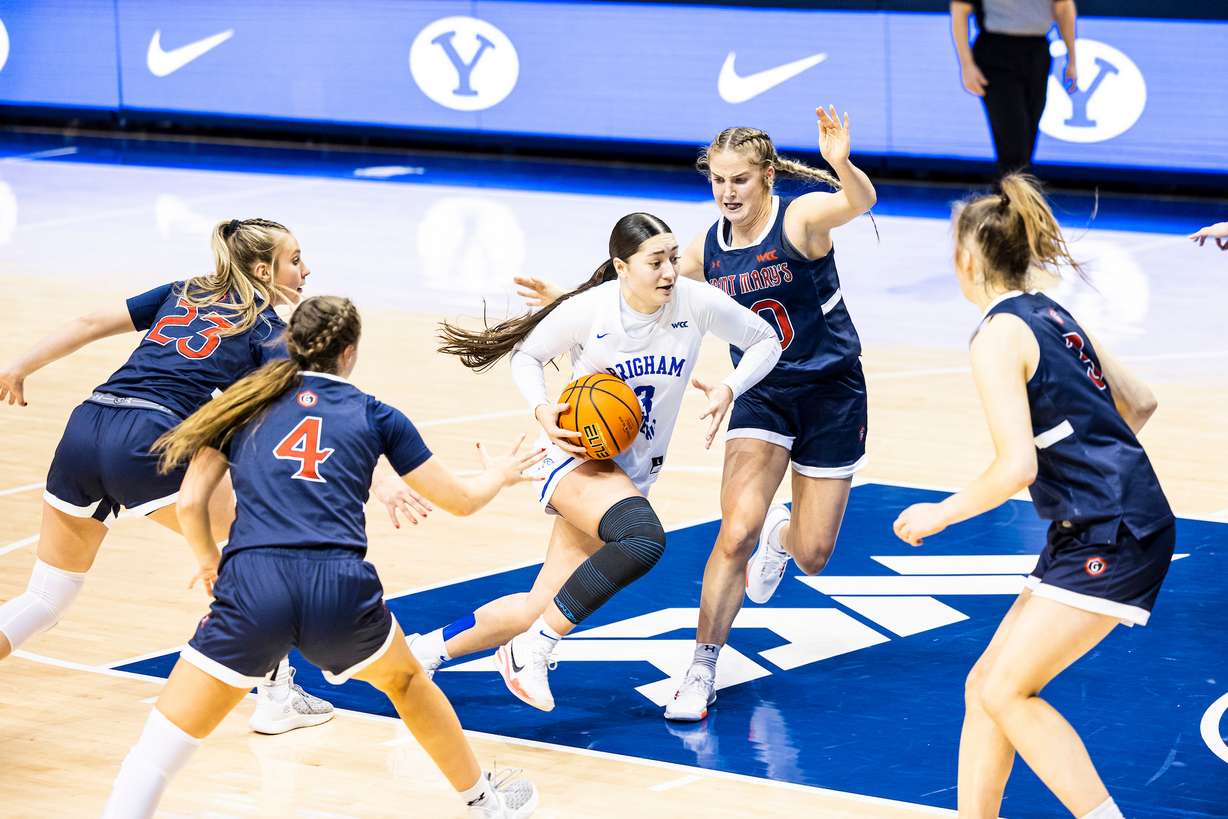 BYU guard Nani Falatea drives to take a shot during the Cougars' win over Saint Mary's, Dec. 31, 2022 at the Marriott Center in Provo. (Photo: Donovan Kelly, BYU Photo)
Leadership came easy to Falatea after growing up in a large family. Intelligence and court savvy, too.
An honor roll student every season of high school, Falatea learned Mandarin Chinese in elementary school through an immersion program in the Salt Lake City School District.
But when it comes to her connection with Gustin, the Cougars' double-double queen who leads the nation in the category and ranks among the top-three in every major rebounding statistic kept by the NCAA, the duo speak the same language.
"A lot of it is just communication; we talk to each other about everything," said Falatea, emphasizing that she never wants to take Gustin's own playmaking for granted. "We're always trying to help each other and be better with each other.
"But a lot of what she does is her; she's a monster."
The inside-out duo have been BYU's top playmakers on a young team trying to find themselves under a new coach. But Falatea and Gustin could lay the foundation for the program for years to come.
"When we get more playmakers on the floor, you can stretch the floor and drive," Whiting said. "It's not as easy to scout, and Nani is the epitome of that type of playmaker."
×
Photos
Most recent BYU Basketball stories
A proud graduate of Syracuse University, Sean Walker has covered BYU for KSL.com since 2015, while also mixing in prep sports, education, and anything else his editors assign him to do.
More stories you may be interested in