Dusty Campbell completes 285-mile rollerblade from Jackson to Salt Lake City | Sports Features
After Dusty Campbell triumphantly rolled into Liberty Park on Independence Day and waved an American flag, it promptly collapsed on the grass.
There, the 31-year-old physiotherapist was greeted by a small crowd and a flurry of puppy kisses from his German and Dutch shepherd Koa.
Campbell completed the 285-mile route from Jackson to Salt Lake City in just 47 hours and raised $ 15,200 for the Wounded Warrior Project, a nonprofit that helps veterans recover from mental and physical injuries. With these service members in mind, Campbell rolled through two nights and only rested for three 30-minute naps.
He was still on his bikes at 4:20 a.m. on July 4th, with about 80 miles to go.
When he first set out from Town Square in Jackson, there wasn't much fanfare. The stagecoach driver gave him a tip of the hat, and some tourists vaguely noticed the size of his wheels.
However, the symbolism of the place was pointed out in live Instagram videos showing the rollerblader in front of the veterans memorial in the center of the square.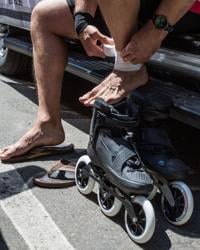 Campbell tapes his ankles on Friday and prepares his feet and legs for the 285 mile hike from Jackson's Town Square to Salt Lake City, Utah.

RYAN DORGAN / NEWS & GUIDE

"In my opinion there is no bigger reason," said Campbell.
A few people familiar with the mission roared as he rolled out of town on Highway 89. But when he passed Smith's Food and Drug, he was on his own.
In gold wireless earbuds, he listened to audio books to pass the time. His girlfriend, father, and stepmother followed closely behind in a van stocked with snacks and spare bikes.
The strategy was to switch to a pair of dented hockey skates on treacherous descents; the idea was that the extra friction and smaller wheels would slow it down.
"But it was still a sketch," said the rollerblader.
Fortunately, they didn't have to pull out the harness, a dramatic last resort with questionable logistics. That turned out to be not an option anyway, as Campbell had forgotten to bring the tow ropes.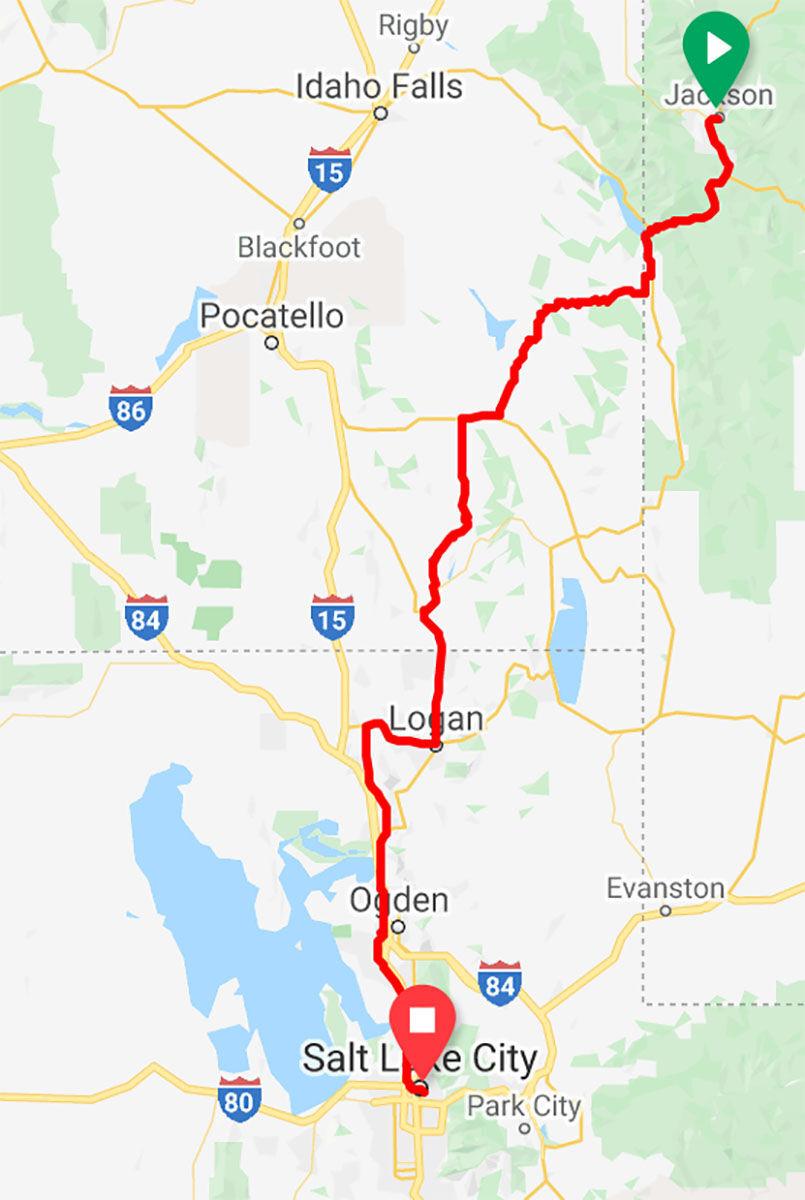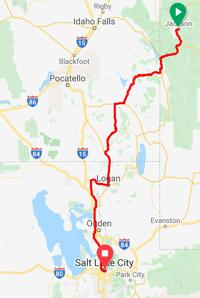 Campbell's rollerblade route took him from Jackson's Town Square to Salt Lake City to raise funds for the Wounded Warriors Project.

SCREEN PHOTO

After Alpine there were two strenuous climbs of around 1,000 meters in altitude, and his feet were already aching. Although he rocked some of Inline Warehouse's best bikes, the sheer distance was the best of him.
"None of the preparations seemed to prepare me for the real deal," he wrote to his fans on Instagram.
Campbell covered over 100 miles the first day and worked into the Saturday morning hours before getting some sleep in the van.
The second day was tough, but he managed to avoid some key concerns – tip bite, chafing, dehydration – thanks to some clutch preventative measures.
While he was preparing near the square, he stuffed saturated sponges under his blades. He wrapped gel pads in his socks to ward off the worst of blisters.
As a physical therapist, Campbell has good connections with a community of athletes in Salt Lake City, but most thought he was crazy. At 6 feet-1 and 230 pounds, he's not built for endurance.
He didn't have many direct records either. While Rollerblade trains a marathon team every year, the stamina it takes to get 285 miles of near-continuous blading was no example.
But what he lacked in experience, he made up for in courage.
Now that he's done the feat, Campbell has one important piece of advice for like-minded athletes: "You must have your 'why.' "
For him, the Wounded Warrior Project was something personal. After several friends and family members served in the armed forces, it was Dusty Campbell who referred to them as "PTSD tabs" on their return.
Campbell said mental illness was still "grossly underestimated," and he hoped that spreading awareness of the nonprofit would also draw more attention to the psychological effects of the war.
He remembers one of his college friends hunched over in the back room of a party and sobbing uncontrollably. He felt he should be with his troop, not safe in the States.
At that moment Campbell felt a profound helplessness. But in the meantime he has recognized his own potential.
When his friends played paddleball in the Salt Lake sun on Monday, Campbell said he was pleased with the success of the fundraiser, even though there were some large donors who didn't get through.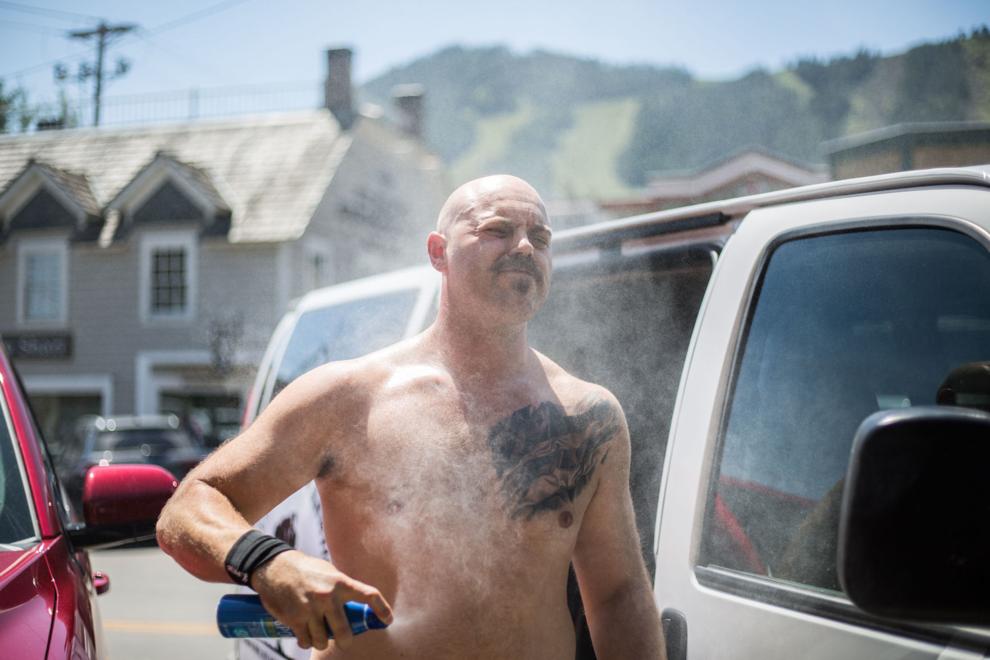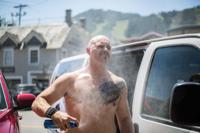 Campbell covered himself in suntan lotion before his 47-hour rollerblade from Jackson to Salt Lake City, Utah on Friday.

RYAN DORGAN / NEWS & GUIDE