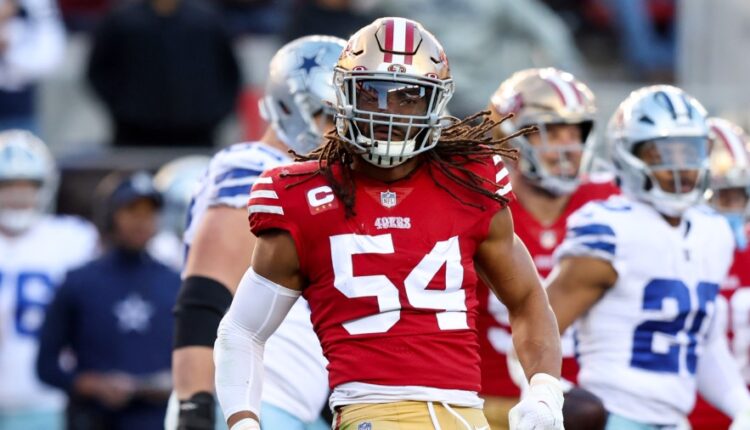 Former BYU Star Picks Off Cowboys QB During Divisional Round
SALT LAKE CITY – Former BYU Cougars and current San Francisco 49ers linebacker Fred Warner took advantage of a deflected ball for an interception during the Divisional Round against the Dallas Cowboys.
The 49ers hosted the Cowboys at Levi's Stadium on Sunday, January 22.
With 1:24 to go in the first half, Warner picked off Cowboys quarterback Dak Prescott after a bad pass bounced off Jimmie Ward. Warner returned the ball 16 yards to the San Francisco 28-yard line.
The game was tied at 6-6 at the time of the turnover.
pic.twitter.com/yRO9YirQvv
— Kyle Ireland (@kyleireland) January 23, 2023
After the play, Warner had six tackles, one tackle for loss, one pass breakup, and an interception.
RELATED: 49ers LB Fred Warned Named 2022 First Team All-Pro
During the 2022 regular season, Warner recorded 130 total tackles, 79 solo tackles, two sacks, one forced fumble, one interception, and 10 pass breakups.
In December 2022, the linebacker was named to the Pro Bowl for the second time in his five-year career. Warner was first selected to the Pro Bowl and honored as a first-team All-Pro in 2020.
ALL-PRO FRED pic.twitter.com/8mEh4ctz6h
— San Francisco 49ers (@49ers) January 23, 2023
He helped the Niners win the NFC West with a 13-4 record. The 49ers beat the Seattle Seahawks in the Wild Card round of the postseason to advance to the Divisional Round. Against Seattle, Warner recorded six total tackles and five solo tackles.
San Francisco's game against Dallas is broadcast on FOX.
FRED WARNER! Big play for the 49ers.
— Matthew Baiamonte (@baiamontematt) January 23, 2023
About Fred Warner
Prior to his time in the NFL, the San Marcos, California native played at BYU from 2014-17.
During his four seasons in Provo, the linebacker recorded 264 total tackles, 158 solo tackles, 6.5 sacks, three forced fumbles, five fumble recoveries, seven interceptions, 13 pass breakups, and two touchdowns.
Warner was selected by the Niners with the No. 70 overall pick during the third round of the 2018 NFL Draft.
During his five seasons in the league, Warner has recorded 634 total tackles, 411 solo tackles, 6.5 sacks, seven forced fumbles, six fumble recoveries, four interceptions, 35 pass breakups, and one touchdown in 81 games played.
During his first seven career postseason contests, Warner posted 47 total tackles, 29 solo tackles, one fumble recovery, one interception, and three pass breakups.
Kyle Ireland is a Locals in the NFL Insider for KSLSports.com and co-host of the Yards After College Podcast. Follow him on Twitter (@kyleireland) and Instagram (@kyleirelandksl).
Follow @kyleireland