Judge orders Orem man to stand trial in crash that killed 2 boys playing in corral
A judge on Thursday ordered an Orem man to stand trial on charges of manslaughter and use of a controlled substance in the deaths of two 3-year-olds who were killed by a car while playing in an Eagle Mountain corral. (Kristin Murphy, Deseret News)
Estimated read time: 3-4 minutes
PROVO — A judge on Thursday ordered an Orem man to stand trial on charges accusing him of hitting and killing two young boys as they were playing inside a horse corral in Eagle Mountain.
Odin Jeffrey Ratliff and Hunter Charlie Jackson, both 3 years old, died after a car crashed into Cedar Valley Stables while traveling at a high speed and ran them over on May 2.
Kent Cody Barlow, 25, who witnesses say was showing off his car by driving fast when he drove the car off the road and into the corral, is charged with two counts of manslaughter, a second-degree felony, and possession or use of a controlled substance, a class A misdemeanor.
Fourth District Judge Robert Lund summarized the evidence presented during a preliminary hearing before announcing his decision. He said Barlow wanted to show off his car and witnesses tested he was going between 80 and 100 mph in an area with a 45 mph speed limit.
"Mr. Barlow ran a stop sign that was well-marked, he lost control of his car and the car went off the road, rolled, struck Odin Ratliff and Hunter Jackson and caused their deaths," Lund said.
He said a blood draw showed Barlow had methamphetamine in his system that exceeded 600 nanograms per milliliter, which he called a "significant amount."
The judge said he had been presented with "more than sufficient evidence" to determine prosecutors met the standard for the case to be sent to a jury trial.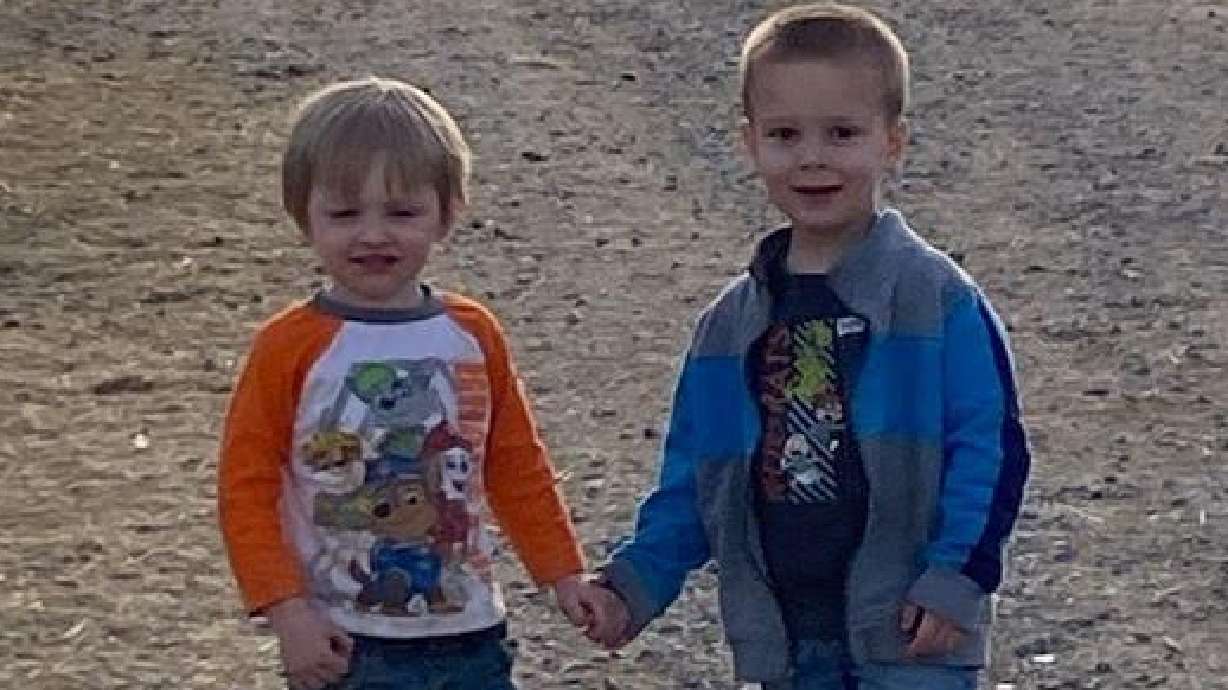 Odin Jeffrey Ratliff and Hunter Charlie Jackson, both 3 years old, were hit and killed by a car that crashed into the corral where they were playing in Eagle Mountain on May 2. The driver of that car was charged Thursday with two counts of manslaughter. (Photo: Cedar Valley Stables)
The first part of the preliminary hearing was held on July 7 when two passengers who were tested in the car as well as a detective tasked with investigating the crash.
Passenger Taylor Kartchner said he had earlier been racing Barlow on a two-lane road near the Eagle Mountain fairgrounds. After the race, he said Barlow invited him and two others into Barlow's car to show it off. He said he assumed Barlow wanted to show them how fast the car could go. He tested they were in Barlow's car for only a few minutes before each passenger asked Barlow to stop or slow down.
Jeremy Gomez, another passenger, said he saw the car had reached 80 mph before the crash but stopped looking at the speedometer, although he could feel the car was continuing to accelerate.
The judge said he did not make a decision on whether there was enough evidence for the charges at that time because he had serious concerns about whether a drug possession or use charge could be brought only based on evidence showing a man had consumed drugs. At that time, testing on a pipe found at the scene had not been completed.
At Thursday's hearing, Lund allowed deputy Utah County attorney Ryan McBride to add results from tests on the pipe into evidence. McBride said the 3- to 4-inch glass pipe found at the scene tested positive for methamphetamine and had DNA from Barlow.
Defense attorney Ben Aldana argued that for the drug possession charge to be bound over for trial, prosecutors would need to prove the use was intentional and knowing. He argued the court should not accept the pipe's test results since prosecutors did not have that information ready before the preliminary hearing.
correction: An earlier version said tests showed over 600 grams per milliliter of methamphetamine; Documents court say tests showed Barlow's blood measured 684 nanograms per milliliter of methamphetamine.
×
Related stories
Most recent Police & Courts stories
Emily Ashcraft joined KSL.com as a reporter in 2021. She covers courts and legal affairs, as well as health, faith and religion news.
More stories you may be interested in