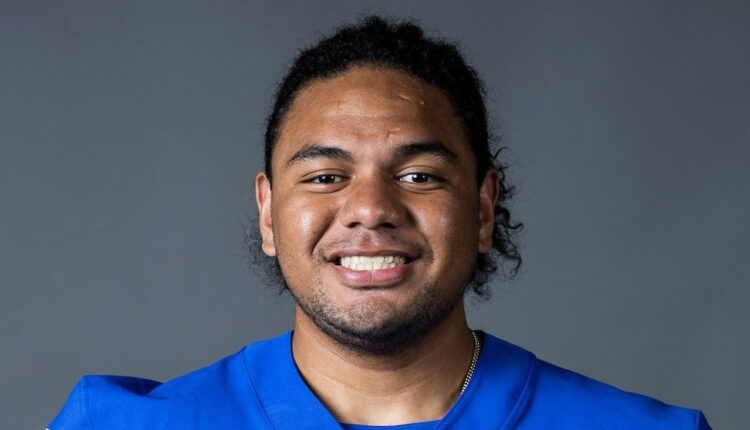 Offensive Lineman Sione Veikoso Has Passed Away
(Photo: BYU Cougars)
BYU offensive lineman Sione Veikoso has passed away, the football team announced on their official Twitter account. Veikoso reportedly passed away after an accident on a construction site in Hawaii.
We are extremely saddened to learn of the tragic death of one of our brothers, Sione Veikoso. His passing is heartbreaking to all of us. We offer our deepest condolences and prayers to his family as we share in their grief. Our love for you is forever, Sione! https://t.co/F2xSEynQpM
— Kalani F Sitake (@kalanifsitake) December 31, 2022
On behalf of the entire BYU Football family, our thoughts and prayers are with Sione's family and friends during this extremely difficult time.
Rest in Love Sione. God be with you till we meet again. pic.twitter.com/Bn0oW4kylY
— BYU FOOTBALL (@BYUfootball) December 31, 2022
Veikoso transferred to BYU from Arizona State last season. He was poised to play a major role along the BYU offensive line this season. The impact of his loss will transcend any kind of impact on the football field, however. Veikoso was beloved by his teammates and coaches. He was widely regarded as a favorite teammate and someone whose disposition was infectious within the locker room. His loss will leave a hole in the hearts of his family, his friends, and his teammates that will never be filled.
Veikoso served a two-year mission for The Church of Jesus Christ of Latter-day Saints in Brazil from 2018-2020. Upon his return, he enrolled at Arizona State where he played for a year. He came to BYU prior to the beginning of the 2022 season. At both schools, he made instant friends and had a big impact on the lives of those who were in the locker room. College athletics were in his genetics. His cousin, Sione Kava, played defensive tackle at Oregon, and another cousin, Isi Sofele, played running back at Cal. Veikoso's career was just getting started.
The BYU Football Family mourns the passing of our dear teammate and fellow Cougar, Sione Veikoso. May his family and friends feel our love and faith at this most sacred and difficult time. Peace be with you now and forever Sione. https://t.co/mcLuYjlf6M
— Tom Holmoe (@TomHolmoe) December 31, 2022
The entire BYU family mourns his loss.