Salt Lake woman creates candle stoves to help keep homeless population warm
Estimated read time: 3-4 minutes
SALT LAKE CITY — A Salt Lake woman expects to make 800 candle stove kits to help people experiencing homelessness stay warm this winter.
Susan Keene takes donated candles, cans, and other supplies and creates small candle stoves in her kitchen. It's her third year doing this.
Keene relies on donations from the community to assemble her candle stove kits. She has a helper in Layton who helps supply pot holders so people using the stove don't burn their fingers touching the hood or other pieces.
Each kit has instructions on how to use the candle stove, two stoves, one hood, matches in a container, pot holders, and safety pins. There are also extra items, such as a blanket, pair of socks, hand warmers, or a small game.
"I think I've always had a spot for homeless people," Keene said. "My brother was homeless, I've had a daughter that's been homeless, and my niece and her four kids were homeless for three years."
Keene partners with organizations like Unsheltered Utah to distribute the kits to the people who need them. Wendy Garvin with Unsheltered Utah said the source of heat has kept people alive this winter.
"We have people asking for her candle stoves all the time," Garvin said. "We feel like any sort of heating device has saved lives this winter."
Unsheltered Utah helps put on movie nights for people experiencing homelessness when the temperature drops below 25 degrees. Garvin said they've seen about 10 cases of frostbite every night.
"We have space for 85 people, and we've had to turn people away every night," she said.
Garvin said a lot of shelters had reached their capacity.
"For people who we can't get into movie night, we call around to different shelters and see if they have any space," she explained. "The last few nights, they have not. It's been very full."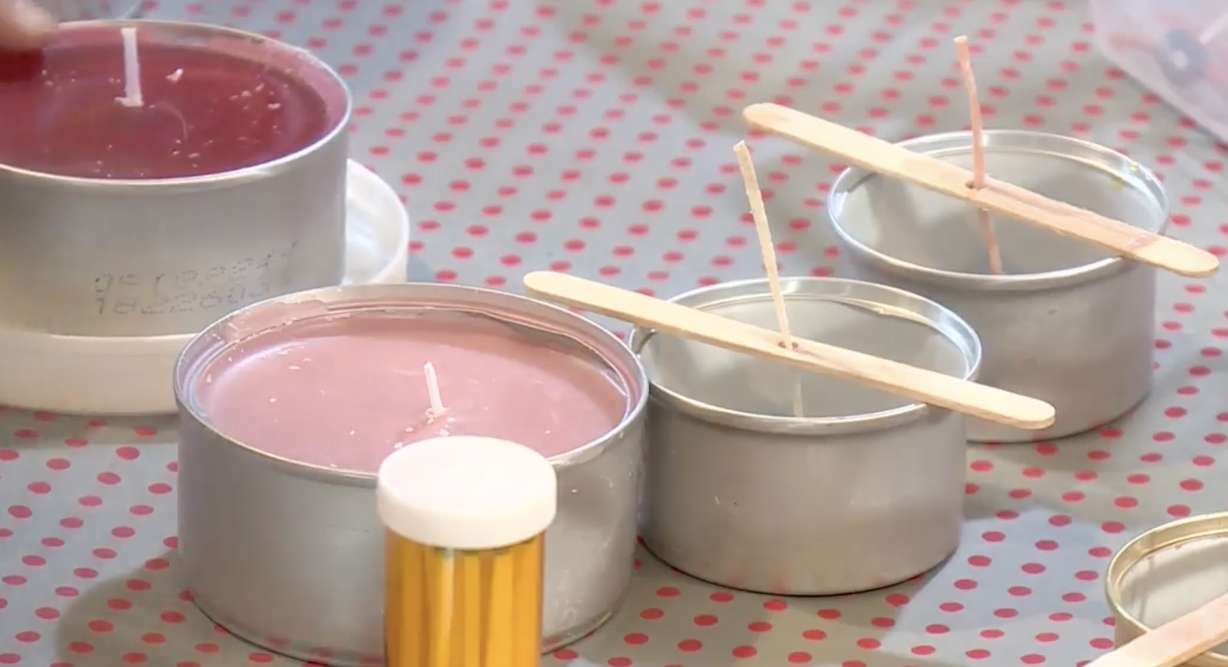 A Salt Lake woman, Susan Keene, expects to make 800 candle stove kits to help homeless people stay warm during this winter. (Photo: Greg Anderson, KSL-TV)
Garvin and others are participating in Utah's annual statewide homeless count starting Thursday, Jan. 26 to Saturday, Jan. 28.
"In order to get funding from the federal government, we have to have an accurate count of how many people are living out here on the street," Garvin said.
She encourages people to volunteer to count and interview people to determine what resources are needed.
"All you're doing is walking up and talking to people out here on the street, in their tents," Garvin said. "You ask them how long they've been homeless, what the barriers might be for them getting into housing."
In the meantime, Keene is always taking donations for her candle stove project to help keep people warm.
She's especially in need of 29-ounce cans; if there's pumpkin inside, she can accept it. Keene also asks for cat food cans, green bean cans, candles, prescription pill containers, small games, socks, hats, new underwear, mittens, soft food with a long shelf life, matches, and paperback books.
All donations can be dropped off at the Avenues Pet Clinic, 350 E. 100 South in Salt Lake City, or can be left at the doorstep of the basement apartment located at 611 S. 1300 East.
×
Photos
Most recent Utah homelessness stories
Shelby Lofton
More stories you may be interested in