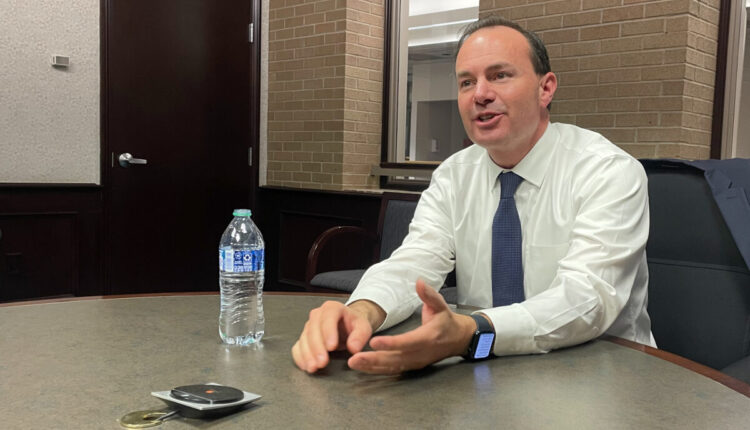 Sen. Lee says he looked into 2020 election question, but didn't prod electors | News, Sports, Jobs
Tim Vandenack, Standard Examiner
US Sen. Mike Lee, photographed in the Standard-Examiner offices in Ogden on Wednesday, Oct. 26, 2022.
OGDEN — US Sen. Mike Lee has been criticized and questioned over a series of text messages in late 2020 and early 2021 that have some wondering about his involvement in efforts to overturn results of the 2020 presidential vote to favor Donald Trump.
All along, the Republican lawmaker, seeking his third term in elections this cycle, has recognized that he researched the notion of challenging the vote totals. But no, he maintains, he did not prod electors this way or that, or push for new electors in a bid to sway results of the 2020 voting for Trump, who lost to Democrat Joe Biden.
It's been a topic on the campaign trail, and Lee — facing a challenge from independent candidate Evan McMullin — dove into the issue during a stop at the Standard-Examiner offices, offering more details about what happened. US senators, he said in no uncertain terms, don't have a role in unilaterally judging the validity of presidential electoral votes — the balloting coming from each of the 50 states that, in the end, determines who becomes president.
"We have no more authority than the queen of England when it comes to deciding the presidential election because the founding fathers took that out of Congress' hands," Lee said during his Ogden stop.
Lee issued a press release on Dec. 14, 2020, recognizing Biden's victory, presuming no new information emerged challenging Electoral College votes. On Jan. 6, 2021, just before Congress certified the Electoral College votes — with Lee joining the majority — he made comments similar to his remarks on Thursday to the Standard-Examiner. The role of US senators is narrow. Our role is defined. Our role is limited," he said.
But since CNN reported last April on a series of text messages in late 2020 and early 2021 between Lee and Mark Meadows, then chief of staff for Trump, Lee has faced questions about his role in post-election jockeying by some to reverse the 2020 presidential vote outcome to favor Trump. It was a focus of intense back and forth between Lee and McMullin in their Oct. 17 debates.
In a text from Nov. 7, 2020, according to CNN, Lee sent a letter meant for Trump via Meadows voicing support on behalf of several backers for Trump's team "to exhaust every legal and constitutional remedy" in potentially challenging results of the presidential balloting . In subsequent correspondence with Meadows, Lee pontificated on efforts to challenge vote results, alternatively offering words of encouragement and caution.
By Jan. 3, 2021, days before the Jan. 6 voting on the electoral ballots, Lee's texts took on a more skeptical tone, apparently as his own research indicated that Trump had limited avenues. Still, he sounded eager and willing to help.
He had been "calling state legislators for hours today, and am going to spend hours doing the same tomorrow. I'm trying to figure out a path that I can persuasively defend," Lee texted on Jan. 4, 2021.
Speaking on Wednesday with the Standard-Examiner, Lee said he first heard of rumors in late November or December 2020 of some sort of mechanism by which Trump's election dilemma "could somehow be resolved" on Jan. 6, 2021, when Congress was set to count the presidential electoral votes.
As December 2020 wound down, several congressional colleagues started talking about objecting on Jan. 6, 2021, to slates of electors from individual states as a means to reject votes meant for Biden. "And it's where I did a lot more research and concluded it's … not appropriate to do, you can't object," Lee said.
The only legitimate objection to electors, he says he determined, would have to come from the state officials tasked with overseeing elections, not federal authorities.
"It's not appropriate, in my view, to raise an objection just because you don't like the outcome of the election," he said, speaking from his perspective as a federal official. "It's not even appropriate, in my view, to raise an objection just because you think a state was sloppy in the way it counted or even because you think that there may have been fraud in that state's presidential election."
The most recent example in US history he could find of Congress taking on a role in determining the validity of electoral votes came in the wake of the 1960 presidential vote between Richard Nixon and John F. Kennedy. That's when Hawaii officials submitted two slates of electors to Congress, one for Nixon and then another for Kennedy after determining they had erred in submitting the Nixon slate.
Faced with the question of which slate to accept, Congress ultimately determined the Kennedy slate was the correct one and picked it. US lawmakers would be able to weigh in on the validity of electors votes only in a situation "analagous to that," Lee said.
Lee apparently started conveying word of his analysis — the very limited role of federal lawmakers in handling electoral votes — generating the ire of Trump. At a campaign event in early January 2021 in Georgia that Lee attended Trump, addressing the crowd, chided the Utah senator, Lee said.
"I'm a little bit angry with my friend Mike Lee," Trump told the crowd, according to Lee.
Lee also said he reached out directly to some of the states where there were rumors of alternative, Trump-supporting slates of electors emerging. No one seemed to have solid information, he claims, prompting his efforts.
"So yeah, I did spend an enormous amount of time calling secretaries of state, House speakers, Senate presidents and rank-and-file state lawmakers from a bunch of the states in question, just cold calling," Lee said. "I didn't even know any of these people. I would start usually with calling someone I knew in that state who was connected to politics. And I'd say, 'Can you give me the names and phone numbers of a few state lawmakers, ideally your Senate president and/or your House speaker?' And I just cold-called them."
He uncovered no concrete plans of state officials planning to submit alternative slates of electors and was careful, he said, not to encourage that sort of action.
"In no circumstance, in no way, shape or form, did I advocate for them replacing slates of electors, nor would I have done so," Lee said. "I think that would have been inappropriate and also just be wrong. …It wasn't my place."
In his Jan. 6, 2021, address to Congress ahead of the vote on the electors, Lee detailed his efforts, conveying the same message — US lawmakers' role is very limited in handling electoral ballots. "Our job is to convene, to open the ballots and to count them. That's it," he told his fellow lawmakers.
Newsletter
Join thousands already receiving our daily newsletter.