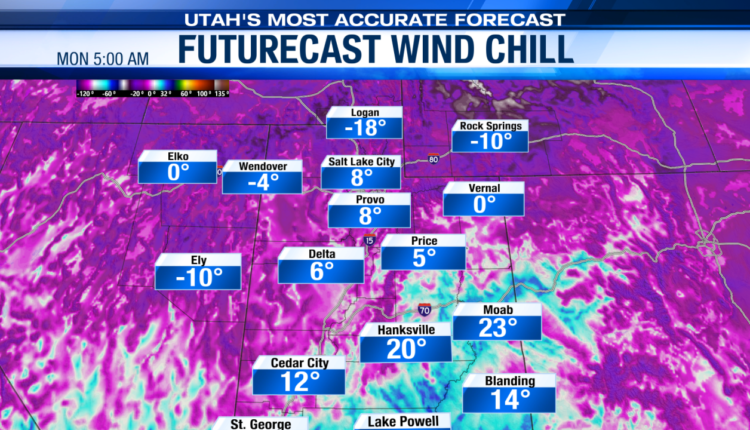 Snow and wind Sunday with a slice of arctic air
SALT LAKE CITY (ABC4) – Happy Sunday, Utah! It's another active start to the day as a storm system is moving through the Beehive State.
Winter weather-related alerts are in place for the mountain areas with many valleys expecting accumulations as well. Snow along Northern Utah this morning will slide south throughout the day with all areas seeing moisture by Sunday evening.
Sam's Club announces new clubs, enhancements due to 'record growth'
Temperatures will fall throughout the day as colder air pushes south. Winds will be blustery across the state with high winds expected over the West Desert Sunday afternoon and evening. Wind gusts up to 60 mph are expected with sustained winds of 25-35 mph, travel along I-80 will be difficult for high-profile vehicles.
The Northern Mountains will see heavy snowfall of 6-12″ inches" with the highest amounts expected in the Upper Cottonwoods and Western Uintas. The mountain valleys can expect roughly 4-8″ with the highest totals along the Ogden Valley. The Wasatch Front will see 1-4″ of snow with the benches receiving 3-6″ with this next round of snow.
Snow showers will be the heaviest this morning for the northern valleys with snow tapering off in the afternoon. The advisories, however, run through 5 am Monday.
Strong winds and a blast of arctic air Sunday night into Monday will generate dangerously cold wind chill values ​​for Northern Utah as well. The coldest values ​​will be along the Northern Wasatch Front and north to the Idaho Stateline where wind chill values ​​of -10 to -20 degrees are possible.
Time outdoors Monday morning should be very limited if you go out at all. Daytime highs will be near 20 degrees along the Wasatch Front with overnight lows in the teens and single digits.
For the Southern and Central Mountains, the storm will generate 5-11″ of snowfall with snow arriving in Southern Utah by late Sunday afternoon. The Central and Southwest Utah valleys can expect accumulating snowfall as well as areas from Nephi to Cedar City are forecast to receive 2-5″ of snowfall. The storm will linger in Southern Utah into Monday evening with clearing skies into early Tuesday.
Temperatures and wind chill values ​​will once again be dangerously cold for Northern Utah Tuesday morning. Daytime highs will stay colder than normal throughout the week with highs finally in the upper 30s by Friday. High pressure will keep calm weather in place throughout the remainder of the week.
bottom line? Frigid cold temperatures are settling in along with gusty winds and snow showers.
Always stay one step ahead of the weather with Utah's Most Accurate forecast both on-air and online! We are Good4Utah!
Advisories posted
Snow for all of Sunday
Mountains 6-12″ of snow
Valleys 1-5″ of snow
Bitterly cold temperatures moving in
Dangerous wind chill
Active through Monday evening down south
Staying cold all week.