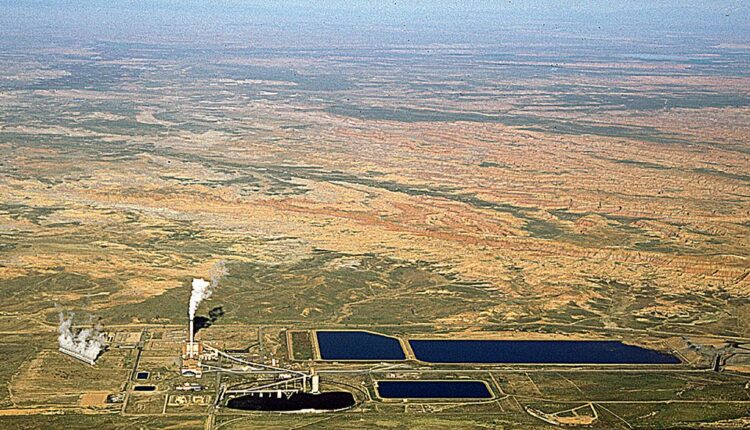 Utah Legislature to pledge $2M for ozone fight with EPA
Editor's note • This story is available to Salt Lake Tribune subscribers only. Thank you for supporting local journalism.
Utah is gearing up to fight the Environmental Protection Agency over a proposed rule that would require Utah's coal-fired power plants to install emission-reduction equipment or face early retirement.
Lawmakers plan to appropriate $2 million this legislative session to a legal campaign being waged by Rocky Mountain Power and the state of Wyoming, challenging EPA's move to include the Beehive and Cowboy states in the Cross State Air Pollution Rule, or CSAPR, also known as the "Good neighbor provision" of the Clean Air Act.
This rule has been applied to Eastern states to reduce ozone-forming emissions that leave power plants and cross state lines. A proposed expansion of the rule would target some Western states, drawing condemnation from Utah's largest utility and lawmakers, who allege enactment of the rule could disrupt Utahns' access to electrical power.
"The federal government's latest rule on ozone transport will force early closures of Utah power plants, putting reliable, affordable and dispatchable power at significant risk in the next few years," Rep. Carl Albrecht, R-Richfield, said last week while pitching the $2 million request to an appropriations subcommittee.
"We'll be working with other states around us as well. But if we don't win this battle with the EPA, we'll be shutting down our coal-fired power plants in the next two or three years," he said. "None of us will still have the power that we need to operate our daily lives."
That's patently absurd, environmental activists responded. If anyone's to blame for this situation it's Rocky Mountain Power for refusing to invest in selective catalytic reduction (SCR), a proven method for cutting back nitrogen oxide, or NOx emissions, said Lindsay Beebe, a Utah-based representative of the Sierra Club's Beyond Coal campaign.
"I'm disappointed in the state of Utah, jumping to support a polluting industry," Beebe said. "The industry portraying itself as a victim in this is really disingenuous, because [Utah] coal plants Hunter and Huntington are some of the most polluting coal plants in the whole country and have been for a while. There's been numerous rules that have been targeting these coal plants and trying to clean them up for literally decades."
Sierra Club, HEAL Utah and other groups have been pushing Utah regulators to require Rocky Mountain Power (RMP) to install SCR on its plants under the "regional haze" rule for years without success. Then, last year, the EPA weighed in with its proposed expansion of the "good neighbor" provision to include Utah, Wyoming and Nevada. If adopted this rule would require power plants in those states to have SCR in place by 2026.
Environmentalists applauded this move, which is to be finalized this year.
"It is past time for all large power plants to install and run this highly effective pollution control technology. We also strongly support EPA's proposal to require reductions in NOx emissions from other high-polluting stationary sources, in addition to power plants," state joint comments submitted to EPA by Sierra Club and several other groups across the nation. "Greater pollution reductions are still needed, beyond what EPA has proposed, to ensure that no one is forced to breathe unsafe air in part due to interstate ozone transport. Real-world data on ozone values ​​and trends demonstrate that ozone pollution is worse than EPA has projected."
RMP operates the Hunter and Huntington plants in Emery County, as well as the Jim Bridger and Naughton plants in Wyoming. Also affected by the proposed rule would be the Bonanza plant in Uintah County, but not the Intermountain Power Plant, which is scheduled to transition from coal to natural gas and hydrogen in 2025.
The EPA has determined that NOx from these plants is blown east and potentially forms ozone in Colorado, where the Denver metro area is out of attainment for the federal ozone standard. NOx and other pollutants react with sunlight, rearranging their molecular structure to become ozone, a highly reactive three-atom oxygen molecule that damages lung tissue.
The proposed rule's cost benefits, projected to be worth at least $9 billion a year in improved public health, far outweigh its costs, according to an EPA fact sheet. Nationwide, it is expected to prevent 1,000 premature deaths in 2026, its first year of implementation, as well as 2,400 hospital and emergency room visits, 1.3 million cases of asthma symptoms, and 470,000 school absence days.
"EPA expects that the emissions reductions projected in the proposal would yield a range of unquantified benefits, including improving visibility in national and state parks and increasing protection for sensitive ecosystems, coastal waters and estuaries, and forests," the sheet states.
For Utah, however, the agency's proposed remedy is not realistic and threatens grid reliability, Thom Carter, RMP's director of governmental affairs, told lawmakers last week.
"There are real technical and procedural issues with the rule and, if implemented as written, there's a real risk to the system reliability and adverse effects on customers in affected communities," said Carter, who until recently headed Utah's Office of Energy Development. "We, Rocky Mountain Power, plan to fully litigate this rule. We are marshaling all of our resources to put up the fight, but we need the state to be the lead and loudest voice in the fight."
Installing SCR is prohibitively expensive, costing between $100 million and $200 million per unit, according to Jeff Peterson, general counsel for Deseret Power, which operates the Bonanza plant. So the impact of EPA's application of the good neighbor rule would result in the likely closure of coal-fired plants in Utah and Wyoming.
"It's very impractical to meet the timelines that they are proposing, both in terms of trying to install SCR by 2026 or trying to get new generation online. This rule is very problematic," Peterson told lawmakers. "We have issues because we don't have enough dispatchable power at these times when power demand is at its highest. And this rule would have the effect of shuttering some of that dispatchable power that we have in Utah and would just exacerbate that problem."
RMP relies heavily on coal to generate electricity for its three-state service area, but it is in the process of pivoting toward emission-free renewables and nuclear power. Still, its corporate parent, Berkshire Hathaway, intends to spare no expense to fight the EPA, according to Carter.
"We have a very large legal department, and we are engaging with outside counsel. We are looking at every possible opportunity legally, within our bounds to spend," Carter said. "The best way to put this is, we are lawyering up. We are using our resources and partnering with the states to have common interest agreements. I don't have a specific dollar amount that we will be spending to litigate, but we're going to litigate."
HEAL Utah's Alex Vielleux ridiculed the litigation as a "frivolous" suit that will eat up public money best spent elsewhere.
"We should be listening to the EPA," said Vielleux. "The EPA has the best available science. All that ozone is crossing state borders, and it's polluting other places. If those plants need to be shut down by the EPA, we're going to take their word for it. Instead of spending $2 million on a lawsuit, maybe they should be spending $2 million thinking about where those jobs are going to be when the coal plants start shutting down. We're just lighting money on fire for what purpose?"