Will sold out Thursday game mark no. 8 Gonzaga's final visit to BYU?
Gonzaga forward Anton Watson (22) gets loose for a dunk against Alabama during the second half of an NCAA college basketball game, Saturday, Dec. 17, 2022, in Birmingham, Ala. (Vasha Hunt, Associated Press)
Estimated read time: 5-6 minutes
PROVO — The West Coast Conference farewell tour continues for BYU basketball Thursday evening, but this one is a little bit different.
For the last time, at least on a fixed, scheduled basis, the No. 8 Gonzaga men's basketball team will come to the Marriott Center. It's been the home of some epic upsets by the hosts, some casual blowouts by the visitors, and a fever pitch of college basketball like the Zags experience any time head coach Mark Few's team travels across the country seeking top competition.
But as far as nostalgia for an era that will close once BYU joins the Big 12 on July 1, head coach Mark Pope feels less about this series than others in the league, for good reason.
"I guess the one thing about Gonzaga is that coach Few and myself are both inclined to keep playing, somehow," Pope said. "I don't know if it's every year, but we'd like to find a home-and-home from time to time, that we can do so. Maybe I have a little less nostalgia there because I suspect we'll find a way to play again."
Nothing is immediately imminent, or yet-to-be announced, Pope cautioned. But with their time as conference associates ending and with Gonaga in reported talks with several leagues — including the Big 12 — about a potential conference move, there remains optimism from Pope's camp that Thursday won't be the last time the Cougars see the Zags in provo
"Everything we've done in scheduling has been put on a pause, so we can see exactly where we are going to be with the league," Pope said.
"But anybody who will play Coach Few, he's ready to go. So I think there's a good chance to get that game. We've talked about that before … but I don't know when. We'll see."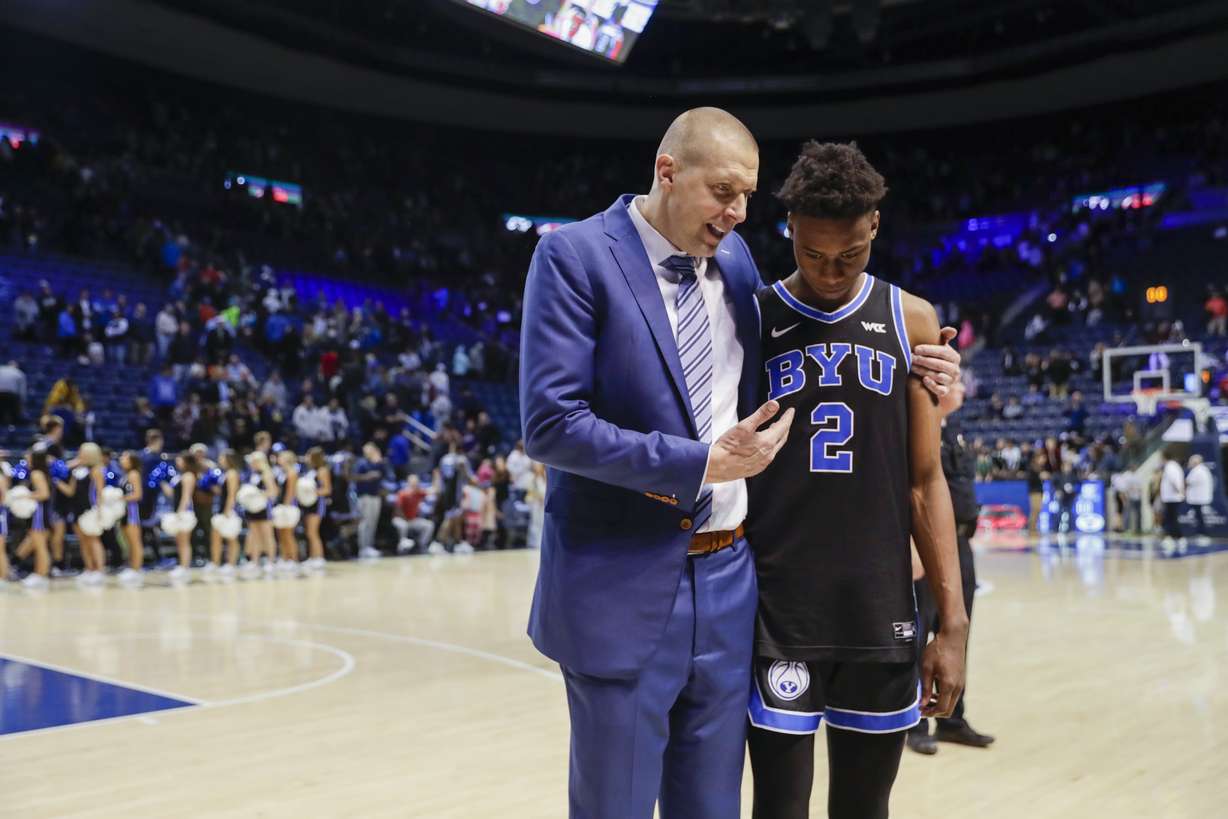 BYU head coach Mark Pope talks to Jaxson Robinson after beating the Weber State Wildcats in Provo on Thursday, Dec. 22, 2022. BYU won 63-57. (Photo: Ben B. Braun, Deseret News)
It's been a good series for Gonzaga (14-3, 3-0 WCC), which is 23-7 all-time against BYU including an 8-3 mark in Provo.
But it's also as kind to the Cougars as any of the Zags' series in WCC play, including the most recent 91-78 win Feb. 22, 2020 in a sold-out Marriott Center that spilled on to the court on an epic night from Yoeli Childs, TJ Haws and Jake Toolson, among others.
BYU senior Gideon George was there that night, a New Mexico Junior College recruit who will play his final home game against Gonzaga in a season he's averaging 11.9 points, 6.1 rebounds and 1.2 assists per game.
George would love nothing more than to be on the floor for another similar upset of a top-10 Gonzaga program. But these Zags are good, with a no. 14 KenPom rating including a top-five adjusted offense and no. 12 ranking in the NET.
So barring another upset over senior Drew Timme and the Bulldogs, George has another favorite moment that he'll always remember as well: the time the Cougars punched Gonzaga in the mouth before falling 88-78 in the WCC Tournament championship in Las Vegas in 2021 .
"I wouldn't trade that for nothing," the native of Minna, Nigeria said. "We were up by 10 or something, but the hype in the locker room, and everyone was excited. Unfortunately, we lost the game.
"But that first helped was my favorite moment against the Zags."
Whether in Provo, Spokane or Vegas, games against Gonzaga mean a little more. With respect to the other teams in the WCC, the Zags are just different — and BYU has brought an added layer to Gonzaga, being one of the few teams to beat the perennial top-10 team home and away since joining the conference a decade ago .
"Obviously, this week, everything has been amped up in intensity," BYU freshman Dallin Hall said. "But from day one when I got here in June, guys like Gideon and our leaders who have played in games like this helped push me so that I can be able to perform in this game.
"It's going to be a fun environment, but I'm grateful for these guys pushing me all summer, preparing me for these situations; I can't wait to play the Zags."
Will this matchup be any different? The Zags are 14-3 on the season, with each loss to a top-25 opponent in No. 11 Texas, no. 6 Baylor and No. 24 Purdue.
Gonzaga isn't as big and long as it was a year ago — anyone losing a player like 7-foot-1 Oklahoma City center Chet Holmgren would experience similar growing pains. But the visitors come to the Marriott Center averaging 85.9 points on 51.8% shooting with a +5.3 rebounding margin.
The Cougars have faltered more, with a 13-6 record that hit a low with back-to-back losses to South Dakota and Utah Valley before winning eight of the next nine. That includes wins over Creighton and Utah, but also a 64-59 setback last week at LMU. BYU inched up two spots in the latest NET rankings after its 68-48 win at San Diego.
So can BYU spring the upset, like the Cougars have in the past but not since 2000?
Finding out the answer is why 19,000 local college basketball fans sold out the Marriott Center by Monday night, even in a week where BYU students won't be allowed to camp out for the best seats in the student section or save seats for a group.
No one will be permitted on the arena grounds before 6 am MST Thursday, and the entire group must be present by 4 pm, according to policies announced on social media by the Roar of Cougars student section.
Will that put a damper on the experience? Hardly, the players say.
"It's one of my favorite feelings, playing at home in front of the ROC," Hall said. "We have such amazing fans. Obviously, as a competitor, you try to bring your best every night, and we're going to do the same for the game. But it's going to be awesome having that in our backs."
How to watch, stream and listen
No. 8 Gonzaga (14-3, 3-0 WCC) at BYU (13-6, 3-1 WCC)
Thursday, Jan 12
Tipoff: 7:30pm MT
tv: ESPN
streaming: Watch ESPN
radio: BYU Radio Sirius XM 143, KSL 102.7FM/1160 AM
Series: Gonzaga leads, 23-7
×
Most recent BYU Basketball stories
A proud graduate of Syracuse University, Sean Walker has covered BYU for KSL.com since 2015, while also mixing in prep sports, education, and anything else his editors assign him to do.
More stories you may be interested in