'An escape': Cosplayers, celebrities and fantasy fans gather for FanX
Estimated read time: 6-7 minutes
SALT LAKE CITY — That famous Spider-Man meme of three Spider-Men pointing at each other became real — though not for the first time this year, if you've seen the superhero's (or superheroes') latest installment — on Thursday as a line formed for FanX, Utah's comic convention.
Friends Isaac Hammond and Jeremiah White went together, dressed as Tom Holland's and Tobey McGuire's versions of the character, respectively. They ran into Mostyn Cagle, dressed as Andrew Garfield's version, as they waited for the convention to start and agreed the trio formed a "new friendship."
The young men said they aspire to do good like Peter Parker, who develops from a shy, geeky guy to a hero.
"I've watched these movies ever since I was little… I just wanted to become that, I guess. I just feel like being a nerd can be a good thing," White said.
That was something they wanted to celebrate over the weekend, as they said they were excited to let their nerd flags fly along with others at FanX.
"Everyone is, like, the same," Hammond said.
"I love the vibes. I'm not going to get bullied … I just get to be myself and feel OK," Cagle said.
"No one's going to judge you for wearing a suit. It feels good," Hammond added. "It's an escape."
Thousands are expected to attend the convention at the Salt Palace Convention Center in Salt Lake City over the weekend. The convention features celebrities and creators from across the entertainment industry. Many attendees on Thursday sported a variety of costumes from characters within the fantasy world, from anime to sci-fi to superheroes and beyond.
Attendees can meet and have their photographs taken with their favorite celebrity guests and listen to panel discussions. Hundreds of vendors are also selling their wares, filling the Salt Palace Convention Center with colorful artwork, toys and items for cosplay, which is a type of performance art in which fans dress up as fictional characters.
Mike Lookinland, who played Bobby Brady in "The Brady Bunch," said FanX is "like far and away the biggest and nicest, coolest one I've ever seen anywhere in the country, and I've done Chicago, New York, LA "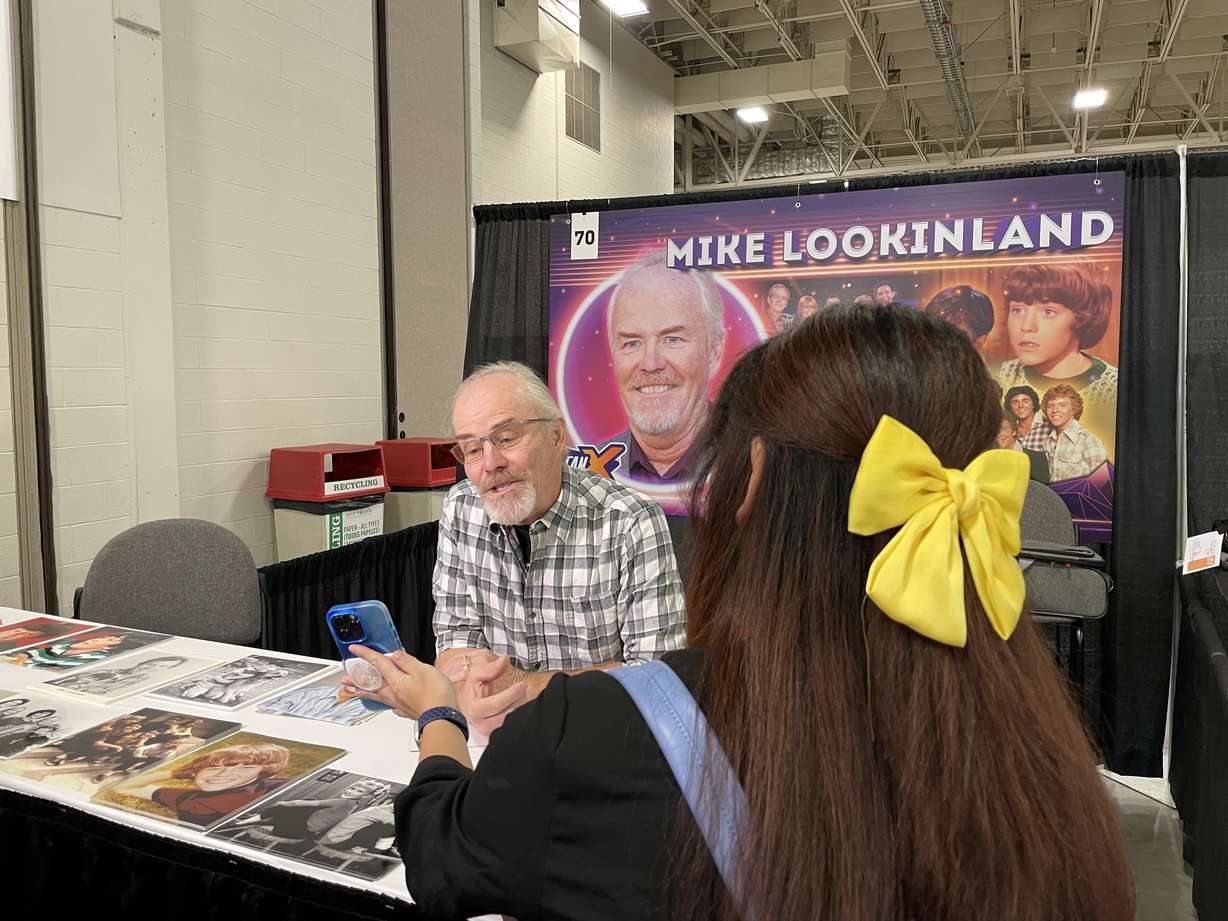 Mike Lookiland speaks to reporters during the FanX convention in Salt Lake City on Thursday. (Photo: Ashley Imlay, KSL.com)
He noted Salt Lake City is a "local, hometown show" for him, as his mom lives in the area.
One of the biggest draws of the convention for Lookiland is the fans, who taught him his costar Florence Henderson are essential to keeping a show going. Lookinland said he enjoys meeting people, shaking their hands and hearing their stories. He also "fans out" himself for other performers.
"By the end of the weekend, though, I'll be spent," he said.
Lookinland said he never gets tired of hearing people tell him they love "The Brady Bunch" — and he has rarely heard anything negative about the show.
"It's all good, and that's why the show has endured all these years. It's because watching it, growing up with it, watching your kids watch it, it gives you a good feeling."
Backstreet Boy AJ McLean, a celebrity guest, said the first comic convention he attended was FanX in 2016.
"I love it. I'm a big man-child, so I love comic books, I love Marvel, I love the whole experience, so I'm honored to be here," McLean told reporters.
He said the beloved boy (now men) band is still going strong after 30 years together, and will soon release its first Christmas album. A collaboration with British girl band Spice Girls could also be in the works, he said, though it hasn't happened yet.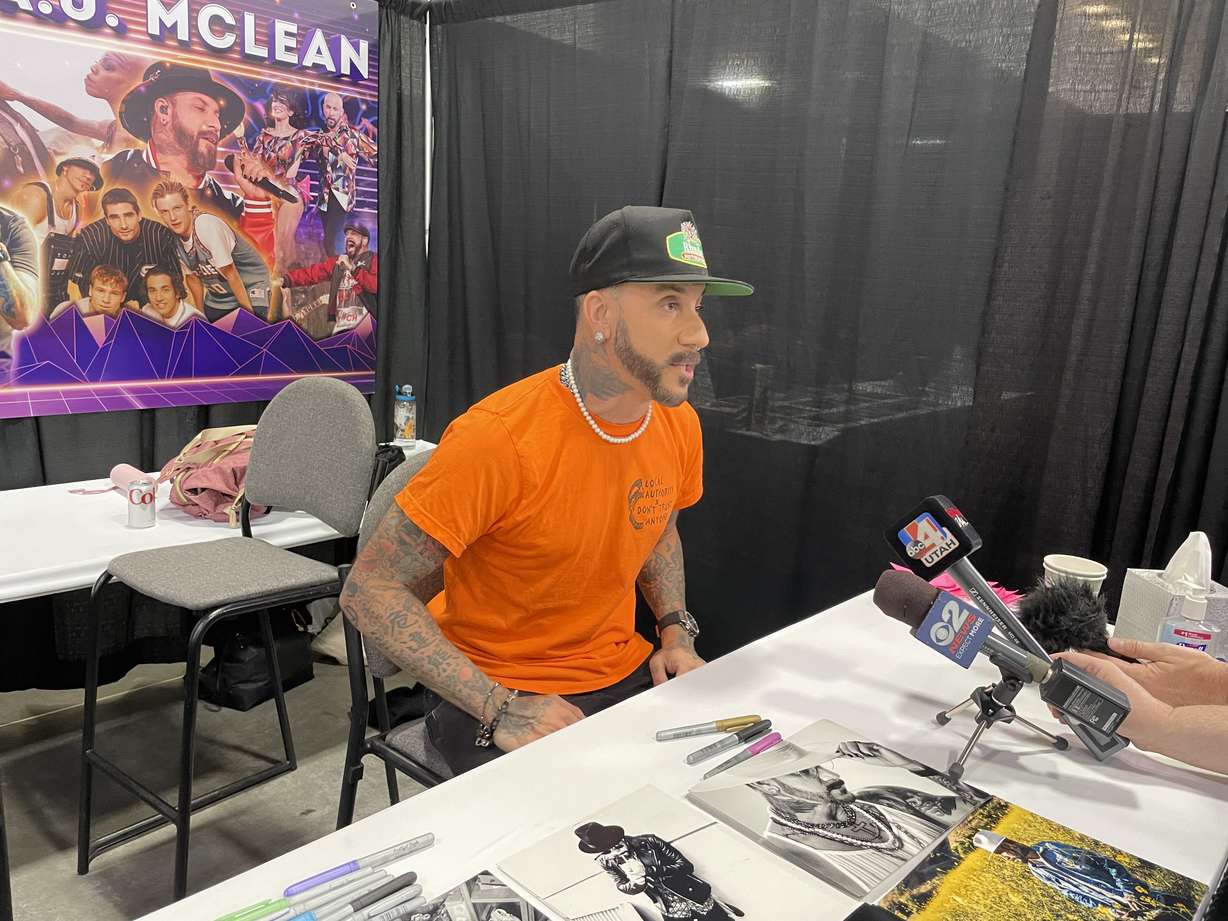 Backstreet Boy AJ McLean speaks to reporters during the FanX comic convention on Thursday in Salt Lake City. (Photo: Ashley Imlay, KSL.com)
When asked whether he considers himself a nerd, he said: "I'm the biggest nerd in the world. I'm a man-child, I love toys, I'm a sneaker head, I'm a major collector. I have a serious problem with sneakers and Funkos," referring to the pop culture-centered dolls.
He added he has about 1,200 Funko dolls, which his wife made him move into storage, as well as an "Iron Man" helmet. "This is like my haven, at any of these cons. I have the best times. And the other artists and the people and the fans here are so kind and so sweet, and it's just one big, happy family, to be honest with you."
The convention celebrates iconic characters like Nintendo's Mario, who perhaps no one knows better than Charles Martinet.
"Hello, itsa me, Super Mario! Woohoo. Mama mia, you're No. 1!" said Martinet, who has voiced Mario since 1992.
He said he "crashed" the audition for the character after never having heard of Nintendo.
"You're an Italian plumber from Brooklyn named Mario, and you're going to be in a video game, a real-time animation system for Nintendo," Martinet recalled those at the audition telling him.
He said he started describing the process of making spaghetti in an Italian accent until he ran out of things to say and began making it up. He got the job, and it's since been 30 years of "great joy," Martinet said.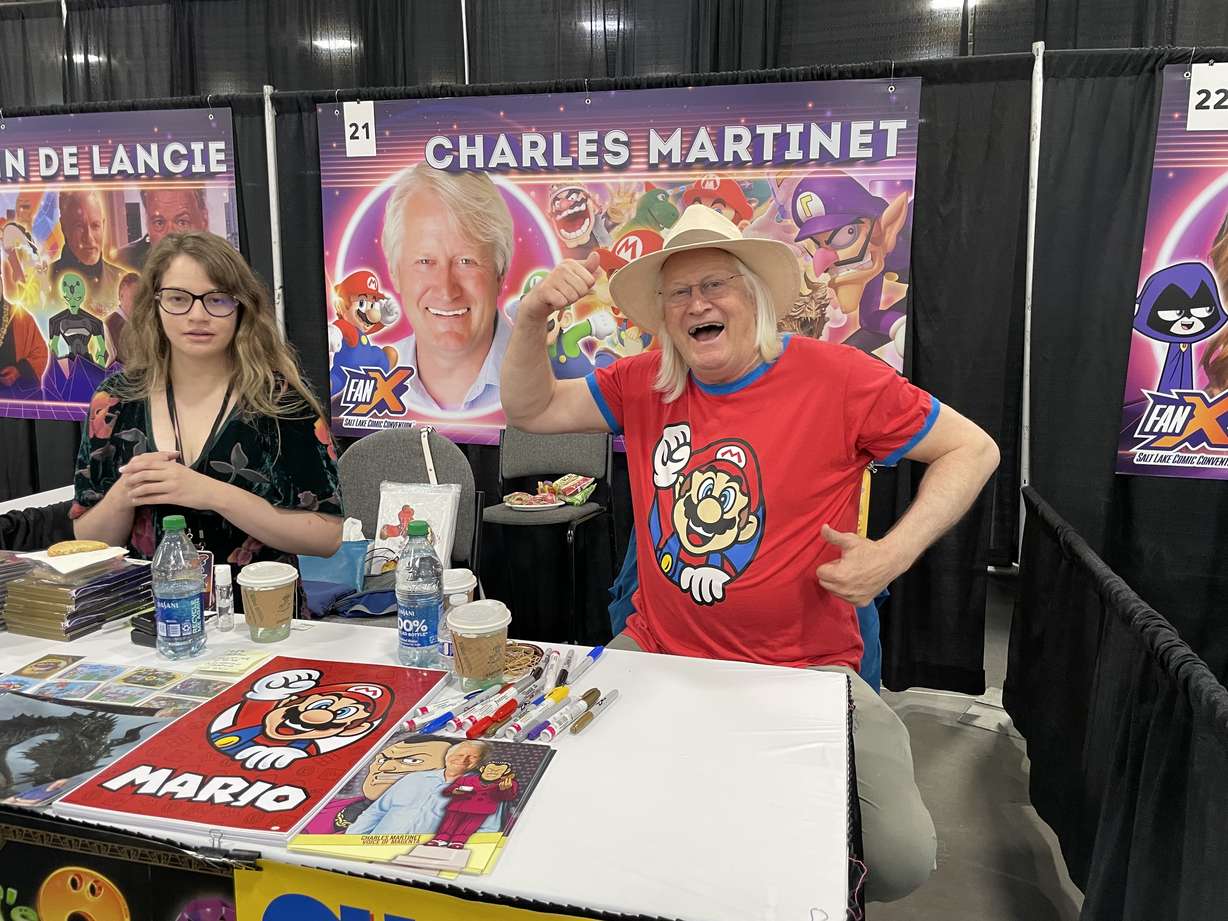 Charles Martinet, who voices the character Mario for Nintendo, poses for a photo during FanX in Salt Lake City on Thursday. (Photo: Ashley Imlay, KSL.com)
"Find what you love to do, what makes your heart sing, and bring happiness to yourself. Be your own best friend, because you deserve the love and tenderness you give your best friend, to yourself. And then go out into your world, because you will bring happiness to other people," Martinet urges others. "I think if we're all dedicated to happiness, our own and other people's, our world keeps getting better."
Jennifer McKenna, of Ogden, said she's attended the convention every year except one. Her favorite event is the "Doctor Horrible's Sing-Along Blog" singalong, a charity event that takes place at the end of the convention.
"And it's 500 people singing along to the same thing, and we're like, we've got props and everything. It's awesome," she said.
She was excited to meet actor John de Lancie of "Star Trek" fame on Thursday.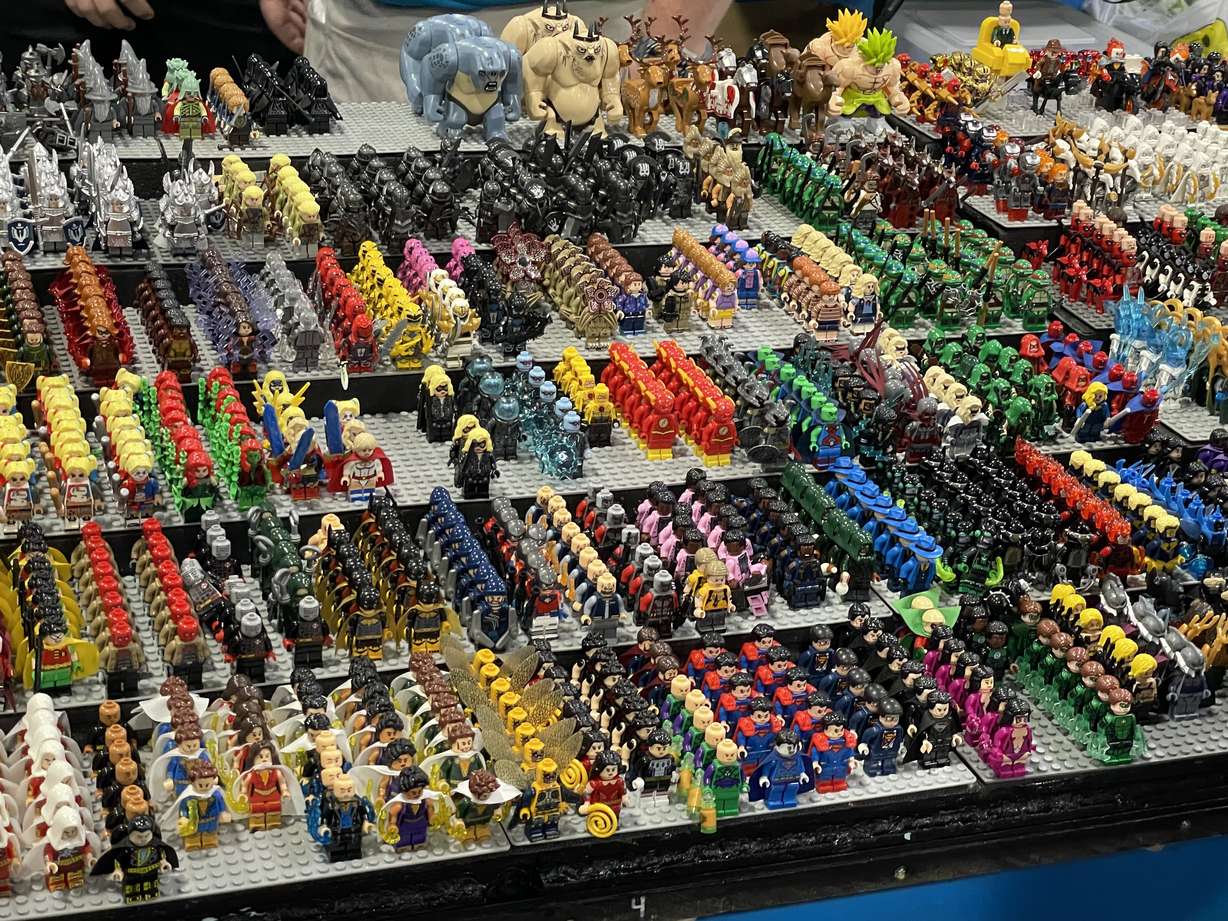 Brick toys of numerous characters are pictured during FanX in Salt Lake City on Thursday.
Actress Rachel Skarsten, a celebrity guest at the event, said she loves comic conventions because they give people the chance to be themselves. She said she's excited for FanX, which she is attending for the first time.
Jonas Carlind and Tate Rigtrup traveled from Cedar City for the convention, where they cosplayed as a samurai and a knight.
"I've always wanted to go to a convention. I've never been to any of them. I just happen to have all of this," Rigtrup said of his knight armor.
Carlind was excited to meet "Princess Bride" actor Cary Elwes, and Rigtrup said he couldn't wait to buy merchandise, especially a leather-work backpack.
Rigtrup said he looked forward to "the inclusiveness. It's nice to be around people who are as nerdy as you."
"It's nice to come express your interests and your hobbies, the things you like to do and watch and play," Carlind said.
×
Photos
Most recent Utah stories
Ashley Imlay covers state politics and breaking news for KSL.com. A lifelong Utahn, Ashley has also worked as a reporter for the Deseret News and is a graduate of Dixie State University.
More stories you may be interested in