BYU RB Tyler Allgeier drafted in 5th round by Atlanta Falcons
Brigham Young Cougars running back Tyler Allgeier (25) breaks away for run as BYU and UAB play in the Radiance Technologies Independence Bowl in Shreveport, Louisiana on Saturday, Dec. 18, 2021. (Scott G. Winterton, Deseret News)
Estimated read time: 3-4 minutes
PROVO — Tyler Allgeier came to BYU as a walk-on running back, thought about leaving after not earning a scholarship despite a move to linebacker, and ultimately ended up with a spot in the Cougars' record book as an all-time running back and individual.
The owner of the fifth-most rushing yards in BYU history and second-most career touchdowns, Allgeier piled up 2,899 yards and 36 scores, including a single-season record of 1,601 yards as a junior in 2021.
Beyond record breaker, Allgeier departs Provo with one more honor: NFL draft selection.
The Fontana, California native was selected by the Atlanta Falcons with the 151st overall pick, the eighth pick of the fifth round Saturday in Las Vegas.
And his first emotion after a historic college career and the opportunity to sign a life-changing professional contract? Relief.
"I would say more anxious than anything," Allgeier said in the days leading up to the draft. "I'm just trying to see what team ends up picking me up, and just doing what I did there."
The selection of Allgeier marks the sixth time in the past seven years the Cougars have had a player picked in the annual draft. He followed a record-breaking draft in 2021, when former Corner Canyon star quarterback Zach Wilson went No. 2 to the New York Jets — the highest draft pick in BYU history — and four players followed him.
Allgeier could have followed them, after spending two seasons out of college mixed with a non-counting 2020 season played amid the COVID-19 pandemic. But he had other plans.
He wanted to prove that he could do what he did in 2020 — run for 1,130 yards, score 13 touchdowns, fumble just once in 150 carries — without Wilson and an offensive line anchored by Carolina third-round pick Brady Christensen.
And he did, even exceeding his own expectations as a tailback and showing his linebacker traits in a now-viral interception stop against Arizona State.
"I'm just a football player," he said. "Special teams, running back; whatever they need."
More than anything, the Falcons are getting a worker, one who doesn't take any opportunity lightly. Allgeier is the 11th fifth-round draft pick in BYU history, and the first since former offensive lineman Scott Young went to the San Francisco 49ers in 2005. In all, BYU is the fifth-highest drafted running back in Cougar football history and the 18th ball carrier drafted from the program.
"The Falcons are getting a fantastic football player and an incredibly humble and hardworking teammate with the physical versatility and football IQ to contribute in many different ways," BYU coach Kalani Sitake said. "He is the kind of person who will always succeed and improve. I am excited for Tyler. I look forward to following his NFL career."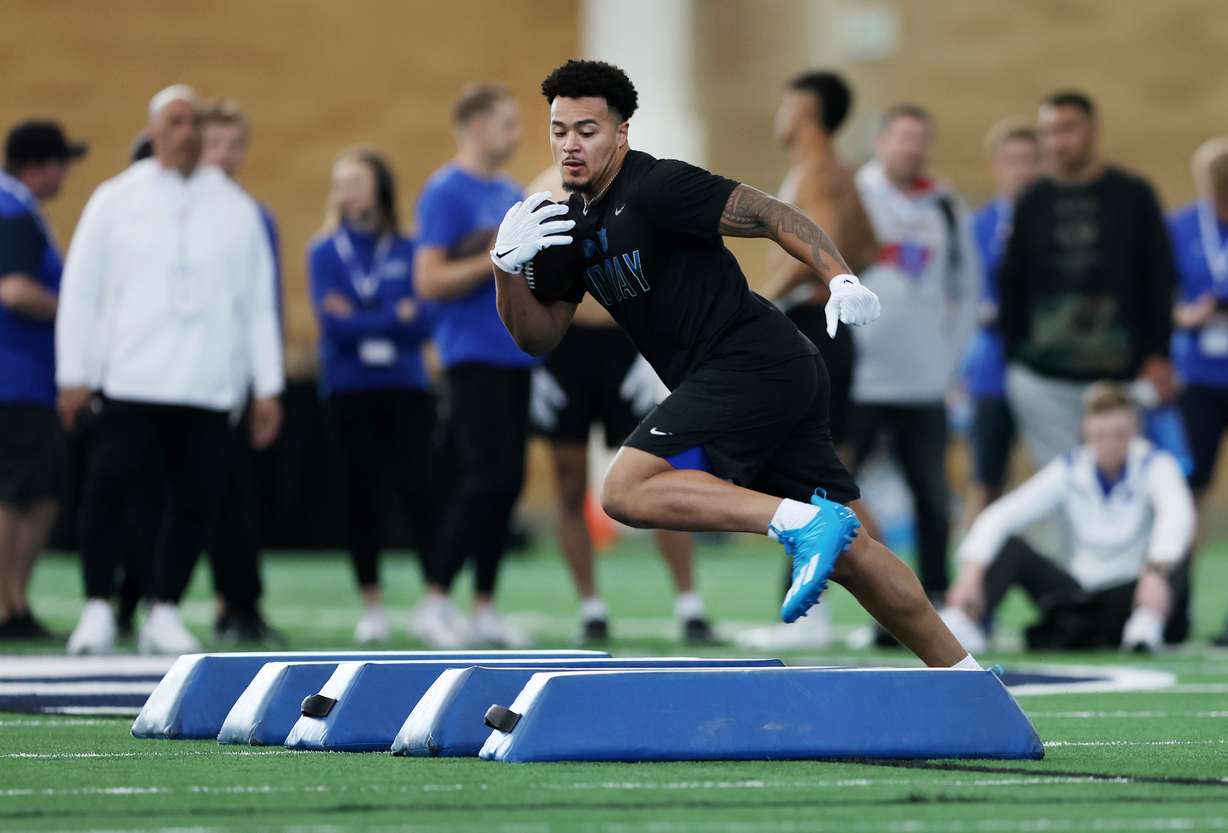 BYU running back Tyler Allgeier runs through a drill during BYU's per day at the university's indoor practice facility in Provo on Friday, March 25, 2022. (Photo: Scott G Winterton, Deseret News)
Allgeier ran a 4.60 40-yard dash at the NFL Combine in Indianapolis, earning comparisons to Arizona Cardinals running back James Conner, and added a 33-inch vertical jump and 120-inch broad jump.
So when it came time for the Cougars' Pro Day in Provo a few weeks later, Allgeier didn't feel a need to add on those numbers. He propped up his draft profile with 21 reps on the bench press, a 4.34-second 20-yard shuttle run and a 7.09-second three-cone drill.
"It's really just all glory to God, having family support and coaches who believed in me ever since high school to college coaches now," Allgeier said. I'm grateful for every one of them.
"Right when I signed a paper to come here as a preferred walk-on, it taught me to just put my head down and work. That's really what I strive for," he added. "Once I got the scholarship, I checked it off the list — and just got back to work. Strive for more."
But mostly, he just wanted to let his previous work — the hours of preparation, years of playmaking and 41 collegiate games including 21 starts at running back — speak for themselves.
"This was just the icing on the cake, just topping it all off," Allgeier said, "especially with the season I had last year."
×
Photos
Related stories
Sean Walker graduated from Syracuse University and returned to his home state to work for KSL.com covering BYU, prep sports and anything else his editors assign him to do. When he's not covering a game, he's usually listening to Broadway soundtracks or hiking with his dog.
More stories you may be interested in