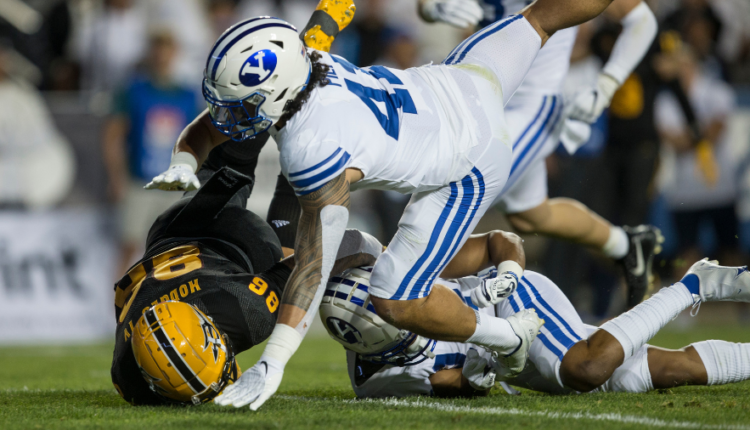 BYU soccer captain Keenan Pili is injured in the season
PROVO, Utah – BYU soccer captain Keenan Pili is out for the remainder of the 2021 season with a cruciate ligament injury.
Head coach Kalani Sitake opened his weekly press conference for the USF game that week, addressing the injury situation.
"Everyone should be back [this week], except one. And that's Keenan Pili, who we lost this season. He ripped his ACL so he'll be out. He'll be in rehab in a couple of weeks, preparing for the operation, "said Sitake.
Pili suffered the injury in BYU's 27-17 victory over the state of Arizona. Before the end of the game, Pili could be seen on crutches on the sidelines. He was a key element in the middle of BYU's defense on the MIKE linebacker spot.
In three games this season, Pili has accumulated 31 tackles, 3.5 tackles for loss, a quarterback rush, and a sack this season.
"We'll still need him as a leader. He's the captain so we still need him at the head of our team. He has a purpose and a role for us, it just changed, "said Sitake on Monday. "We're going to be relying on some of the depth at Linebacker to move up. I have great faith in Kevin Clune as a coach, the young men in this room, and Keenan too. So I had a great conversation with him and I'm looking forward to his role changing, but also influencing and influencing our program. "
Pili is the second linebacker to suffer an end-of-season injury this season. Before the autumn camp began, Tavita (Kavika) Gagnier went down with an injury that ruled him all year round.
Jumping in for Pili at the MIKE linebacker spot is Ben Bywater. Bywater started the BYU win against Arizona to open the season as a replacement for the injured Max Tooley. Bywater has 18 tackles this season in three weeks.
Ilaisa Tuiaki selected Keenan Pili and Payton Wilgar as Defensive Player of the Week in their win over Arizona.
"They are both captains and the guys all react to them and they have influence in the locker room on the field and they do, they do a really good job." # BYU
– Mitch Harper (@Mitch_Harper) September 6, 2021
Pili is on the BYU list for the second year. It is his fourth year with the program. He used his 2016 red shirt season as a real newbie. Pili still has two years to go in his BYU career.
Mitch Harper is BYU Insider for KSLsports.com and moderator of the Cougar Track Podcast (SUBSCRIBE) and Cougar Sports Saturday (Saturday from 12-3pm) on KSL Newsradio. Follow him on Twitter: @Mitch_Harper.