It's prime powder season at these under-the-radar Utah resorts
Estimated read time: 5-6 minutes
Thanks to an abundance of recent snow storms, Utah is having one of its best starts to the ski season in decades. Ski Utah reports that all 15 of the state's ski resorts are charting big snow stats, which means the canyons are sure to be packed with visitors from near and far.
If you find things getting a little crowded on the mountainside, now would be a great time to venture out to some of Utah's under-the-radar resorts.
Starting from north to south, here's a good sampling of ski spots and towns that are sure to steal your heart this season.
logan
Up near the top step of Utah in the Bear River Mountains sit two cozy resorts. On the northeast face, you'll find the longest continuously run family-owned mountain resort in America: Beaver Mountain. It is a true locals' favorite, but it's far from quaint: You'll be working with 828 acres and 1,700 vertical feet.
On the other side of the range sits the youthful Cherry Peak. Also family-run, the 400-acre resort is emerging as a complete winter recreation destination complete with tubing, night skiing and ice skating. Accordingly, the nearby city of Logan, a college town home to Utah State University, deserves an honorable mention in the category of most popular ski towns in Utah.
ogden
Don't let Ogden be an afterthought. This Northern Utah city maintains high standards on the slopes while keeping things chill downtown. Snowbasin Resort hosted the 2002 Olympic Downhill, boasts 2,900 feet of vertical skiing across 3,000 acres and, as a bonus, offers some of the state's finest restrooms. The Ikon Pass-participating Snowbasin has not offered on-mountain lodging — but by 2024-2025, the world-famous travel company Club Med will bring 300 rooms to the resort.
Until then, you'll find plenty of lodging in Ogden and a few boutique options up the canyon in the Ogden Valley. Here, three fingers of Pineview Reservoir spread out icily across the basin and the 450 acres of family-friendly Nordic Valley Resort peer out from the east face of the Wasatch.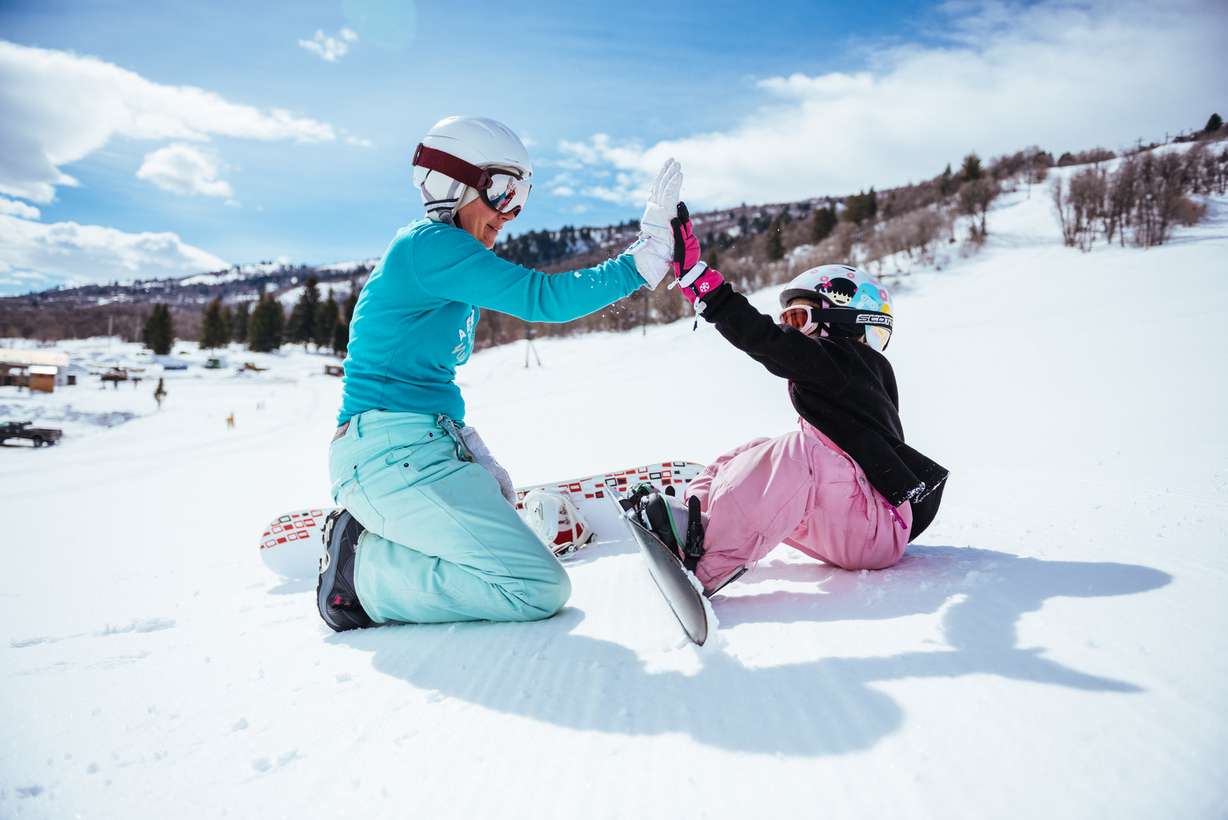 Nordic Valley (Photo: Jeremiah Watt)
Ogden's downtown bustles with restaurants, bars and shops, yet it's compact enough to feel like it could be picked up and tucked into a mountain canyon. Since it's only a 30-minute drive from downtown Ogden to three separate resorts, visitors can enjoy almost 12,000 acres of ski and snowboard terrain plus the amenities of a city with actual things to do outside of skiing. Off the mountain, discover this ski town's lively 25th Street (and adjacent neighborhoods), which boasts turn-of-the-century architecture. It's one of Utah's most famous streets and you'll be glad you saved energy to enjoy it. (Unless you diverted that energy to fat biking at Snowbasin, snowmobiling at Monte Cristo, Nordic skiing at North Fork Park and plenty more outdoor recreation options.)
Named after Utah's famous "Greatest Snow on Earth," Powder Mountain's 8,464 skiable acres make it the largest in North America. However, 500 of those acres are only accessible via skicats, so if you're a lift-only skier, you'll have to settle for 7,957 acres. Still, that acreage — combined with backcountry skiing, lessons and 500 inches of annual snowfall — will whip you into serious skiing shape before the season's through.
beaver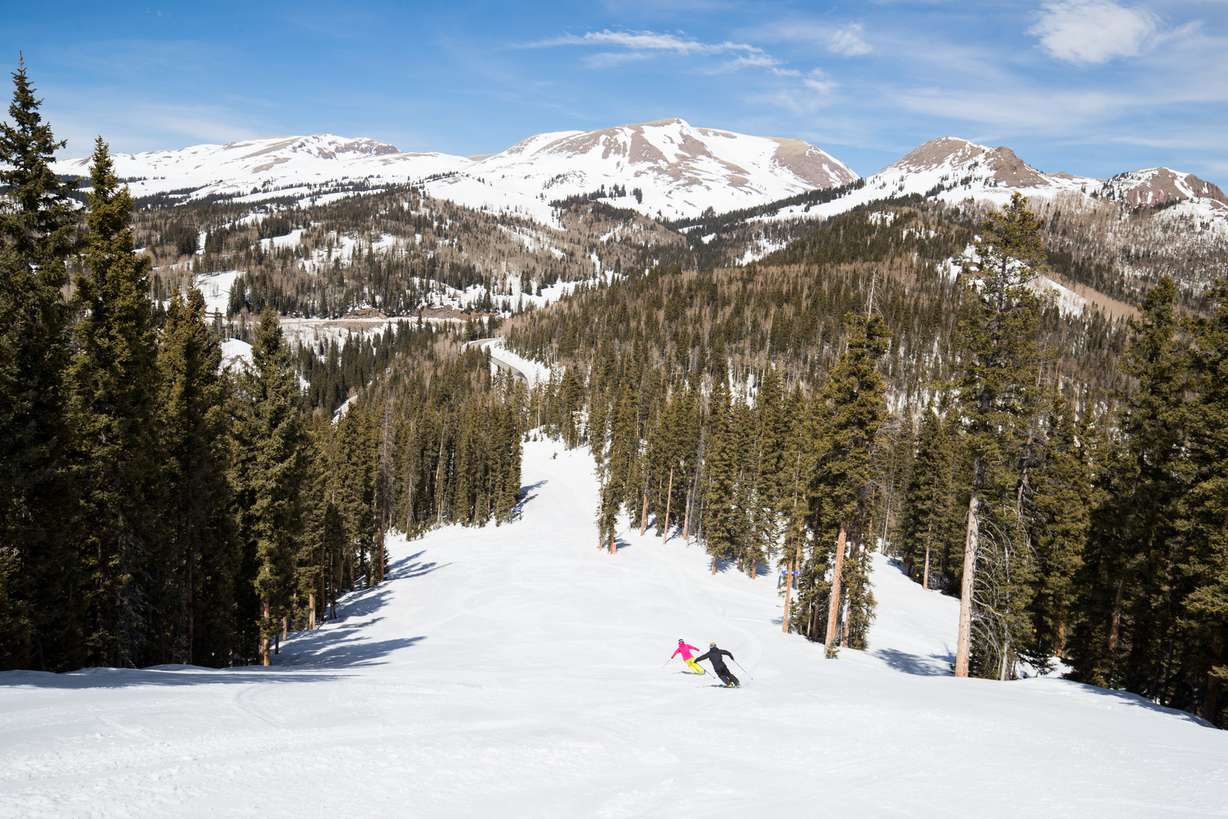 Eagle Point, Utah (Photo: Adam Clark)
Heading south from Salt Lake, it's a three-hour drive to the lesser-known Eagle Point Resort near Beaver, whose 650 acres flow across Utah's third-highest mountain range, the Tushars. You'll also enjoy snowcats, night skiing, a terrain park and high-elevation, resort-based solitude. But note: outside of the holiday season, Eagle Point is open Friday through Monday.
Brian Head
It's another half-hour south to the ski resort that combines Utah's two best-loved experiences — red rock landscapes and powder skiing! Brian Head Resort has Utah's highest resort base, where things are just getting started at 9,600 feet. Explore 650 acres across two mountains and absorb the views into Cedar Breaks National Monument. The town of Brian Head is also three hours from Las Vegas, 90 minutes from St. George and a mere 40 minutes up the mountain from Cedar City.
Your new favorite ski spot awaits
Wherever you are in Utah, you're not far from world-class skiing options. These under-the-radar resorts might just become your new favorite winter playgrounds. So, what are you waiting for? Grab your gear and hit the slopes!
About the Author – Andrew Dash Gillman
Andrew is a content marketing professional, freelance writer and content strategy consultant. He has written for visitutah.com and multiple regional Utah publications and is editing the third edition of Falcon Guide's "Hiking the High Uintas." He devotes his leisure time to writing a novel, running, listening to podcasts, fishing, hiking and camping with his doggos.
×
Utah Office of Tourism and Andrew Dash Gillman
More stories you may be interested in