June 5, 1967 – January 28, 2023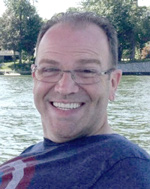 Michael W. Ogden, 55, Indianapolis, passed away on Saturday, January 28, 2023, at Community Hospital North in Indianapolis. He was born on June 5, 1967, to the late Kenneth and Judith (Cartmell) Ogden in Indianapolis.
Michael previously worked for a non-profit organization for HIV/AIDS patients in Fredericksburg, Va. He loved music and going to concerts. Michael was an avid movie buff who enjoyed life.
He is survived by his brother, Steven (Toni) Ogden; uncles and aunts, Dennis (Jeanie) Ogden, Richard (Kathy) Ogden, Patricia (Chris) Johnson, and Keith (Jeniffer) Ogden; and his cousins, Chet (Mary Ann) Blanton and Jennie Rose.
Private family services will be held.
Memorial contributions may be made to Indiana AIDS Fund, Inc., 429 E. Vermont St., Suite 400, Indianapolis, IN 46202 (indianaaidsfund.org).
Condolences: randallroberts.com