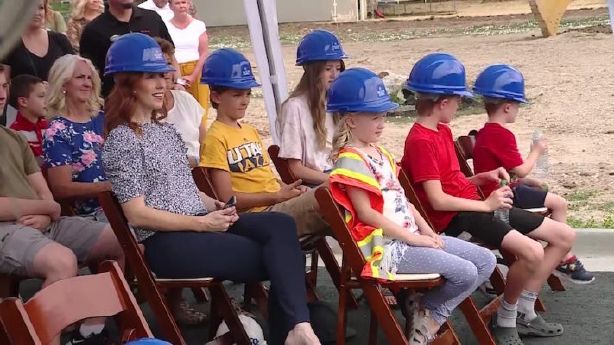 Non-profit organization lays foundation stone for new home for late Major Brent Taylor's family
A team of builders and brokers gathered around the Taylor family on Tuesday for a groundbreaking ceremony for their future home in North Ogden. (Sean Moody, KSL-TV)
NORTH OGDEN – A team of home builders and brokers gathered around Jennie Taylor and her family on Tuesday for a groundbreaking ceremony for their future home in North Ogden.
She is the widow of Major Brent Taylor, who was killed while serving in Afghanistan in 2018.
Many helping hands made this day possible – a testimony to Maj. Taylor who dedicated his life as Mayor of North Ogden to his country and community.
It was a very exciting day for Jennie Taylor and her seven children.
They were able to experience the first step towards building their dream home at a groundbreaking ceremony.
Thanks to the Have a Heart Home Foundation nonprofit, which works with local real estate agents and construction companies including the Northern Wasatch Home Builders Association and Nilson Homes, Taylor said she can build the loving home she and her husband envisioned almost eight years ago had.
"I can't tell you how excited we are to look at this picture and imagine it will become our home," said Taylor. "Where better to build it than right on the foundation of Brent's beloved mini-farm, where he's planted hundreds and hundreds of tomatoes?"
Taylor said it had been difficult for her and her children, with Brent Taylor's dedication and death and then the COVID-19 pandemic.
She believes 2021 will be the year they can finally pick up the pieces and heal them.
×
photos
similar posts
More stories that might interest you