Protesters in Salt Lake City call for halt to attacks in Armenia, ask US Congress to intervene
Margarita Hakobyan, left, of Midvale, protests Azerbaijani attacks on Armenia with members of the Armenian community outside the Wallace F. Bennett Federal Building in Salt Lake City on Wednesday. (Laura Seitz, Deseret News)
Estimated read time: 7-8 minutes
SALT LAKE CITY — Joanna Kazazyan feels helpless as thousands of miles away her family members hide in a basement in Goris, Armenia, as bombs explode outside. The situation is so dire that Kazazyan said the only hope her sister has left is divine intervention.
Kazazyan's family members are among the civilians whose lives and homes have been endangered by violence along the Armenian-Azerbaijani border. On Tuesday, the Associated Press reported that Azerbaijani forces unleashed an artillery barrage and drone attacks in many sections of Armenian territory and were trying to advance into Armenian territory. Since then 155 soldiers on both sides have been killed. Azerbaijan's Foreign Ministry said it was responding to a "large-scale provocation" by Armenia. It's the largest surge of violence between the two countries, who have been at a standoff for decades.
"I cannot even find words to speak about it. It's really sad," Kazazyan said. "It's my relatives. I should protect them somehow. Their right to live should be protected. It's the 21st century; they should live. Why should someone come and just bomb you because you live in that territory he wants? It's just nonsense."
Kazazyan was among about 50 protesters who gathered outside the Wallace F. Bennett Federal Building in downtown Salt Lake City on Wednesday night to demand a stop to the violence and to call on US Congress to take action.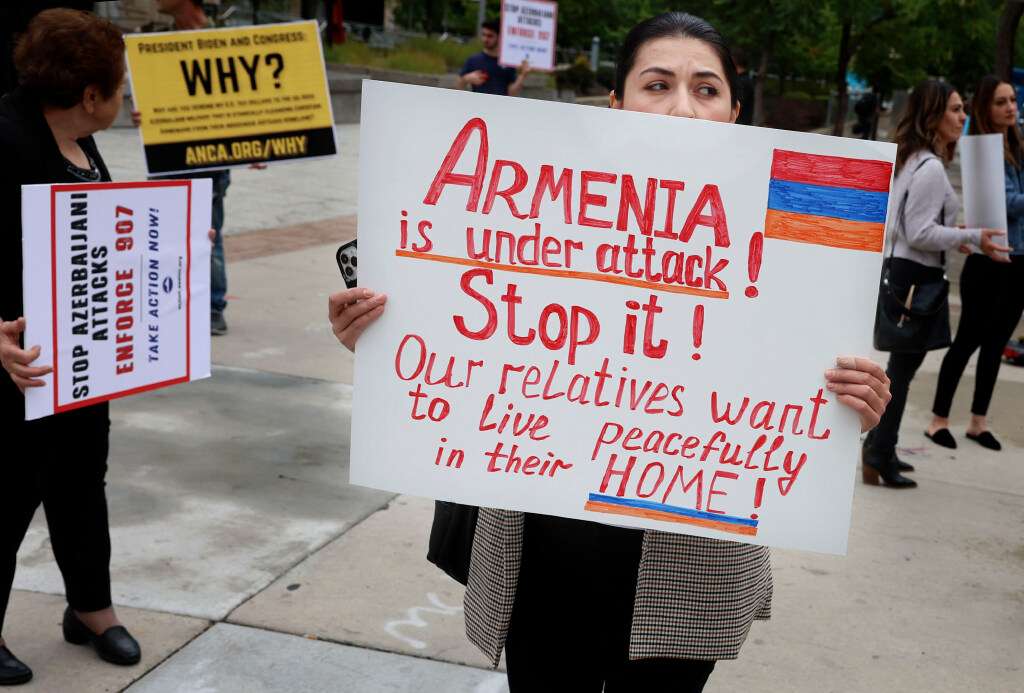 Joanna Kazazyan of Salt Lake City protests Azerbaijani attacks on Armenia outside the Wallace F. Bennett Federal Building in Salt Lake City on Wednesday. Kazazyan has seven relatives hiding in a basement in Goris, Armenia. (Photo: Laura Seitz, Deseret News)
Narine Sarkissian, Utah chair of the Armenian Assembly of America, criticized US military aid to Azerbaijan and said US negligence is pushing Armenia into the hands of Russia and endangering lives.
"Sadly, the US Department of State never accounted where the funds would be going," Sarkissian said. "I refuse to have my hard-earned tax money used to aid aggressors. That is not what I work for and why I contribute to the well-being of my community and the prosperity of United States of America."
The Armenian Assembly of America has been pushing for the US to enforce Section 907 of the FREEDOM Support Act of 1992, which prohibits aid to the Azerbaijan government, except for nonproliferation, disarmament, democracy and humanitarian efforts. Since 2002, the president had the authority, and used it, to waive the section. Waiving it does, however, trigger a requirement that the State Department report the nature and quantity of all training and aid provided to Congress.
Earlier this year, the US Government Accountability Office found that the State Department did not meet that requirement. According to the office, the US has provided $808 million in overall aid between 2002 and 2020.
"We found State didn't provide Congress with all required information — such as the impact of aid on the military balance between Azerbaijan and Armenia," the office said in a report. "For example, the agencies did not document how they determined that their programs would not be used for offensive purposes against Armenia."
Sarkissian called on her fellow Utahns and US citizens in general to reach out to their congressional representatives and senators to demand the enforcement of Section 907. US Rep. Adam Schiff, Democratic chairman of the House Intelligence Committee, and four other members of Congress have called on the Biden Administration and State Department to condemn Azerbaijan's actions and cease aid to the country.
"Azerbaijan must stop attacking and terrorizing innocent Armenian civilians. And the US and its allies must unequivocally condemn Azeri actions," Schiff said in a tweet.
Sarkissian said the Armenian Assembly of America has yet to hear back from Utah's representatives.
"We hope that the US will act more decisively and not make two-sided statements that two sides have to come to peaceful resolution when they see clearly who the aggressor is," she said. "Things have to be named the way they are."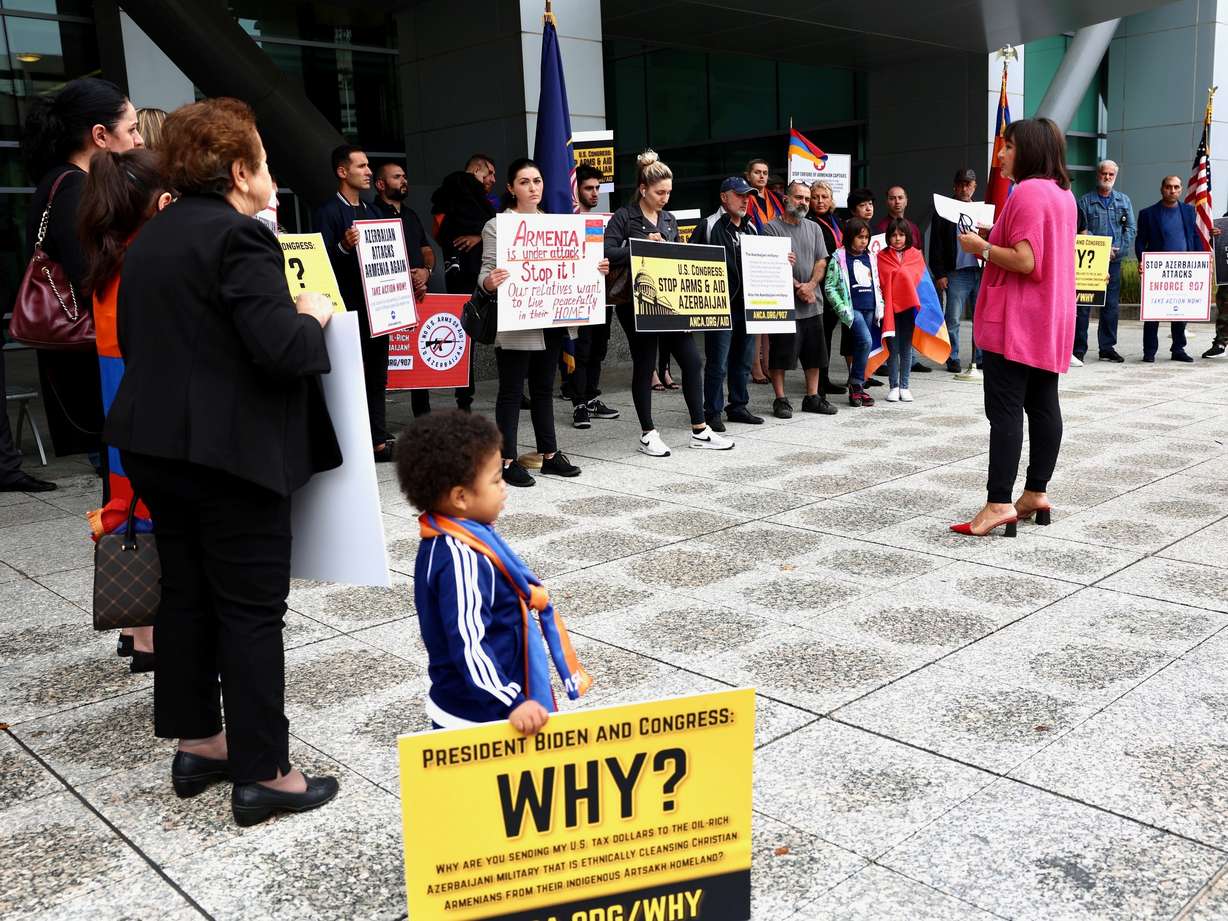 Utah Chair of the Armenian Assembly of America Narine Sarkissian, in pink, talks to a group of protesters outside the Wallace F. Bennett Federal Building in Salt Lake City on Wednesday. (Photo: Laura Seitz, Deseret News)
She estimated about 3,500 Armenian families live in Utah. Among them is that of University of Utah student Eric Davtyan's family. Davtyan, who attended the protest, was born in Utah but has extended family in Armenia.
"I'm trying my best out here, but I can't physically help them in any way," Davtyan said, adding that he's been trying to raise awareness on social media. "As much as you try to promote it and stuff, not a lot of people take action and do something about it. So it's kind of hard on me."
Diana Bareyan, who moved to Utah from Armenia 22 years ago, also expressed frustration at not being able to help her loved ones who are still in Armenia. Bareyan also said that while the global support for Ukraine has been great, she wishes that support and awareness could extend to other smaller nations that are also suffering.
"Armenia needs help, and any help that the great American people can provide will be always greatly appreciated by the Armenian people," she said.
"How many more times can Armenian people suffer?" Bareyan added, referencing the 1915 Armenian genocide. "History repeats itself. And if evil goes unpunished, sadly, it gets repeated. And that's exactly what I'm witnessing… I still believe that we have more kind people than evil and that eventually evil will be eradicated. Generally I' m not an optimist, but there is no other way around it."
Early Thursday in Armenia, the AP reported that the two countries agreed to a cease-fire on Wednesday night. A previous ceasefire failed earlier in the week.
What's behind the conflict?
Armenia and Azerbaijan have faced off for more than three decades in a conflict over the separatist Nagorno-Karabakh region.
The mountainous region is part of Azerbaijan, but has been under the control of ethnic Armenian forces backed by Armenia since a separatist was there ended in 1994.
The territory in the southern Caucasus covers an area of ​​roughly 1,700 square miles, about the size of the US state of Delaware.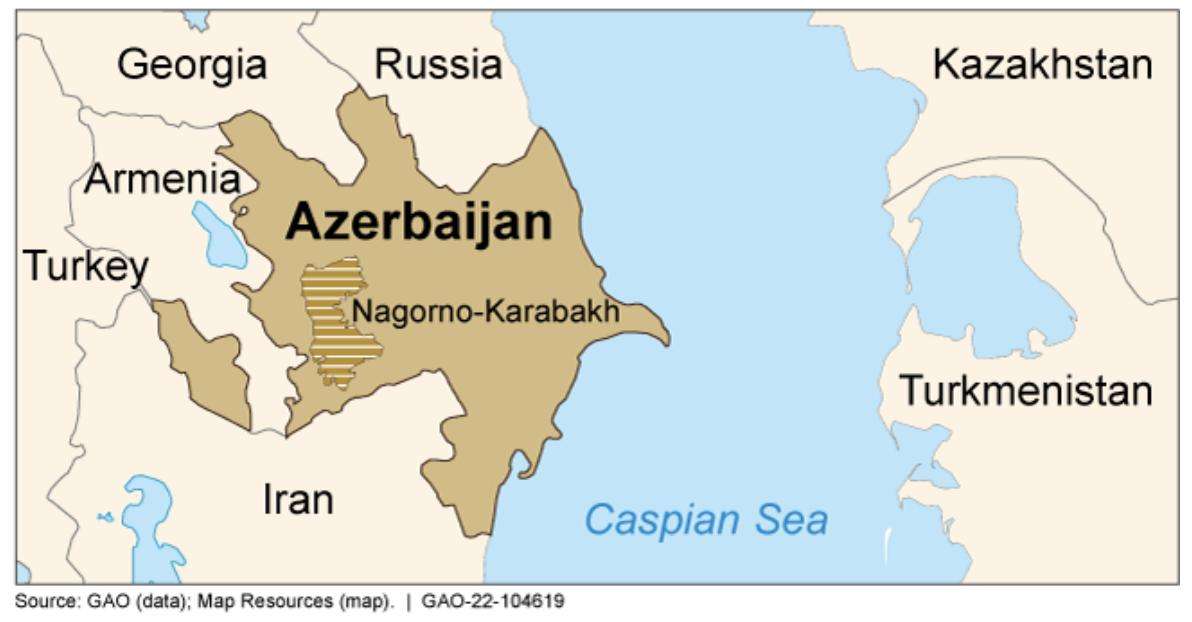 A map shows Armenia and Azerbaijan. (Photo: US Government Accountability Office)
During the Soviet era, the mostly Armenian-populated region had an autonomous status within Azerbaijan. Long-simmering tensions between Christian Armenians and mostly Muslim Azeris, fueled by memories of the 1915 massacre of 1.5 million Armenians by Muslim Ottoman Turks, boiled over as the Soviet Union frayed in its final years.
Fighting broke out in 1988 when the region made a bid to join Armenia, and after the 1991 Soviet collapse hostilities escalated into a full-blown war, killing an estimated 30,000 people and displacing about 1 million.
When the war ended with a cease-fire in 1994, Armenian forces not only held Nagorno-Karabakh itself but also broad areas outside the territory's borders.
International mediation efforts over the following decades failed to achieve a diplomatic settlement.
On September 27, 2020, Azerbaijan launched an operation called "Iron Fist" to reclaim control over Nagorno-Karabakh.
NATO member Turkey, which has close ethnic, cultural and historic bonds with Azerbaijan, offered it strong support.
In six weeks of fighting involving heavy artillery, rockets and drones that killed more than 6,700 people, Azeri troops drove Armenian forces out of areas they controlled outside the separatist region and also seized broad chunks of Nagorno-Karabakh proper.
A Russia-brokered peace deal on Nov. 10 allowed Azerbaijan to reclaim control of the areas occupied by Armenian forces outside Nagorno-Karabakh for nearly three decades, including the Lachin region, which holds the main road leading from Nagorno-Karabakh to Armenia. Armenian forces also agreed to surrender control over significant sections of Nagorno-Karabakh.
Russia has deployed about 2,000 troops to the region to serve as peacekeepers under the deal.
The agreement triggered years of protests in Armenia, where the opposition denounced it as a betrayal of the country's interests and called for the resignation of Prime Minister Nikol Pashinyan. Pashinyan has weathered the pressure, defending the deal as the only way to prevent Azerbaijan from seizing all of Nagorno-Karabakh.
Contributing: Associated Press
×
Most recent world stories
Sydnee Gonzalez is a multicultural reporter for KSL.com covering the diversity of Utah's people and communities. Se habla espanol. You can find Sydnee at @sydnee_gonzalez on Twitter.
More stories you may be interested in