These 16 Stunning Lakes Are The Best Lakes In Utah
Utah's landscape is vast, otherworldly, and breathtaking. It might surprise you that, for being the second driest state in the United States, it still holds over 2,000 lakes. These lakes vary widely from pristine alpine lakes to vast desert oases; each is uniquely beautiful. In our search for the best lakes in Utah to explore, we polled our readers on our Only In Utah Facebook Page for their recommendations. These 16 lakes stood out as some of the most beautiful lakes in Utah.
1. Lake Powell
Leading off with one of the most iconic lakes in America, Lake Powell captures the hearts of roughly 2 million visitors annually. It stretches across southern Utah into northern Arizona and is the second-largest reservoir in the United States. It offers nearly 2,000 miles of shoreline surrounded by an otherworldly desert landscape. With many ways to explore Lake Powell – from photographing its sweeping vistas to fishing, boating, or swimming in its vast, warm waters – the recreation opportunities are limitless.
2. Utah Lake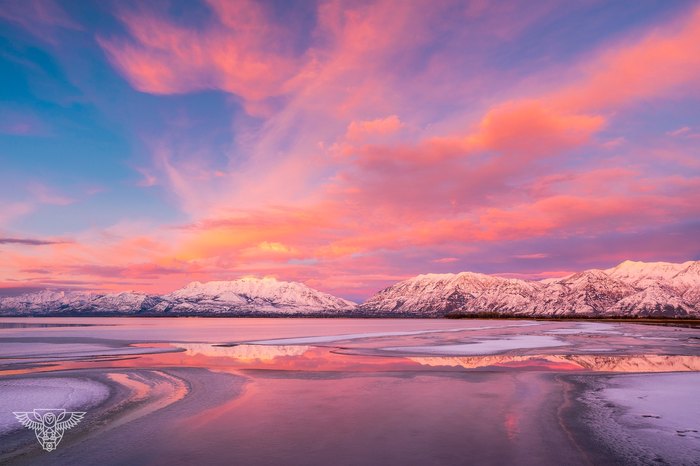 The beloved Utah Lake is the third largest freshwater lake west of the Mississippi River. Nestled in the Utah Valley in north-central Utah, this lake is revered not only for its gorgeous mountain-fringed scenery, but also for its excellent fishing year-round. Other popular recreation activities include boating, hiking, mountain biking, camping, and night sky viewing. Photographers might want to visit in the wintertime when sunsets and sunrises are most likely to light the skies ablaze with color.
3. Lake Blanche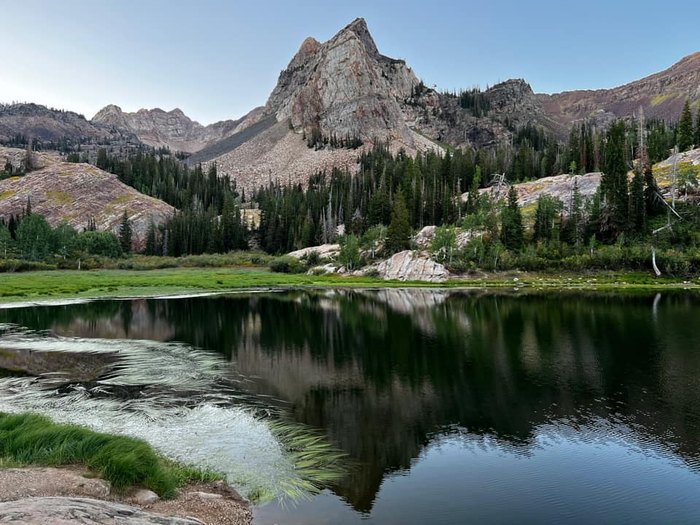 Situated at 8,920 feet in elevation, Lake Blanche is one of Utah's most pristine alpine lakes. It is accessed via a challenging 6.8-mile hike through the Twin Peaks Wilderness Area with incredible views along the length of the trail. Be prepared for some serious elevation gain – just over 2800 feet – if you attempt this trail. But the views are unbeatable: if you catch this scene at just the right time, you'll see Sundial Peak reflecting in Lake Blanche's waters.
4.Washington Lake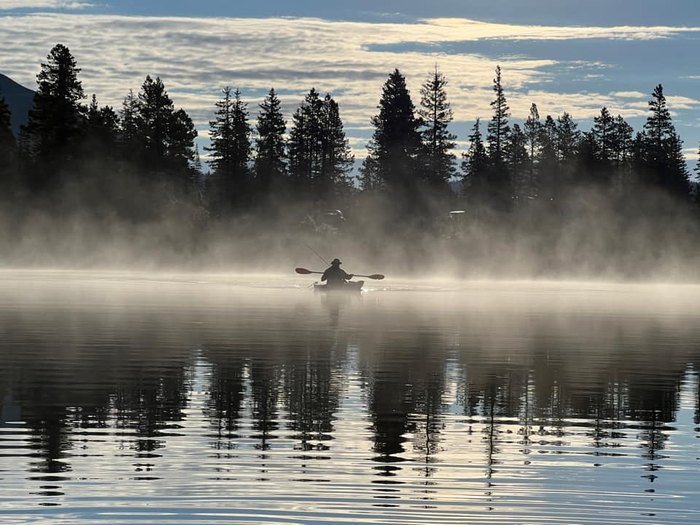 Washington Lake is located within Utah's Uinta-Wasatch-Cache National Forest east of Salt Lake City. It is an idyllic location for a variety of outdoor recreation such as fishing, hiking, kayaking, canoeing, swimming, and more. There are endless hiking trails and campgrounds within walking distance of the lake. And if you're lucky, you can enjoy a misty morning boating on the lake when the conditions are just right.
5. Pass Lake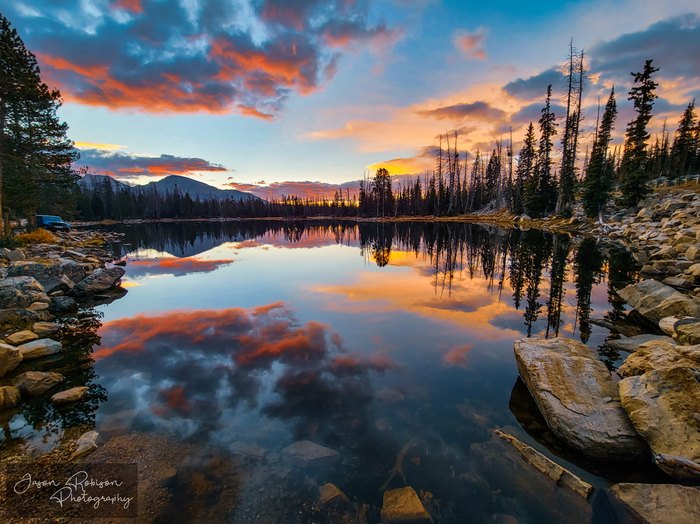 Situated at 10,250 feet in elevation, Pass Lake is nestled within the Uinta Mountains and Uinta-Wasatch-Cache National Forest. It is a shallow lake that is only eight feet deep at its maximum, so recreational activities are limited to fishing and primitive camping. Pass Lake's draw is its serene beauty and crystal-clear waters, which make for gorgeous sunset reflections on a calm evening.
6. Fish Lake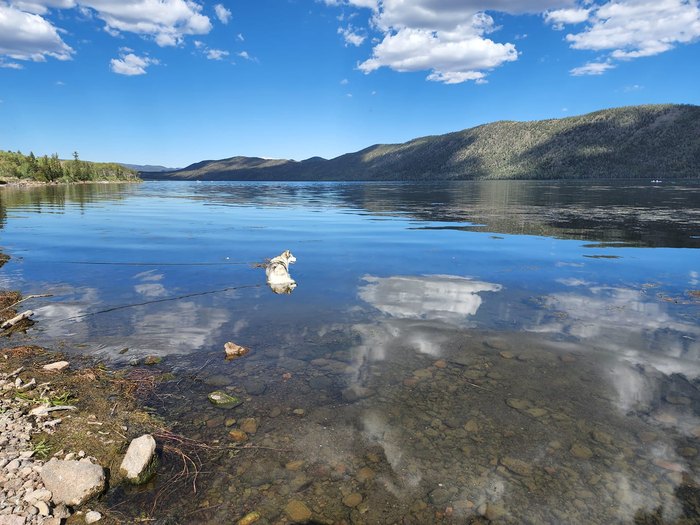 Fish Lake is a remote alpine lake located within Fishlake National Forest in south-central Utah. It is also the largest natural mountain lake in the state. It is bordered by the Mytoge Mountains and the Fish Lake Hightop Plateau, giving nature lovers stunning views of the mountainous landscape and pristine natural waters. Fish Lake visitors can enjoy fishing its various trout, salmon, and perch, as well as camping, hiking, and more.
7. Bear Lake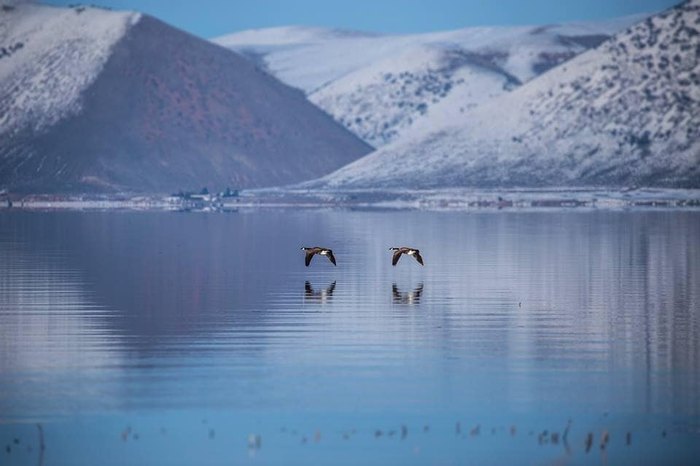 Bear Lake is revered by its visitors for its deep turquoise blue water, stunning mountain vistas, and plentiful wildlife. Located on northern Utah's border with Idaho, Bear Lake is the second-largest natural freshwater lake in the state. It also offers some of Utah's best when it comes to camping, fishing, boating, hiking, and more.
8. Moon Lake

Moon Lake is a picturesque reservoir located in northeastern Utah on the southern slopes of the high Uinta Mountains. The lake and the gorgeous mountains that surround it offer endless opportunities to explore via camping, hiking, fishing, paddle boarding, and more. It is as remote and pristine as they come.
9.Mirror Lake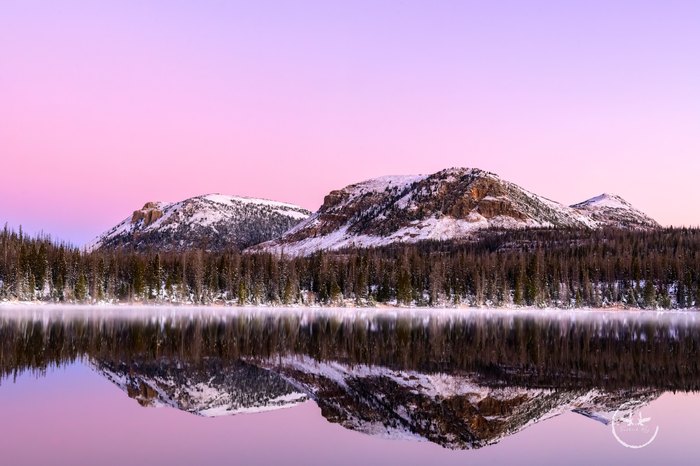 Another lake located within the high Uinta Mountains is the breathtaking Mirror Lake. You'll find it located along Mirror Lake Scenic Byway, along with myriad other lovely lakes, each giving way to some of Utah's most stunning scenery. Most traditional water recreation activities can be enjoyed on Mirror Lake so long as boats are not motorized. The adjacent Mirror Lake Campground offers 94 campsites to those who'd like to stay and explore for a while.
10. Flaming Gorge Reservoir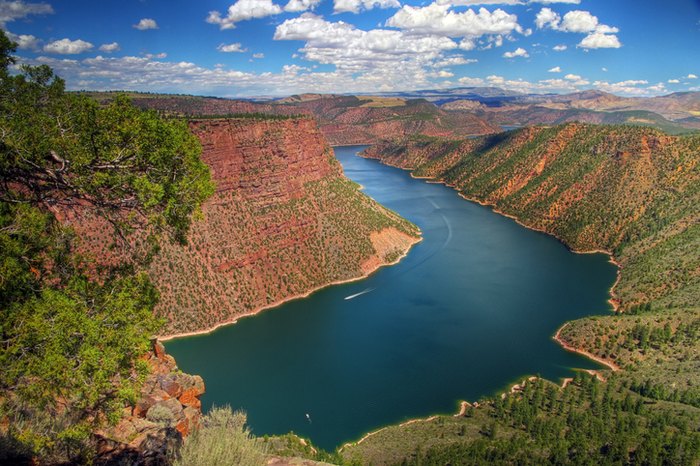 On the furthest northeastern reaches of Utah bordering Wyoming lies Flaming Gorge Reservoir. At 6,040 feet in elevation, it offers a mild climate and, along with its cool waters, a welcome reprieve from the summer heat. Endless recreational activities can be enjoyed at this lake, including powerboating, fishing, waterskiing, rafting, kayaking, swimming, hiking, camping, and more. But what sets this lake apart from any other is that it's framed by a steep-sided canyon with vibrant red hues that yielded its fitting name.
11. Ostler Lake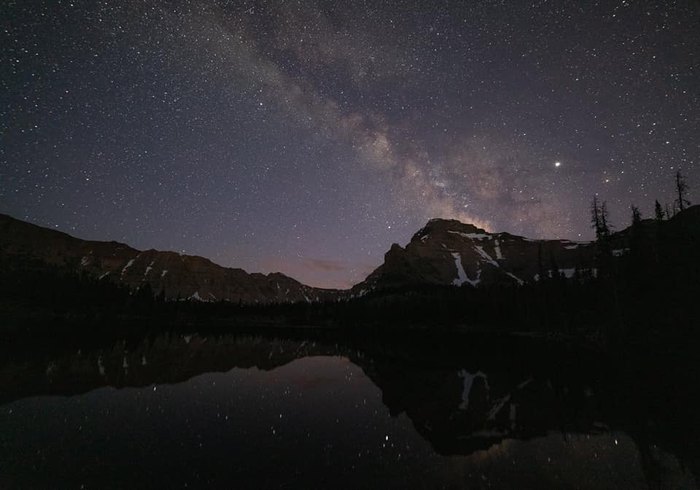 Deep within the High Uinta Wilderness Area in northeastern Utah is Ostler Lake. Found at about 10,544 feet in elevation, accessing it is not for the faint of heart. The trail leading to the lake is called Christmas Meadows, is rated "hard," and is 12.7 miles in length. Backpackers and avid hikers will love the challenge, and the final destination makes it all worthwhile.
12. Silver Lake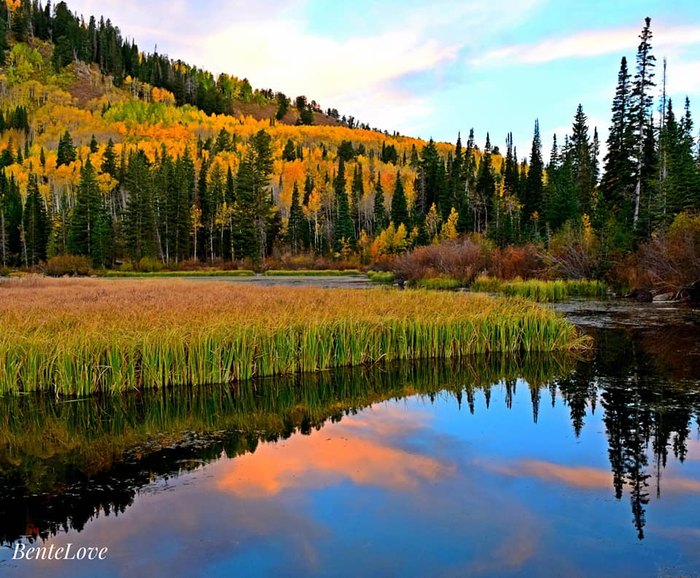 East of Salt Lake City at Brighton Ski Resort is the well-loved Silver Lake. This is a moderate-elevation lake at about 8,730 feet and is far more accessible than many of its high alpine relatives. In fact, you can easily walk around the lake, as the loop is less than a mile in length and mostly flat. The scenery is lovely, especially in the fall when the forest comes alive with color.
13. Strawberry Reservoir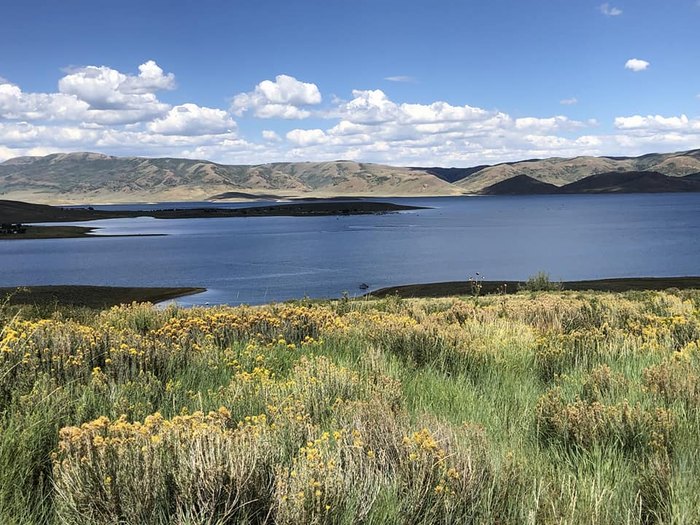 Strawberry Reservoir is Utah's renowned fishing lake, and it's incredibly scenic as well. Its fishing is Utah-famous because its waters are so high-quality and clear, and the fish are plentiful, particularly trout and salmon. Fun fact: the largest cutthroat trout ever caught in Utah was caught in this lake, and it was 27 pounds. Additional recreation activities around the lake include boating, waterskiing, kayaking, hiking, biking, and drinking in the beautiful scenery.
14. Trial Lake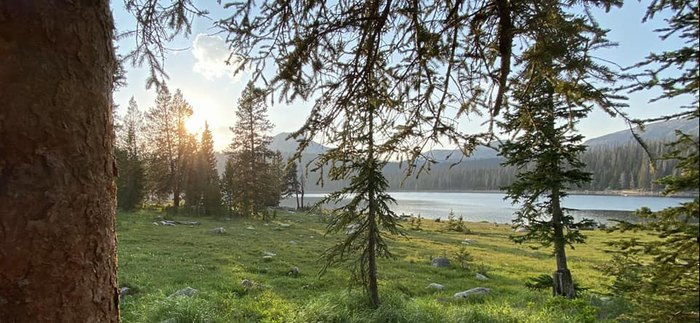 Trial Lake is another gorgeous alpine lake that is found within the Uinta-Wasatch-Cache National Forest in northeastern Utah. Unlike some of its neighboring lakes, Trial Lake is more accessible via an easy and relatively flat 1.5-mile trail. The views along the trail and at the lake are second to none, so be sure to take your time and drink it all in.
15. Yankee Meadows Reservoir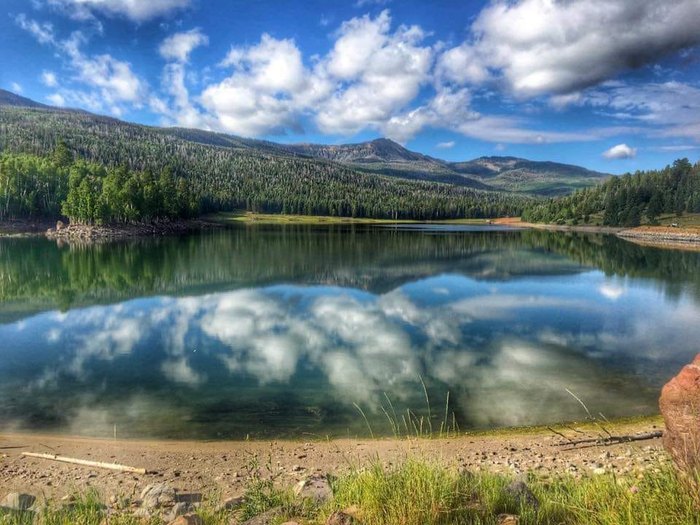 Within Dixie National Forest in southwestern Utah lies the breathtaking Yankee Meadows Reservoir. This lake is popular for non-motorized boating, fishing, hiking, and camping, but the scenery is truly what draws visitors in. You'll be met with sweeping views of the three Sydney Peaks reflecting off the water when the winds are calm. You're unlikely to encounter many crowds, and the nearby hiking trails shouldn't be passed up.
16. Great Salt Lake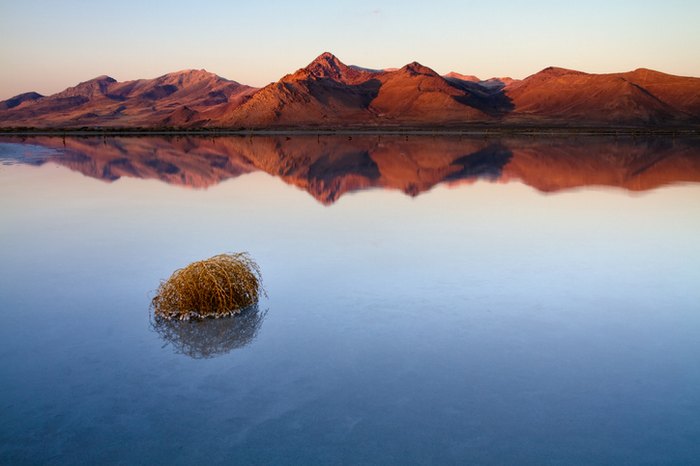 Lastly, no list of Utah lakes would be complete without the infamous Great Salt Lake. It is the largest lake in the United States west of the Mississippi River and the sixth largest in the United States. What makes this lake unique, however, is that it has a fascinating ecology. The lake is full of bacteria, algae, zooplankton, brine shrimp, and brine flies, and these in turn attract flocks of migratory birds; some of the world's largest populations of them! In addition, the lake is salty because there is no outlet leading the water out of the lake, so salt builds, making it up to 10 times saltier than the ocean. It's a fascinating lake, and quite beautiful, so you won't want to miss an opportunity to visit.
Which of these lakes do you think is the best lake in Utah? Which are you most excited to visit if you've never been? Let us know in the comments below.
And if you'd like to discover more stunning Utah landscape photos or share some of your own, be sure to join the Utah Nature Lovers Facebook Group. Additionally, check out this sapphire-hued alpine lake that's worth the long and beautiful trek.
OnlyInYourState may earn compensation through affiliate links in this article.