This Utah company will pick up and deliver stuff that you can't
If you are a fuel efficient car – or no car at all – you know the frustration of going to the store and finding something you love only to find you have no way of getting it home.
From trees to sofas to mattresses, wooden planks or a garden statue, you know the hassle of getting them into your car. Usually you will then ask about shipping options. But if you can find a great vintage armchair from the thrift store across town, chances are you're out of luck with shipping.
In true Utah fashion, the innovative spirit of Dave Nelson and Mary Bevan inspired them to find a local solution. PonyEx is an on-demand delivery service based out of Utah that can deliver your small items for a small fee. In fact, the company wants to be at the forefront of meeting all of your expectations. So go ahead, buy this life-size replica of the Game of Thrones Iron Throne!
How it works
With a business model similar to Uber or Doordash, get into the PonyEx app and request delivery. You decide what type of transport your item needs – does it fit best in a car, truck, pickup or trailer?
You can also choose your delivery time frame. If you're not in a hurry, you can choose same-day delivery or even schedule up to 7 days in advance. If you have something that you need to get to your home quickly, choose express delivery (it should arrive in less than two hours!).
Once the driver accepts your request, you can track them to your location. Then load the item into your car or truck and make sure it is safe to transport. The driver will then meet you at your destination where you will unload your item. You can also request help with loading and unloading the driver if you don't want to do everything yourself.
This isn't a business like Amazon or UPS – PonyEx is actually all they don't. They literally want you to think outside the box as you are not dropping off your item at a store or ordering from a service. PonyEx is for everything in between.
With the exception of personal, restaurant and food deliveries, items of exceptional value or hazardous materials, you can have anything delivered. But does that mean no food deliveries at all? When asked, PonyEx owner Dave Nelson said, "We love to deliver everything that traditional food apps can't."
With the exception of people, valuables or dangerous goods, you can have everything delivered. Here are just a few examples of how you can use PonyEx for your delivery:
Hand in donations at a thrift store
Pick up a kitchen table that you bought from KSL Classifieds
In-store pickups that you just don't have time for
Special orders from bakeries, butchers, weekly catering, caterers
Real estate sales finds
Prescription drugs
Unexpected delivery needs for your small business
Landscaping of gravel, earth, trees, or bushes from your local nursery
Small deliveries and time-critical deliveries are also on the list of options at PonyEx. For example, you can have a driver pick up some prescriptions from your pharmacy if you can't make it before closing time. Just make sure you give everything you need quick two hours in advance!
PonyEx has been making deliveries on the Wasatch front from Ogden to Santaquin since May 2021. They are currently accepting driver applications in St. George, Cedar City and Logan with plans to begin service in these areas in the coming weeks.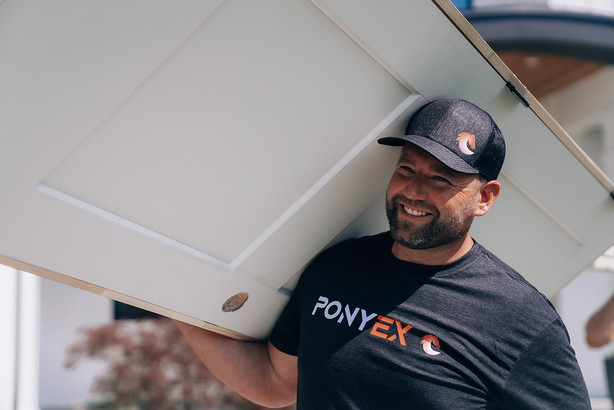 Photo: Aligned Media Productions
Drive for PonyEx
If you have a car, truck, or trailer that just takes up space in your garage, you can change something extra by driving for PonyEx. With as flexible a schedule as you want, you can set your own working hours and work as little or as often as you want. PonyEx is looking for more drivers in southern and northern Utah. If you have a truck, trailer or large van, you are particularly needed. These drivers can make up to $ 40 an hour!
Perhaps the best thing for those who hate small talk is that the drivers are only responsible for transporting the items – customers are not allowed to ride with drivers. So if you'd rather drive around town listening to your favorite music or a true crime podcast, no one is going to stop you! You can also choose to help with loading and unloading. If you have a large truck, panel van, or van, but don't want to do any additional manual labor, that's up to you! As a driver, if you have a commercial vehicle, freight or flatbed trailer, you can earn up to $ 40.00 per hour for these high-demand deliveries. Or if you have a small car and want to stay busy with PonyEx, sign up as a helper where you can meet another driver who will help them with loading or unloading.
PonyEx is set up with direct deposit so drivers can be paid weekly for their trips. Drivers must have insurance, registration and a valid license to drive PonyEx. To learn more about vehicle requirements, please visit the PonyEx website.
The delivery options
With this new service, the possibilities of what you can easily deliver are virtually limitless. Whether you're not renting a truck for a day or want to get your item delivered quickly, PonyEx is a great solution for you. Because PonyEx is there for everything that life throws at you!
To schedule a delivery or drive today, visit the PonyEx website or download the app.
×
More stories that might interest you