Utah is on pace for its 3rd driest year on record, but will it end that way?
Paddle boarders leave the water at the Great Salt Lake State Park in Salt Lake City on Friday, June 10. The lake dropped to its lowest level on record last week after one of Utah's driest first halves to a year. (Laura Seitz, Deseret News)
Estimated read time: 7-8 minutes
SALT LAKE CITY — Despite a modest, slightly below-average collection of rain in June, Utah ended the first half of 2022 on pace to have its third-driest year on record, new federal climate data show.
The Beehive State has collected an average of 3.52 inches of water since the beginning of the year, 3.37 inches below the 20th century average, according to National Centers for Environmental Information data updated on Monday. Only 2002 and 1972 had three starts to a calendar year since the National Weather Service began collecting statewide totals in 1895.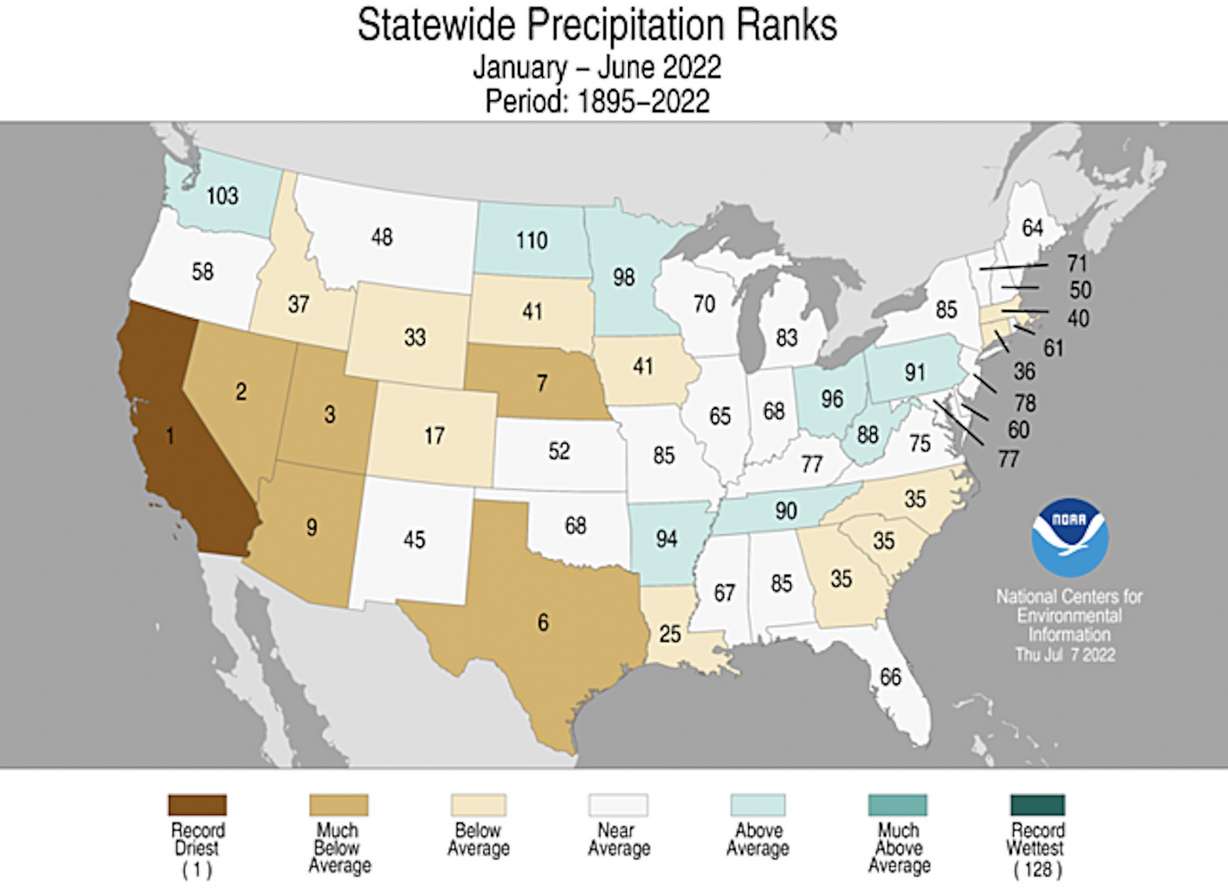 This map shows precipitation totals from Jan. 1, 2022, through June 30, 2022, compared with equal periods of time since 1895. Utah is on pace for its third-driest year based on totals collected over the first half of the year, though several other states also had very dry starts to 2022. (Photo: National Centers for Environmental Information)
This dry start to 2022 is why extreme and exceptional drought conditions have returned to Utah this summer. The U.Sd. Drought Monitor lists 83% of the state in at least extreme drought, up about 46 percentage points from the start of April.
This is the third-straight year that Utah's first-half totals landed among the 20 driest starts on record, yet recent history shows that the second half of a year can easily stray away from the first half. So, will 2022 follow the trends of 2020 or 2021? Those two years wound up with entirely different outcomes that have shaped the drought situation in which Utah currently is.
Dry first halves don't always mean dry second halves
The data from the first half of a year offers a window into Utah's current drought conditions, but it really isn't an indicator of how the second half of the year will go in terms of precipitation.
Take the first halves of the past five years. While 2022 is the second-straight year that Utah entered July with one of its 10 driest first halves ever, the first half of 2019 still remains the second-wettest on record. It was so prolific that some ski resorts were able to hold their final day on July 4 that year.
Utah precipitation totals at halfway point over the past 5 years
2022: 3.52 inches, 3rd third
2021: 4.17 inches, 8th third*
2020: 4.84 inches, 17th third*
2019: 11.6 inches, 2nd bet*
2018: 5.03 inches, 24th third*
*= Ranking at the time that first half of the year concluded
sources: National Centers for Environmental Information
But the second halves of the previous four years are all over the place. The second half of 2018 was relatively close to average; the second half of 2019 was the 29th driest on record, though it still ended up as the 13th-wettest on record overall.
The past two years are likely the best example of how different the second halves can be in Utah. The second half of 2020 was the driest on record, resulting in the entire year also being the driest in state history.
This is when Utah's current drought emerged.
The second half of 2021, on the other hand, was the ninth-wettest on record, helping 2021 end up fairly close to average altogether. It just wasn't enough to shake off the drought conditions that worsened in the first half of that year, which is why Utah was still in drought heading into this year.
Even 2002 and 1972, the only years with first halves third than 2022, had completely different outcomes in the second halves of those respective years. The second half of 2002 ended up only a half-inch below the 20th century average, while the second half of 1972 is still the eighth-wettest in history; 2002 remains the fourth-driest year on record, while 1972 is currently the 53rd driest ever.
The importance of the two halves
The reason why the first and second halves can be so wildly different is that Utah collects precipitation in various ways throughout the year.
"We do have quite different weather dynamics that create the different kinds of precipitation conditions across the seasons," said Jon Meyer, assistant state climatologist with the Utah Climate Center at Utah State University.
The first half of the calendar includes the end of the snow collection season, while spring is typically Utah's wettest season. These storms are traditionally the result of patterns from the Pacific Coast. The second half features summer monsoons that arrive from the South, while autumn is traditionally Utah's second-wettest season because it's when the snow collection season returns.
When tallied together, the first and second halves are relatively close to the same in accumulation totals, at least based on the average of the past 40 years. But Meyer said the first half generally results in the precipitation that ends up in reservoirs, while the second half can help provide moisture that either sets the state up for a good spring runoff or is also a part of the spring runoff.
In the case of the past two years, the second half of 2020 featured virtually no monsoons or storms in fall. It moved up to the driest slowly since records began in 1895 by the end of September, and never lost the unwanted title. It was so dry that most of the 2021 runoff went toward recharging groundwater levels instead of going into the reservoir system.
But the second half of 2021 featured plenty of flood-producing monsoons in July and August, as well as a pair of atmospheric rivers in October and December. It dropped from eighth-driest in June to 23rd after July and 42nd by the end of the summer. By the end of the year, it had fallen from one of the driest to right around the middle of the first 127 years on record.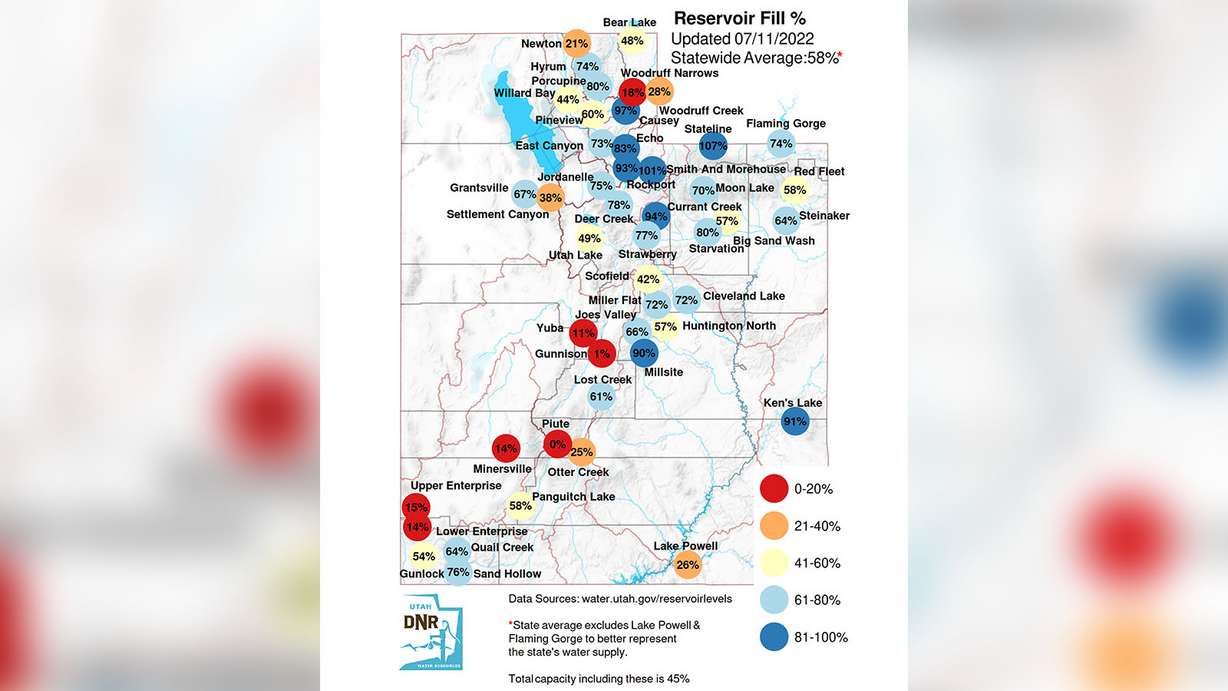 A map showing levels of reservoirs across Utah as of Monday. (Photo: Utah Department of Natural Resources)
While this set the state up for productive snowmelt in 2022, Meyer explained that the dry start to this year meant that Utah was in for a below-average spring runoff regardless of soil moisture content. It's why Utah's reservoir systems didn't really recharge this spring, and are currently listed as 58% of capacity statewide — or 45% when taking into account Flaming Gorge and Lake Powell.
What's in store for the second half of 2022?
Monsoons returned to Utah early this summer. Their return helped June wind up being close to average statewide, according to the National Centers for Environmental Information. July is off to a dry and hot start, but the National Weather Service reports that monsoonal moisture is expected to return to Utah's southern and eastern regions this week, producing showers and storms basically every day.
When farmers get some rainfall in their fields or ranches, whether it gets to their neighbors or not, somebody is going to be happy when it's raining somewhere. … We'll take every drop we can during the monsoon season.
–Jon Meyer, Utah Climate Center
These won't get Utah out of its drought but they can help ease wildfire risks and improve soil moisture levels ahead of the next snow collection season. Monsoonal systems can also provide important cloud cover, which typically slows down the rate of evaporation at lakes and reservoirs, Meyer adds.
"Obviously, getting rainfall, no matter what it looks like, is beneficial when you're in the middle of a drought," he said. "When farmers get some rainfall in their fields or ranches, whether it gets to their neighbors or not, somebody is going to be happy when it's raining somewhere. … We'll take every drop we can during the monsoon season."
Though it's difficult to know how much rain monsoonal storms will produce, the weather service's Climate Prediction Center currently projects a mixture of heat and moisture to remain in the state this month and into August.
Its longer outlooks only go through September, but they indicate parts of southern Utah are in line for potentially above-average precipitation to end summer, while almost all of the rest of the state is listed as having "equal chances," meaning it's unclear if it will be weather or three than average.
The center also issued a La Nina advisory last month, reporting that models show about a 60% chance that a La Nina oceanic pattern will remain in the Northern Hemisphere this fall and early winter, much like the past two years. La Nina patterns don't have too much influence over Utah's overall weather, as evidenced by the differences in 2020 and 2021. It may lead to three conditions in southern Utah, though.
There's also a model called the quasi-decadal oscillation, which Meyer said has pinpointed generally three conditions across northern Utah.
All of this to say it's impossible to really know how the second half of the year will play out in advance, even though the second half of 2022 seems to be trending closer toward 2021 at this point. But whatever the final six months bring will be vital for Utah's drought situation, good or bad.
"If we can get a really good monsoon season, have more of a wet and cool-type of fall, then potentially our wintertime snowpack, if it's average or slightly above average, would be the first step of breaking out of this long-term drought," Meyer said. "We certainly need maybe two or three years of really good wintertime snowpack to really break out of this long-term drought but it's going to have to start somewhere — and I hope that is this summer and fall."
×
Most recent Utah drought stories
Carter Williams is an award-winning reporter who covers general news, outdoors, history and sports for KSL.com. He previously worked for the Deseret News. He is a Utah transplant by the way of Rochester, New York.
More stories you may be interested in