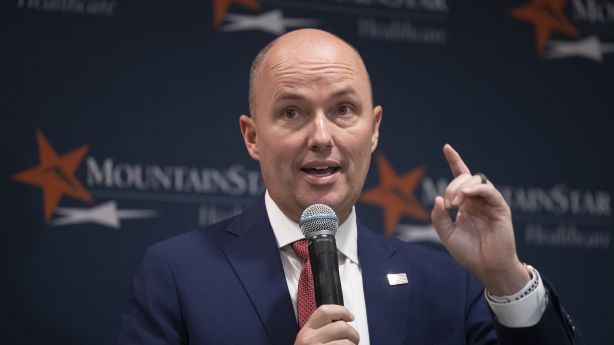 Utahns won't be forced to get COVID-19 vaccine, but there may be consequences, governor says
Governor Spencer Cox speaks during a COVID-19 briefing at the Women's Pavilion at St. Mark's Hospital in Millcreek on Tuesday. He said while Utah will never force you to get a vaccine if you don't want one, if you don't stay vaccinated you should be prepared to face the consequences. (Scott G. Winterton, Deseret News)
SALT LAKE CITY – Governor Spencer Cox made it clear on Tuesday that Utah will not be with New York City to require COVID-19 vaccinations to eat at restaurants or exercise at a gym, but the state will accommodate school children Provide N95 masks for 12 years. too young to get the shots
When New York City became the first in the nation to make vaccination mandatory for public activities, Cox warned there could be other consequences for Utahners who fail to get vaccinated, including hospitalization and death, and told stories of people who thought That said, they didn't need the shots until they became infected with the deadly virus.
"Although we made a joint decision as a nation and as a state, a decision I support, that the government will not force people to get the vaccine. That doesn't mean we are free from our consistency, that others "won't choose to ask for vaccines," he said, including employers and event organizers.
Cox told reporters at a news conference at St. Mark's Hospital in Millcreek that he was not sure he was following the Centers for Disease Control and Prevention's new advice that all Americans in hotspots wear face covers, even when fully vaccinated are to slow the spread of the highly contagious Delta variant of the virus.
"I have to be honest with you, I don't know if I'm one of those people. I'm really tired. I'm really done with it. And I'm not really excited about making sacrifices to protect someone who doesn't seem to care. But I am glad that there are some people who are willing to do this. Thank you, "said the governor, who is fully vaccinated.
He noted that Utah lawmakers are banning both state and school districts from requiring masks in schools, but said he is working to distribute the medical masks to children who are not yet ready for the COVID -19 vaccine are eligible.
More than masks, Cox said, vaccinating adults against COVID-19 is the best way to protect children under the age of 12 from the virus. He said that in states with very low vaccination rates, more young children become seriously ill after being infected with the coronavirus.
The governor's announcement follows another new recommendation from the CDC that everyone in K-12 schools across the country wear masks. The reason for the new recommendations is that the delta variant of the virus spreads more easily even to fully vaccinated people, although breakthrough cases are still rare and usually mild.
On Monday, the Utah Department of Health released a new set of guidelines to help schools deal with COVID-19, encouraging those 12 and older who are eligible for vaccination to stay in vaccinations as well as wearing masks in schools To preserve interiors.
"Nobody can tell me when this will turn around"
Vaccinations are key, Cox said to stop the recent surge that threatens to fill Utah hospitals to levels not seen as cases increased dramatically after the 2020 school year started and during Thanksgiving, Christmas – and New Year holidays have continued to rise.
Greg Bell, director of the Utah Hospital Association, told the news conference that when the Delta variant began to take off last month, the state's intensive care units had increased from 10% COVID-19 patients to 30% on Sunday's busy summers Trauma season.
"We can't handle this," Bell said, citing burnout among many in the medical profession in addition to near-capacity facilities. His "grandfather" advice to the unvaccinated? "The wrong decision could kill you and you won't know until it's too late."
The governor said he hopes the state nears the peak of the cases, "but no one can tell me when this will change … we need to increase this vaccination rate since her last dose has been two weeks or more.
Utah officials, including those from local and public health authorities, "are doing everything possible to keep you safe. But we can only make recommendations, "said Cox. "Now it's up to you to get vaccinated. Together we can save lives and help healthcare workers."
Utah Governor Spencer Cox spoke with Lt. Gov. Deidre Henderson, President of the Utah Hospital Association, Greg Bell, and Deputy Director of the Utah Department of Health, Dr. Michelle Hofmann, at a press conference on Tuesday. Watch the replay of the event below.
He offered what he called good news that vaccination numbers are rising a little in Utah, but "nowhere near enough". The governor said Utah residents should listen to the voices they trust, including the Catholic Pope and the President of The Church of Jesus Christ of Latter-day Saints, both of whom praised the vaccines.
And, said Cox, "If politics is your religion, then believe Donald Trump, who was so instrumental in getting us this vaccine, who got the vaccine himself and encouraged others to get the vaccine." He also suggested that Democrats turn to President Joe Biden, who has just met his July 4th goal of 70% of the country's adults getting at least one dose.
"It's one of the rare things that so many people from different walks of life, races and religions can agree on," said the governor. "This is here to save lives. We don't have to go through this again now, if you just please, please, please, get the vaccine. "
Lt. Gov. Deidre Henderson said she was still struggling with shortness of breath and other long-term effects of COVID-19 a year ago, before vaccines were available. As the case numbers rise again in Utah, Henderson told reporters that she had "felt a bit of discomfort, nervousness and suspicion" from her experience.
"The thing about COVID is, you just never know. You never know who it will affect how. You never know whether you will be one of the lucky ones – and there are many lucky ones – or whether you will be one of those who are unlucky, "she said." I count myself among the lucky ones, even though I was very sick.
Henderson said vaccines are "supposed to be the tool that fixed all of this for all of us and that has been kind of politicized and somehow we have a large section of the population who have chosen not to get vaccinated." She said she believed her mind wouldn't change.
Utah's COVID-19 case ranks ninth highest per capita in the nation
On Tuesday, the Utah Department of Health reported 728 new COVID-19 cases and five additional deaths from the virus since Monday. The deputy director of the department, Dr. Michelle Hofmann said Utah has the ninth highest incidence rate in the country at 136 per 100,000 people per week.
Hofmann said that since July 1, Utah COVID-19 cases have increased 5% and hospital admissions increased 7%, with the 12th highest hospital admission rate and the 11th highest positivity rate in the country, but ranked 33rd for the number of fully vaccinated Resident.
The 7-day rolling average for positive tests is 877 per day, and 6,018 people have been tested and 10,576 tests performed since the last report. The 7-day rolling average for percent positivity of the tests is 10.6% when all results are included and 15% when multiple tests by the same person are excluded.
The daily increase in vaccinations is 6,830 doses.
There are currently 395 people hospitalized with COVID-19 in Utah. The death toll in Utah has reached 2,471, with five deaths reported on Tuesday. You are:
A Millard County woman, aged 65 to 84, was hospitalized at the time of her death.
A Kane County man, between 45 and 64, was hospitalized at the time of his death.
A Utah County man aged 65 to 84 was hospitalized at the time of his death.
A Utah County woman, aged 45 to 64, was hospitalized at the time of her death.
A Sanpete County woman, aged 65 to 84, was hospitalized at the time of her death.
×
photos
Lisa Riley Roche
More stories that might interest you