Will UTA's newest TRAX fill a 'missing link' in Salt Lake's expanding downtown?
A train moves to a stop at the Utah Transit Authority TRAX station at 600 S. Main Street in Salt Lake City on Tuesday. (Scott G. Winterton, Deseret News)
Estimated read time: 4-5 minutes
SALT LAKE CITY — Carlton Christensen recalled visiting Main Street at 600 South in 1997 as Salt Lake City and state transit officials mapped out their initial routes for Utah Transit Authority's TRAX light rail service.
The initial master plan developed in the late-1990s included a station by that downtown Salt Lake intersection "in the near future." When construction began, at the time, crews left a space wide enough between the two rail directions for a new station to eventually be built.
This is why the grand opening of the new 600 South TRAX Station on Tuesday was either a year, or more than two decades in the making, depending on how you view it.
"Who would have thought that 'the near future' would be 25 years later? But we're grateful to have the conclusion of that effort here today," said Christensen, chairman of UTA's board of trustees.
The demand behind the 600 South Station
While the 600 South Station was included in the original master plan, both UTA and Salt Lake City leaders agreed two decades ago that growth would have to trigger the demand for a new station.
The growth they envisioned is here now, as the city expands south and to the west. The new station itself is surrounded by the 6th and Main residential complex — currently under construction — to the east, and the recently completed 650 Main office complex to the west.
Salt Lake City Councilwoman Ana Valdemoros, whose district includes the city's downtown neighborhood, points out that there are many other current or projected homes and businesses located within blocks of the new station. The largest is Intermountain Healthcare's future LDS Hospital facility which will replace an abandoned Sears building in the area in the coming years.
The city's downtown district is already expected to double in population over the next two to three years, which will likely create new land demands south of its traditional boundaries. Valdemoros believes that adding a light rail station is only going to increase development in and around 600 South as that happens.
She likes the area's potential to newer development by the 900 South TRAX Station, a section of the city that only continues to grow.
"This is really the missing link for this area to explode. These two corners are filling up, but we know that more things are happening (in this portion of the city)," she said, of Main Street by 600 South. "You're going to see this area as a mini-downtown — probably not as tall."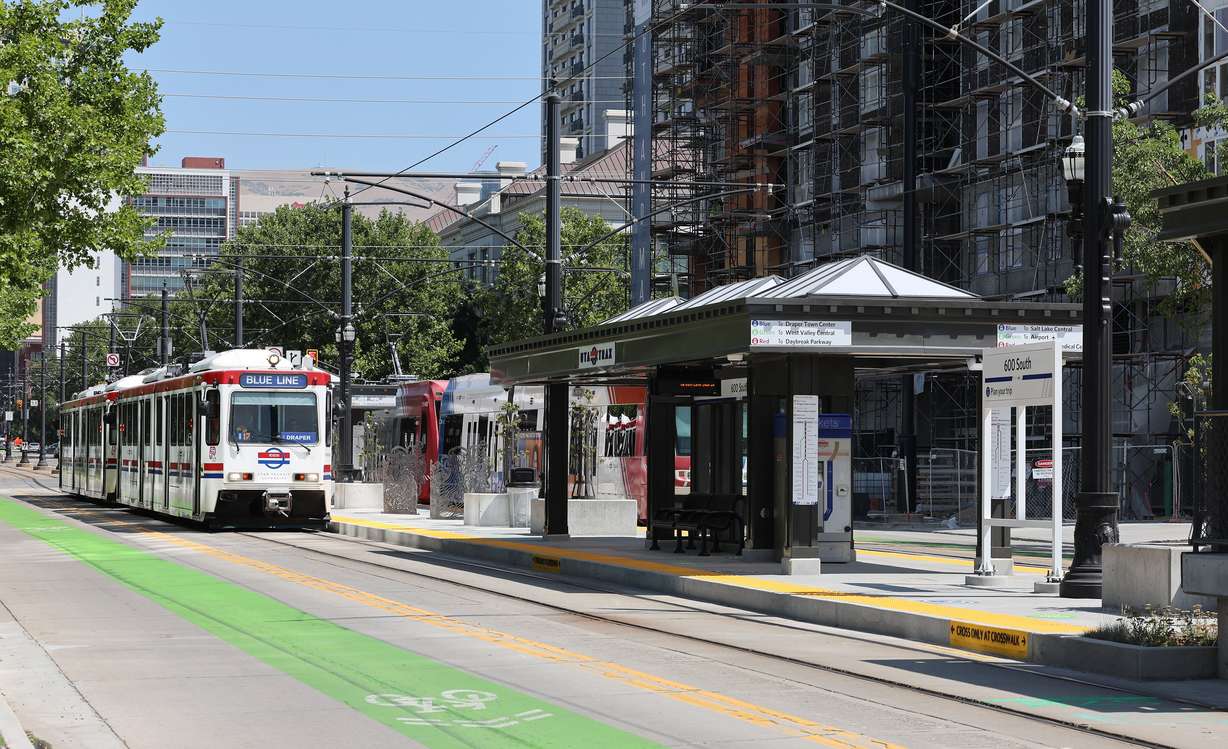 Trains come in and exit a new Utah Transit Authority TRAX station at 600 S. Main Street in Salt Lake City on Tuesday. (Photo: Scott G Winterton, Deseret News)
An important transit corridor
Government entities and private donors helped pay for the 600 South Station project to meet the new transit demand, said Salt Lake City Mayor Erin Mendenhall. The Redevelopment Agency of Salt Lake City has contributed $1.4 million toward the project, while private donors added another $1.2 million.
Salt Lake City Mayor Erin Mendenhall speaks at an event announcing the opening of a new Utah Transit Authority TRAX station at 600 S. Main Street in Salt Lake City on Tuesday. (Photo: Scott G Winterton, Deseret News)
Construction began in August 2021 and it was all but complete months ago, but the key pieces to adding the electronic information boards didn't arrive on schedule and it delayed the entire project a few months.
The new station will be busy because it's one of only five TRAX stations that use UTA's blue, green and red lines, meaning that riders can reach as far as Salt Lake City International Airport, University of Utah, Salt Lake Central Station, West Valley City , Sandy and Draper after boarding.
As Tuesday's ceremony came to a close, Christensen watched as a rail train began to pull away from the new station behind him. It was one of about a half-dozen that passed through the station during the 15-minute celebration.
"I think we've been able to witness that, every two minutes, this is one of the biggest transit corridors in this valley," he said. "This will be an important corridor as our great, vibrant downtown continues to expand and to grow."
But new challenges could emerge as Salt Lake City continues to expand southward.
Valdemoros told KSL.com there are discussions happening regarding how to reconfigure streets like 600 South — a busy one-way street a few blocks from an Interstate 15 exit — to be more pedestrian-friendly as the area becomes more residential. There are also power poles along the street that may need to be removed in favor of underground power lines.
"There is a lot of interest from the private sector, but also from the city sector and also the state," she said. "It's still in the works, so there are not a lot of details but there's definitely interest from all these agencies."
×
Related stories
Most recent Utah transportation stories
Carter Williams is an award-winning reporter who covers general news, outdoors, history and sports for KSL.com. He previously worked for the Deseret News. He is a Utah transplant by the way of Rochester, New York.
More stories you may be interested in