Celebrate Lunar New Year this weekend in Salt Lake City – Gastronomic SLC
Like a wedding gatecrasher surreptitiously eyeing up the buffet spread, I'm forever looking for an excuse to join a party and grab a plate. As the year of the tiger wanes, and the rabbit beckons, this coming weekend sees several places around the Wasatch mark the Chinese Lunar New Year. With that in mind, here's some food for thought.
One of the biggest events looks likely to be held in South Salt Lake's fabulous China Town development – home to a variety of Chinese restaurants not least several other great Korean, Japanese and Vietnamese options too. The big bash (Saturday, January 21st) starts at 6.00pm and will feature a traditional lion dance as well as dancing, prize draws and come 8.30pm – a thirty minute firework display.
Chinese Taste – mapo tofu
Should you swing on by it makes a perfect opportunity to dine at one of the many interesting businesses at the facility, either before or after the festivities. Both if you're like me. Heck gran a Korean corn dog to go from San Fran burrito N Fryz – and you can indulge during the fun too. Whatever you do, budget some time to browse the large Chinatown Market (entrance pictured above) that anchors the site; as well as the endless aisles of sauces, noodles, spices and frozen goods—there's an excellent fresh seafood and meat counter. Should you then plan your own feast at home – don't forget our deep dive into chili crisp from last year.
My personal favorite Chinese restaurant in South Salt Lake is just around the corner from the market – Chinese Taste. They offer a range of authentic dishes with a prominent Sichuan inflection, as well as more common American-Chinese food too. On the Chinatown property itself—One More Noodle House generally wins the most consistent plaudits for their fiery Sichuan menu.
Meanwhile in Salt Lake City, one of my favorite Chinese restaurants – New Golden Dragon – will be holding a lion dance at the restaurant. The event will be a few days later on Friday, January 27th, more details here. My recommendation at New Golden Dragon is the chicken fried rice with salted fish. The Cantonese specialty is packed with chunks of ultra funky fermented fish – each bite delivering massive salty blasts of umami. Anchovy fans will love the powerful flavor, the fishy fearful might want to skip. Bonus points for none of that silly pea and carrot stuff either.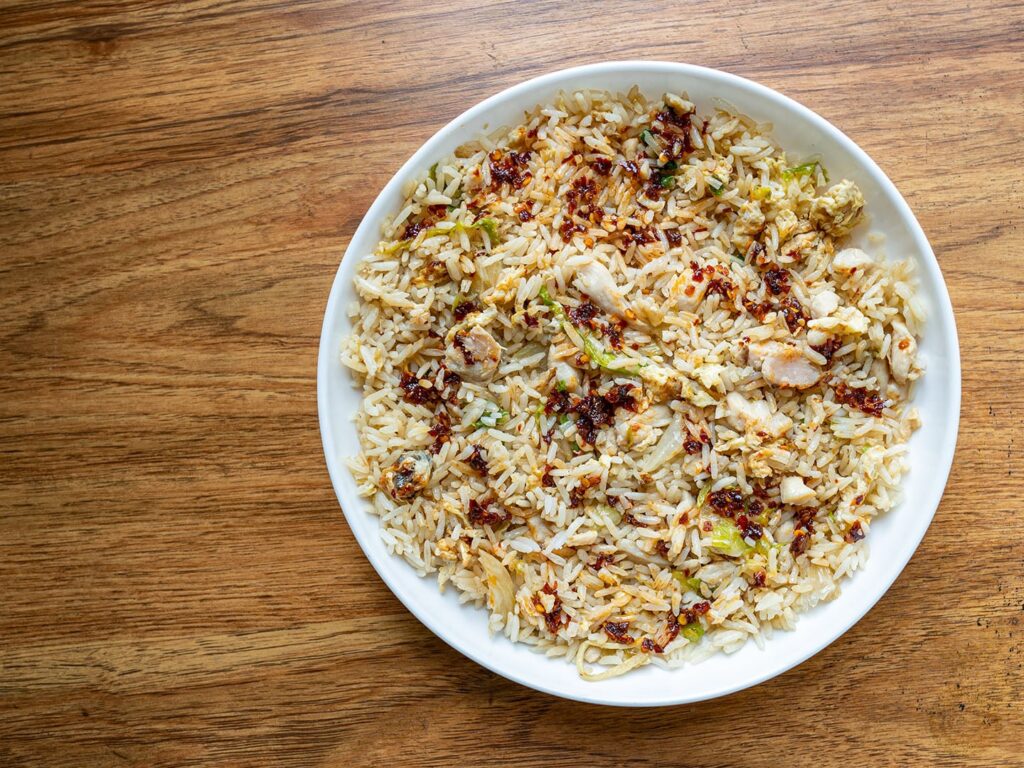 New Golden Dragon – salted fish and chicken fried rice
Local Chinese grocer Ocean Mart are also hosting similar events at their Roy and Ogden locations. Both events feature lion dances as well as other activities such as lantern riddles and fireworks. The Sandy location are also advertising membership specials in celebration too. If you head North, let me remind you of the virtues of Boba World at Woods Cross. The mom and pop eatery is home to ridiculously good Shanghai fat noodles, plump and stout strands that the restaurant make from scratch. Here's my original Salt Lake Tribune review, which is a baffling decade old now. Time flies when you're having noodles huh.
For Utah County folks, check this one out at University Place, Orem. A trio of Lion Dance parades will be held at noon, 3.00 p.m. and 6.00 p.m. – with the last dance followed by fireworks.
More options to make the occasion and learn while you're at it – this Lunar New Year class at Salt Lake Culinary Education; as well as this event on the 21st that will teach you how to craft traditional dumplings.
Keep the conversation going
Want to stay on top of the SLC food scene, minute by minute, dish by dish? Here are a few other places you should follow along:
FREE newsletter – never miss a story and sign up for our weekly Utah food news
PAID subscription – support the website, the ads and popups go bye bye!
Instagram – follow us here for a dish by dish look at what's hot
Food talk group – chew the fat with other likeminded Utah foodies
Hi, I'm Stuart, nice to meet you! I'm the founder, writer and wrangler at Gastronomic SLC; I'm also a former restaurant critic of more than five years, working for the Salt Lake Tribune. I've worked extensively with multiple local publications from Visit Salt Lake to Salt Lake Magazine, not least helped to consult on national TV shows.
I'm a multiple-award winning journalist and have covered the Utah dining scene for the better part of fifteen years. I'm largely fueled by a critical obsession with rice, alliteration and the use of big words I don't understand. What they're saying about me: "Not inaccurate", "I thought he was older", "I don't share his feelings". Want to know more? This is why I am the way I am.
This article may contain content provided by one of our paid partners. These are some of the best businesses in Utah. For a list of all our current and past relationships see our partnership history page.