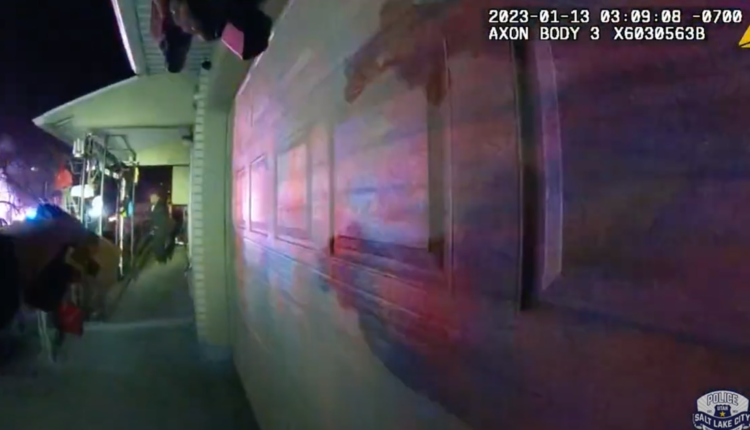 Salt Lake City police fatally shot man seconds after deploying stun gun, bodycam shows
Penisimani Halai, 41, was on probation when the shooting occurred.
| Feb 2, 2023, 12:06 am
Body camera footage released Wednesday by Salt Lake City police shows a man breaking into a home to try and evade pursuing officers early Jan. 13 before police fatally shot him.
About 40 minutes before the deadly police shooting, officers with SLCPD's gang unit were initially investigating two wanted fugitives with felony warrants early Jan. 13 when they found them in a car near 1300 West Araphoe Avenue in Poplar Grove at about 2:30 am
The officers called for backup, and about 20 minutes later, they and patrol officers approached the car with their weapons drawn, ordering the pair inside to exit. The two did not comply, police said, instead driving away to try and escape.
The driver, later identified as 41-year-old Penisimani Halai, drove through a fence, then drove through a yard onto 1300 West, which police said led to a pursuit.
Officers used tire a deflation device to try and stop the vehicle, but Halai continued driving, hitting two patrol cars during the pursuit, police said. Footage also showed Halai driving through front yards and onto sidewalks to get around an officer who had blocked off a street with his patrol car.
The pursuit ended when Halai crashed head-on into an empty, parked truck near 500 North Star Crest Drive at about 3:08 am After ditching the vehicle, footage shows Halai trying to get into a nearby house as officers approach with their guns drawn, yelling at him to "show us your hands."
The passenger had stayed in the car, where police safely arrested him, officials said.
Near the house, police can be heard on the footage repeatedly ordering Halai to get on the ground, to which he can be heard replying with what sounds like "f— you," according to the footage.
At that point, there "appears to be an object in Halai's waistband," police said in a news release Wednesday, which accompanied the released footage. Police also said one officer yelled that Halai had something in his hands, but that's not clearly heard or seen in the footage.
One officer then gets close enough to deploy a stun gun on Halai. About four seconds later, officers fire two shots at Halai.
Police said in a news release that the stun gun "did not immobilize Halai." Body camera footage shows Halai limping away after it was deployed, and when he is subsequently shot at, the footage then shows Halai breaking a window and going inside the house that he had approached.
It's unclear if Halai had any connection to the home he entered. "At this time, there is no information to suggest Halai had a reason or right to attempt entering the home," the police said in a news release.
When officers approached the broken window, Halai can be heard repeatedly saying "f— you" while police try to move the blinds to better see inside.
"We gotta get in there," one officer says in the footage.
Officers then yell three times for Halai to stop and show them his hands before an officer fires three shots into the home. Police then entered the home and found Halai with two people who live there, but investigators do not believe Halai knew the occupants.
Officers found a weapon in Halai's position as they arrested him at about 3:10 am, though officials in the news release Wednesday did not identify the weapon. Police then treated him as they requested paramedics, who took Halai to a hospital, where he later died on Jan. 21.
Authorities did not specify how many times Halai was shot. Autopsy results are pending with the state medical examiner's office, police said in a news release. No officers were injured.
At the time of the shooting, Halai was on probation for two felony counts of possession of a dangerous weapon by a restricted person, an offense reported in 2019.
Halai was paroled during his sentence four separate times, court documents state, and each time he was later taken into custody through warrant requests. His most recent warrant for violating his probation was filed in October 2022.
Officials are investigating the shooting in accordance with officer-involved, critical-incident protocol, and an administrative investigation will also be conducted by the SLCPD Internal Affairs Unit, police said.
The four officers involved in the shooting are on paid leave pending further review, police said.
This marked the second police shooting in Utah this year, according to a Salt Lake Tribune database. The first happened Jan. 10 in Saratoga Springs, where officers shot and killed a 50-year-old man who led them on a vehicle pursuit before running away and allegedly attempting to break into a home with a gun.