Could BYU-developed lab-on-a-chip devices help save lives?
With the help of 3D printers, BYU researchers can manufacture microfluidic devices with smaller components than ever before. An engineering professor says development has changed the way medical professionals make diagnoses and potentially save lives. (BYU)
PROVO – An interdisciplinary research team from Brigham Young University led by BYU engineering professor Greg Nordin has developed a new 3D printing technology to create the smallest high-resolution microfluidic lab-on-a-chip devices ever.
Lab-on-a-chip devices are miniaturized devices that can perform analyzes that would normally be done in a laboratory, such as biomedical diagnostics or DNA analysis. Basically, the concept is that scientists downsize a biomedical laboratory and the diagnostic equipment there to a tiny chip that can process and measure like a laboratory.
The researchers have detailed the process is a new paper published in Nature Communications.
This technology has been in development since the late 1980s and has improved the cost efficiency, speed, sensitivity, and consistency of biochemical detection and biomedical diagnostics. Researchers say that with automated technology, the device can also reduce human error, allow for more controlled testing, and require minimal fluid samples.
Developers have used microfluidic technology to create microscopic channels, pumps, and valves that allow tests and responses to picometers of fluid, like a tiny fraction of a single drop of blood.
As for technology over the past few decades, one of the biggest challenges with lab-on-a-chip devices is that they are generally manufactured in clean rooms, a laboratory that is free of dust and other contaminants. This process can take up to three to four days, which means it will be expensive, slow, and difficult to produce and distribute in the marketplace.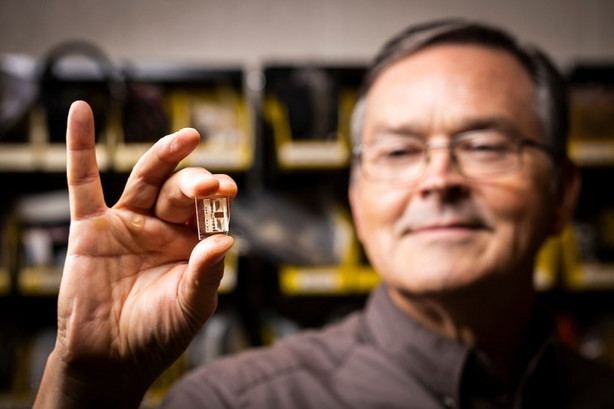 BYU engineering professor Greg Nordin and a team of students and professors have found a way to 3D print microfluidic devices that are smaller than ever before but still fully functional. (Photo: BYU)
Commercial 3D printers aren't advanced enough to make the microchannels and tiny technology for the chip. Because of this, Nordin and a team of researchers built their own 3D printers, worth around $ 100,000 each, capable of making the smallest lab-on-a-chip devices out of a type of plastic made by photopolymerized liquid is transformed layer by layer into high-resolution, solid material in five to seven minutes without the costly expense of setting up and using a clean room.
These printers only require nominal maintenance and can produce valves as small as 15 microns.
"This is where the real innovation lies," said Nordin, adding that prototypes of these devices are developed so quickly that they "fail a successful approach quickly and often" to replicate a successful device "while developing in a clean room each prototype takes so long that it becomes "valuable".
He and his team currently have three 3D printers of different generations and iterations in operation and four brand new developments in the works. They use this technique to create a whole bunch of tiny pumps and valves, as well as reaction chambers and mixtures – all on a single chip.
The low development costs after the initial cost of building the printer would mean these devices could be made at low cost and would be more available to underserved communities, he said. Their small size allows for easier manipulation and could be administered by a nurse, not to mention easy distribution. It also makes it easier to develop various technologies and functions within the chip because prototypes are cheaper and easier to build, and each chip can run multiple tests and serve multiple functions.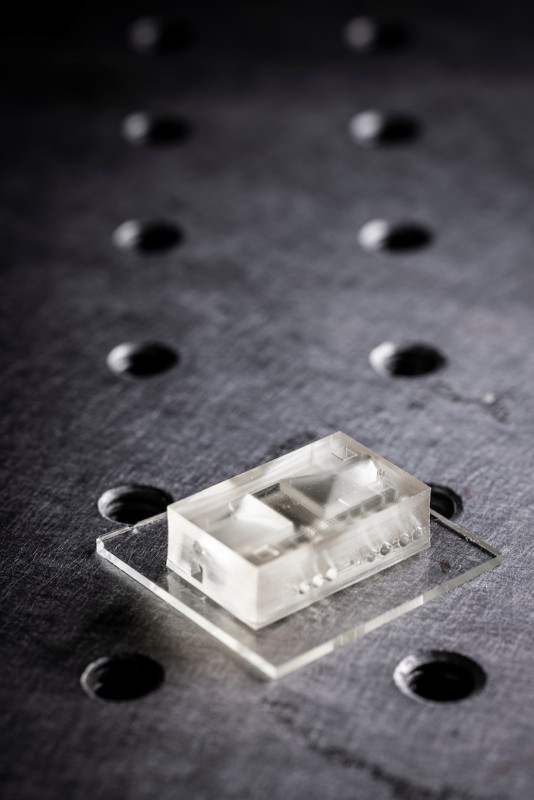 BYU researchers can 3D print microfluidic devices whose components are smaller than ever before. (Photo: BYU)
"This development is revolutionizing (the field) in the following sense: Until now, you haven't seen a lot of commercial microfluidic devices. Thanks to 3D printing, we can create prototypes very quickly and the manufacturing path corresponds exactly to the prototyping path. Bottom line: Friction is reduced in such a way that it can be really revolutionary in device development, "said Nordin.
He set an example of how he and one of his colleagues, William Pitt, a chemical engineering professor at BYU, are working on submitting their application to the National Institute of Health. The aim is to significantly accelerate the treatment of sepsis, a bacterial infection that is often fatal and resistant to antibiotics. Regular biomedical tests can take days between blood draws to determine which antibiotics are effective. Using a lab-on-a-chip device would cut that time down to around two hours instead.
"The death rate changes completely when you can treat a person this quickly," Nordin said.
He believes this new technique could completely change the way medical professionals perform their diagnostics and potentially save lives. He also wants Utah supporters to know that "this cutting-edge work that is taking place in Utah universities really has an immense impact on the real world, and the education students get from participating in it is really fantastic. "
Within their team, the faculty directs and directs research and development, but the students do most of the practical work. The first author listed on the paper published in Nature Communication is a masters student from Peru who developed many of the innovative ideas, Nordin explained.
"Everyone had a role to play, and the really nice thing is that companies come out of it and provide employment opportunities for high-tech jobs in Utah, which is always one of our goals," he said.
×
More stories that might interest you