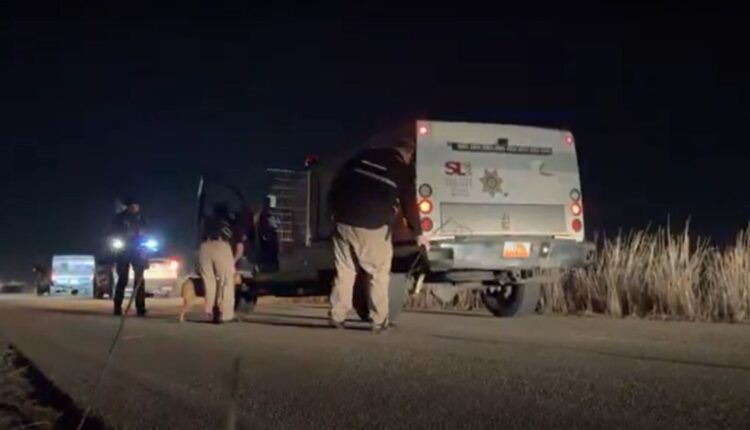 Dog set on fire, let loose near I-80 in Magna
MAGNA, Utah – Police say someone set a dog on fire near Interstate 80 Monday night.
According to the Unified Police, the female red tick was set on fire and released along the North Frontage Road of I-80. A witness saw the suspect setting the dog on fire and called the police.
Within about 30 minutes of the call, police and animal control officers found the dog by slowly driving down the front street using a searchlight. Once they found her, they could just bring her in – they said she seemed kind.
Jesse Walden | FOX 13
Police and animal control officers rescue a dog that has been set on fire and release it along the I-80 front road in Magna.
The dog was able to walk on its own, but Callista Pearson of Salt Lake County Animal Services said it suffered second-degree burns to the face, head and ears. The fur on other parts of the body was also burned. It was taken to a local veterinarian.
As a result, a small bush fire was lit in the area about 9400 West in Magna. The fire has since been extinguished.
Pearson said they tried to scan the dog for a microchip, but there wasn't one. She wore a brown leather collar.
Officials later published a physical description of the suspect: a Caucasian male, approximately 6 feet tall with a shaved head. He was wearing Dickies and a fluorescent green shirt with an orange stripe.
He drove a green Toyota Tacoma with a partial license plate number of (Q or K) 42.
Pearson added that if the suspect is found, they plan to pursue cruelty crimes against a companion animal.
"It's absolutely very annoying," she said of the incident. "This is not an accusation that comes up very often because humans are usually never so cruel to a companion animal and to anyone else."
If anyone recognizes the dog pictured below, or knows someone who matches the suspect's description, they will be asked to tip the police at 801-840-4000.
(WARNING: The photos below show the dog's burns and can be graphic.)
Salt Lake County Animal Services
Salt Lake County Animal Services
Salt Lake County Animal Services
Salt Lake County Animal Services
Salt Lake County Animal Services