Driver in stable condition after truck crashes into Ogden home
Article content
Francis Ositadinma was awoken early Friday morning by the sound of his baby crying.
Article content
About 10 minutes later, the father was jolted by a much louder noise — what police believe was a stolen truck had smashed through the wall of his home in the southeast community of Ogden.
Article content
"What came to my mind was, maybe someone just ran into a vehicle," Ositadinma said of hearing the loud crash. "Then I look outside and I see a police vehicle parked out front and a vehicle right inside my building."
He woke up his wife and the family scrambled to safety. There was a smell of gas, he said, so police evacuated them from the home.
"We took possession of the building on Dec. 23, so it's been like two weeks," he said, adding much of their belongings are still packed in bags.
The family was planning to welcome a tenant to their basement but, thankfully, they hadn't moved in yet or they might have been injured by the truck, Ositadinma said.
Article content
"It looks bad. It looks terrible," he said about the house.
He said he has contacted his insurance company.
Calgary police were called to the area of ​​20A Street and 76th Avenue SE at 1:30 am for reports that a truck had struck a home.
The truck, which ended up partially in the basement, caused significant structural damage to the home.
https://twitter.com/CalgaryPolice/status/1611328153934528514
EMS said they took a man to the Foothills Medical Center with non-life-threatening injuries. Police said Friday afternoon that the driver's condition had been updated to stable.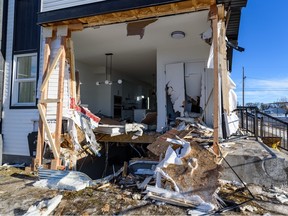 Pictured is the aftermath of a collision involving a truck driving into a house at the intersection of 76 Ave and 20a St. SE on Friday, January 6, 2023. Azin Ghaffari/Postmedia
The occupants of the home were not injured in the incident, according to EMS.
Kevin Freeman lives in the house directly across the street but did not hear the collision. He was surprised when he woke up in the morning to find a truck buried in the front of the house across the street.
Article content
He just moved into his house a couple of months ago and had not met his new neighbour.
"I didn't even know anybody was living there until I actually saw them last night watching TV upstairs," he said. "Luckily nobody was downstairs when it happened."
Lorraine Styles and her husband, Keith, have lived in Ogden for almost 40 years, a couple of blocks from the Ositadinma residence.
They heard the sirens at 1:30 am, but had no idea there was a major incident so close until they saw it on the news.
"I felt so bad for the family, I didn't know anybody had been living in there yet," said Lorraine while watching the extraction of the truck around 11:30 am "That's the first thing we thought about."
She called Ogden a safe neighborhood and speed is usually not a big issue on the roads in the area.
Work crews were on site mid afternoon on Friday assessing the damage.
Calgary police's traffic section is investigating the incident.
— With files from Azin Ghaffari