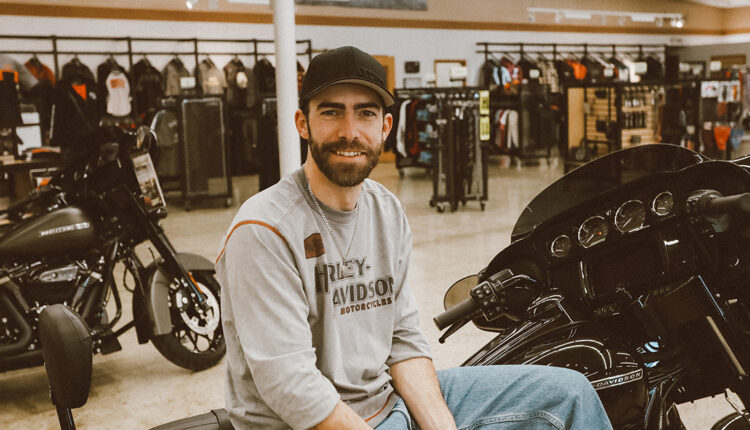 #HOMETOWN HUSTLE: Dennis Laughlin | Harley Davidson Flaming Gorge
Welcome to #HOMETOWNHUSTLE – an exclusive SweetwaterNOW series where we highlight hardworking individuals in local businesses in our community.
I recently had the opportunity to meet Dennis Laughlin, co-owner of Flaming Gorge Harley Davidson (FGHD), the long-standing, family-run, full-service dealer that sells and services new and used Harley-Davidson motorcycles.
The first Flaming Gorge Harley Davidson shop in the late 80's.
In 1986 Dennis' parents Dave and Lynda Laughlin founded the Flaming Gorge Harley Davidson in a small facility. In their first year of operation, they had only sold a few bicycles. With hard work and perseverance 35 years later, Flaming Gorge Harley Davidson is now Sweetwater County's motorcycle hub.
Advertising – The story continues below …
"At our old location Crew of 2012" Facebook photo
"After several expansions, we moved the dealership to the huge facility on White Mountain Mall from 2003 to 2013, which was great until it wasn't," explained Dennis.
After the real estate market collapsed and the oil and gas industry went bust, FGHD decided to return to its Green River roots.
"We got the 'just right' building," said Dennis. "We had to reduce our workforce in order to reach our tiny but powerful level of today."
For Dennis, the family business was always something he was grateful for. He grew up in a shop and on a motorcycle.
He really is the definition of working your way up the ladder. Dennis first swept the floor and washed the bike. He eventually made his way through every department and position until he learned all facets of the business well enough to serve as general manager and eventually co-owner. The best part? He loves to!
"I love to ride! We have a great customer base and the Harley-Davidson brand is second to none. I love what I do. "
The #HometownHustle series is made possible by:
There were certainly challenges along the way, but Dennis and the team at FGHD were able to tackle any of them.
"Running a motorcycle business in an area with a relatively low population, coupled with our slow winter season, is an ongoing struggle. The battle for the best-selling motorcycle brand in our region in the face of a declining national riding population combined with the boom / bust economy is tough. The COVID shutdowns certainly didn't help either. "
Despite the challenges they have faced over the years, especially this year, they still stand and work hard every day to serve Sweetwater County.
The opportunity to help people buy the motorcycle of their dreams is worth it for any challenge.
I had to ask if Dennis had a favorite memory / moment from his trip so far. At 35 years of memories, he understandably could not only choose one, but also didn't want to choose one that stood out from the others. But there is one thing that will never get old …
I can say that even after hundreds or thousands of motorcycles have been sold, I still love seeing someone take off their new Harley. I still get goosebumps when I give them the keys to their bike and congratulate them.
– Dennis Laughlin
Growing up with the business he now runs, I had to ask Dennis if there was one person (or more) who influenced and helped him the most on his journey.
Dave and Lynda Laughlin
"My parents, no doubt (Dave and Lynda Laughlin). I credit them for instilling pretty much everything I know about this business – honesty and integrity, always staying on the right side of the line and trying to see things from someone else's perspective. You've taught me to keep smiling, stay positive and optimistic in the face of adversity, and make sure our employees and customers know how much we value them. The list goes on … "
For Dennis, the friendships he made along the way are his favorite part of being an entrepreneur. Many of the people in his life are his friends and his customers or co-workers. He has known some of them all his life. But it can be a difficult balancing game.
"It's a delicate balancing act doing what is in the best interests of my business and what is best for a friend. My cell phone number has been on my business card for years. It's not uncommon for someone to call me very late at night with a problem. Still, I wouldn't trade it for anything. "
Dennis also mentioned how grateful he is for the drivers in our area. Through the lens of the store, he watched groups of drivers grow and make a difference in the community.
"The drivers in our region are the largest group of non-profit and fun-loving people that one can ever hope for. If we could ever add it all up, you would be blown away by the money and help that local drivers bring back to our community. "
The Fallen Saints M / C after breakfast that raised $ 121 for the 30th Annual Toy Run tomorrow!
Over the years Dennis has gained some insight into what it takes to keep a business going, and he has some wise pieces of advice that he'd like to share with aspiring entrepreneurs.
"Swallow your pride now! It is difficult to own your own business, and it is even more difficult to deal with unforeseen problems and your own shortcomings. Don't be too proud to ask for help. You will inevitably make a bad call. Approve it, own it, and then do your best to fix it. If there's no one else doing a shitty job, guess who's doing that. "
Staying in business for 35 years is quite an achievement, but Dennis realizes that it wouldn't have been possible without the great community we live in. He would like to thank everyone who has contributed to the growth of the Flaming Gorge Harley Davidson.
"Words cannot express the gratitude I have for everyone who has contributed to keeping the place functioning for the past 35 years. My customer base is kicking the ass! I have great people who consistently go way beyond that, "said Dennis.
"I'm in the business of fulfilling dreams of personal freedom and individuality. I come to work every day and do what I love – I am eternally grateful for that. "
And finally I had to ask Dennis if he had a favorite motorcycle, which for him is like choosing a favorite kid. But he narrowed it down to two for me.
"I have two favorites (again, it's like picking a kid!). I still have the second Harley I've ever owned, a 1998 Dyna Wideglide (pictured). It has been modified so heavily that it is now an all-in-town / nearby tripbike. I also have a 2017 Road Glide Ultra which is as comfortable as riding in a barcalounger! It also rides better than any other touring bike I've ever ridden. "