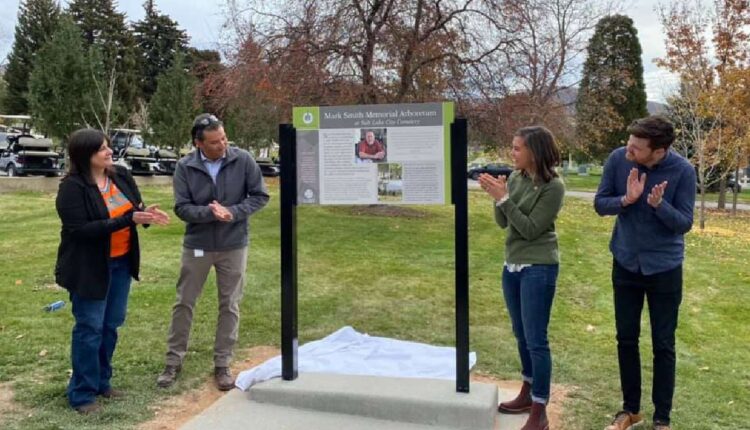 'It's very meaningful': Salt Lake City honors late sexton with cemetery arboretum
Mark Smith's widow Julie Fratto-Smith and Salt Lake City officials on Saturday unveiled a new sign pointing to the Mark Smith Memorial Arboretum in Salt Lake City Cemetery. Smith was the longest-serving sexton in the history of the cemetery. (Salt Lake City Corporation)
Estimated reading time: 3-4 minutes
SALT LAKE CITY – When Tony Gliot was looking at the trees around him in the Salt Lake City cemetery on Saturday, it was hard not to think about Mark Smith.
Smith, who died of cancer in 2019 at the age of 55, was the longest-serving sexton of the cemetery since its inception when the Pioneers arrived in the Salt Lake Valley 174 years ago and officially established "Cemeteries are for the living" in 1851 when he came over speaks of the care he has put into the cemetery to ensure that people have a peaceful place to mourn or pay homage to their loved ones.
The many trees within the cemetery, which Salt Lake City considers an urban forest, contributed to this.
"He had an incredible appreciation and passion for trees," said Gliot, Salt Lake City ranger. "It was his dream that one day an arboretum would be built on this beloved property."
Smith's dream officially came true over the weekend of his 58th birthday. Salt Lake City leaders gathered in the cemetery Saturday to celebrate the official naming of the arboretum, aptly named after Smith.
Smith's widow Julie Fratto-Smith and Salt Lake City Mayor Erin Mendenhall helped unveil a new sign in the cemetery marking the arboretum. A map of the collection's trees can also be found on the city's website.
The Mark Smith Memorial Arboretum currently includes 80 trees, mostly trees, in the 122-acre cemetery with plaques identifying the types of vegetation. Many of the items in the arboretum are located near the Salt Lake City Cemetery sexton house, which served as Smith's office for 17 years.
"It is appropriate to have named it in honor of Sexton Mark Smith as he was a valued civil servant who loved the cemetery and its beautiful canopy," said Mendenhall.
City officials said the Gliot-managed Salt Lake City Division of Urban Forestry began working with ArbNet last year to obtain formal arboretum accreditation. ArbNet lists over 2,000 accredited arboretums in 35 countries in various locations such as college campuses, zoos and cemeteries.
What is now in the Mark Smith Memorial Arboretum is just the beginning. Gliot said there will be over 100 trees as part of the collection by the end of next year. He added the number will continue to "grow annually" as the city re-plants the many cemetery trees that were lost during Storm 2020.
It's a plan that city officials believe Smith would have advocated, especially given how much he loved the many trees in the cemetery.
"We will continue to plant trees that have been lost here for generations to come," said Gliot. "To see this dream come true on this property and to be able to pass it on not only in (Smith's) memory, but also to the citizens of this town, is very meaningful."
Contribute: Sean Moody, KSL-TV
×
photos
similar posts
More stories that might interest you