 'Last nail in the coffin': Utah's Great Salt Lake on verge of collapse | Water
Emergency measures are required to avert a catastrophe in Utah's Great Salt Lake, which has been drying up due to excessive water use, a new report warns. Within years, the lake's ecosystems could collapse and millions will be exposed to toxic dust contained within the drying lakebed, unless drastic steps are taken to cut water use.
A team of 32 scientists and conservationists cautioned that the lake could decline beyond recognition in just five years. Their warning is especially urgent amid a historic western megadrought fueled by global heating. To save the lake, the report suggests 30-50% reductions in water use may be required, to allow 2.5m acre-feet of water to flow from streams and rivers directly into the lake over the next two years.
"We really need to increase the speed of our response, and also increase our ambition for how much water we restore to the lake," said Ben Abbott, an ecologist at Brigham Young University and one of the report's lead authors.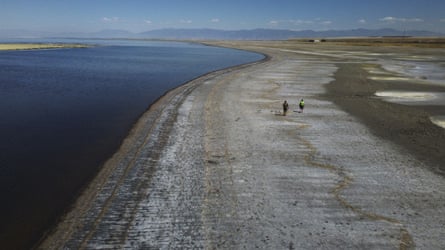 A couple walks along the receding edge of the Great Salt Lake. Photographer: Rick Bowmer/AP
Despite growing political momentum, Abbott said that existing policies and action plans will not be enough to save the lake from collapse. Already, the lake has lost 73% of its water and 60% of its surface area, as trillions of liters of water are diverted away from it to supply farms and homes. As a result, the lake is becoming saltier and uninhabitable to native flies and brine shrimp. Eventually, the lake will be unable to sustain the more than 10 million migratory birds and wildlife that frequent it.
Declining lake levels could also make magnesium, lithium and other critical minerals extraction infeasible within the next two years. Dust from the exposed lakebed could further damage crops, degrade soil and cause snow to melt more quickly – triggering widespread economic losses for Utah's agriculture and tourism industries. Toxic sediment, laced with arsenic, from the lakebed can exacerbate respiratory conditions and heart and lung disease, and could increase residents' risk for cancer.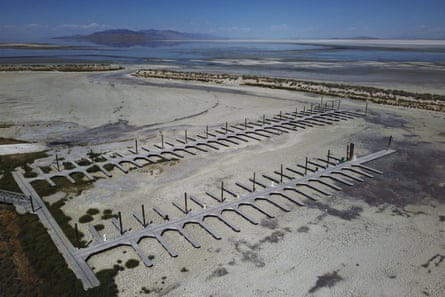 Empty docks at the Antelope Island Marina due to record low water levels in August 2022. Photographer: Rick Bowmer/AP
"The last nail in the coffin is where we're at," said Kevin Perry, a University of Utah atmospheric scientist researching the Great Salt Lake dust. In parts of Utah that already suffer dangerous air quality in the summer and winter due to wildfire smoke and vehicle emissions, dust from the lake threatens to bring year-round pollution, Perry said.
The climate crisis, which has increased average temperatures in northern Utah by 4F since the early 1900s, is further imperilling the lake, fueling more severe droughts and heatwaves. But studies suggest that only about 9% of the lake's decline due to evaporation and reduced runoff can be blamed on climate change.
A legacy of water overuse is the main threat to the largest saltwater lake in the western hemisphere, and huge water diversions to irrigate vast operations to grow alfalfa and hay are no longer sustainable in Utah, Abbott said, nor are lush lawns in cities and suburbs .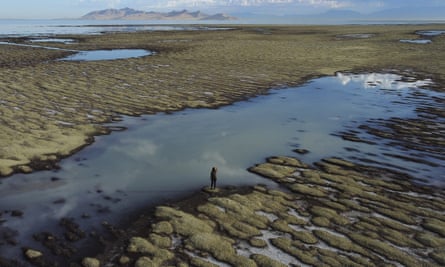 Reef-like structures called microbialites, exposed by receding waters, at the Great Salt Lake. Photographer: Rick Bowmer/AP
Last year, Utah's legislature allocated $40m toward restoring the declining lake, and lawmakers at the state and federal level have committed to averting the public health risks posed by the shrinking lake. Joe Biden recently signed into law a defense bill with provisions proposed by the Utah Senator Mitt Romney to monitor and address the Great Salt Lake crisis.
"The only option to avert full collapse of the lake's ecosystem is to save enough water almost enough," Abbot said.