New Year's Eve roundup: What are Utahns doing to celebrate the New Year?
Fireworks go off in Herriman on July 4, 2022. Similar fireworks will be seen across the state on New Year's Eve to celebrate the end of 2022 and ring in 2023. (Scott G Winterton, Deseret News)
Estimated read time: 4-5 minutes
SALT LAKE CITY — Family gatherings, friend celebrations and fireworks galore will be ringing in the brand new year Saturday on New Year's Eve.
The Loveland Living Planet Aquarium, 12033 Lone Peak Pkwy in Draper, is hosting what they call a "turtle-y jaw-some party" to ring in 2023. The event is hosted by B98.7 KBEE-FM and includes confetti-filled countdowns at noon, 2 pm and 4 pm All New Year's Eve festivities are included with the price of aquarium admission.
Springville resident Hailea Grow said this family-friendly celebration was wonderful for her family.
"It felt perfect for my kids because they love the aquarium and it was a fun way to include them in the celebration of New Year's. It doesn't seem like there's that many options for kids during the day or in the evening, so this was perfect," Grow said.
Draper resident Kirk Barton and his family cheered along during the noon countdown. He said he loved having a chance to celebrate with his kids while also being able to still put them to bed on time.
Barton said he is excited for the new year and is hoping for good things in 2023.
B98.7 radio host Jackie Selby said daytime celebrations are great for kids because kids like to be around the celebrations. She said it's also good for grandparents and anyone who wants to get to bed early.
"I think 2023 can bring people a sense of more kindness, more warmth for one other and more acceptance for each other," Selby said, reflecting on the coming year.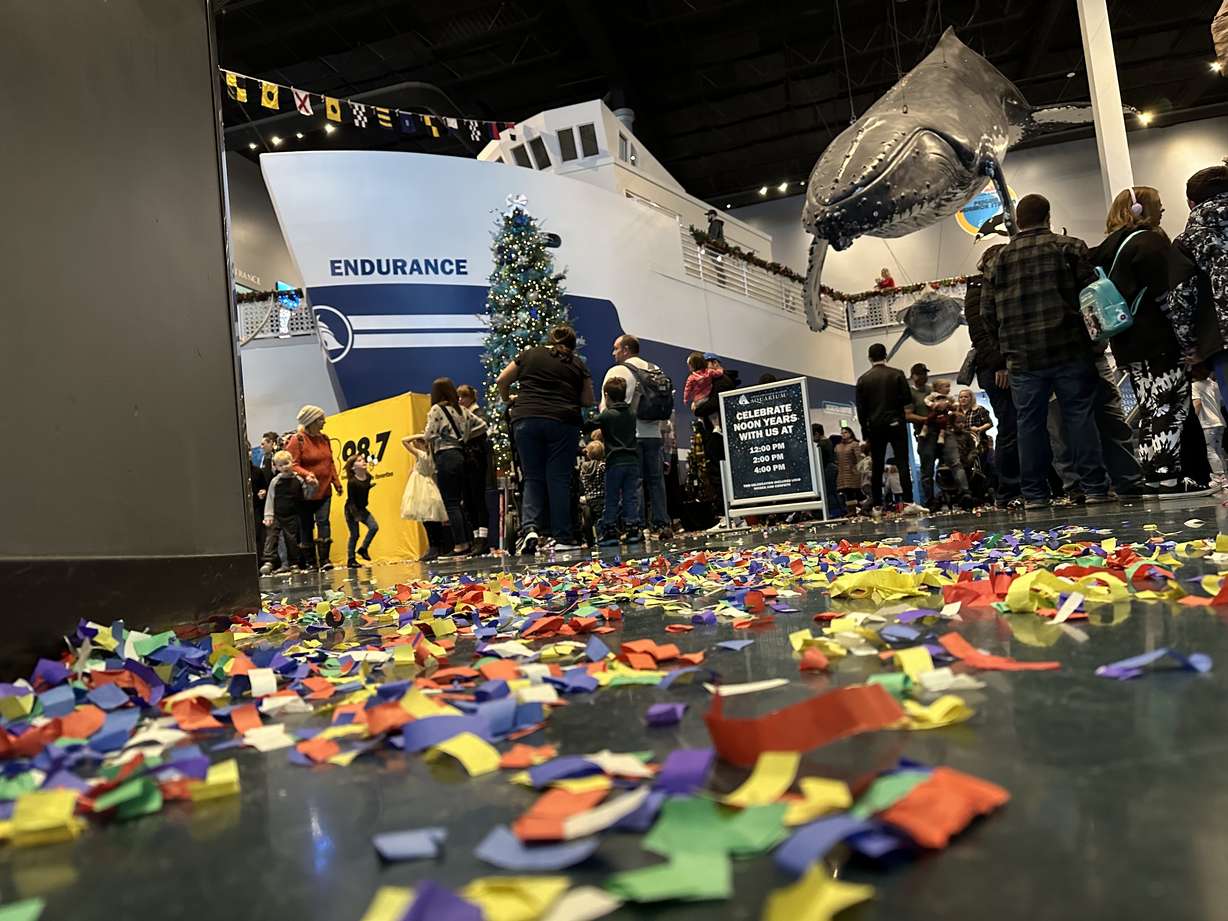 Families cheered and confetti cannons were shot during the Loveland Living Planet Aquarium's Noon Year's Eve countdown on Dec. 31. Events during the day help families celebrate the holiday without keeping their kids up late. (Photo: Cassidy Wixom, KSL.com)
Aquarium director of marketing Karmel Harper said the Noon Year's Eve event is a tradition that helps families enjoy the holiday and learn about animals and the environment.
"We love to have a good time here at the aquairum, so we wanted to ring in the new year in a grand fun way," Harper said.
More community celebrations
If you can't make it to the aquarium today, here are a few events around the state today you might want to look into.
Clark Planetarium's 'After Noon Year's Eve'
The Clark Planetarium, 110 S. 400 West in Salt Lake City, is also celebrating the new year with an afternoon event from 12-4 pm
"Join other space explorers as we dance amongst the stars and planets to the galactic beats of The Best DJ in Utah, have fun with a ball-drop engineering challenge, create disco ball magic, light up the night with LED fireworks, and more. "
Visiting the planetarium is free but you can also pay to see shows in the theaters.
Big Boom Bash
A live concert, ice skating, a laser show, food trucks, drinks and more will all be available at the Big Boom Bash in Millcreek.
Presented by Millcreek Common, this New Year's event will feature a Los Angeles-based music producer and is for all ages. Tickets for this event are $20.
Washington City fireworks
For those in Southern Utah, the Washington City Fire Department is hosting a fireworks display at 10 p.m. above the baseball fields across from the Washington City Community Center, 350 Community Center Drive in Washington. Organziers promise a fiery, explosive event for family and friends to blast into the New Year.
Other celebrations are being held at the Utah Olympic Oval in Kearns, the Classic Fun Center, the CF Dance Studio in South Salt Lake, Thanksgiving Point, Evermore Park in Pleasant Grove, the Provo Recreation Center and more.
Stay safe this holiday
New Year's celebrations often come with the clinking of glasses and drinking to the new year, but Utah law enforcement agencies are reminding everyone never to drink and drive.
Utah Highway Patrol and West Jordan police teamed up to host a joint DUI Enforcement Blitz in memory of Eli Mitchell, a 13-year-old boy who was hit and killed by an impaired driver eight months ago. The blitz will start Saturday at 9 pm after a briefing for the troopers and officers at the Utah Highway Patrol Murray office.
"Eli was taken from his family far too soon by the selfish actions of one person. Dedicating this enforcement blitz to Eli emphasizes the life-saving impact that removing impaired drivers from our roads has," said West Jordan Police Chief Ken Wallentine. "Every drunk driver our troopers and officers arrest represents possible lives saved. We will continue to enforce our DUI laws to help prevent other families from experiencing tragedies like the Mitchells have had to endure."
Utah Highway Patrol said this New Year's Eve joint enforcement blitz is in addition to an ongoing national year-end Drive Sober or Get Pulled Over enforcement mobilization to take impaired drivers off the roads and to spread the word about the dangers of impaired driving.
Police urge everyone to make the decision to never drive after drinking, ensure friends don't drink and drive and call 911 if you happen to see a drunk driver on the road.
Is there an event we missed? Email suggestions for our list to [email protected]
×
Most recent Utah stories
Cassidy Wixom covers Utah County communities and is the evening breaking news reporter for KSL.com.
More stories you may be interested in