Northern Utah, Wyoming brace for arctic blast
Estimated read time: 2-3 minutes
SALT LAKE CITY — Northern Utah is under another winter weather advisory Wednesday night as strong winds are expected to bring dangerous, sub-zero temperatures to parts of the state.
Northern Utah and southwestern Wyoming are expected to receive significant snowfall, strong winds and dangerously cold temperatures, according to the National Weather Service.
"Each of these impacts are hazardous on their own, but altogether make this a very dangerous winter storm," the NWS Salt Lake City office said in a tweet. "Help get this information out to those that may not have access, and stay warm and safe by taking any precautions you may be able to."
US 89 was closed between Cache and Rich Counties earlier in the day, and then was closed again in the afternoon due to winter weather, according to the Utah Highway Patrol. Troopers said US 89 would likely remain closed through Logan Canyon overnight.
Utah Highway Patrol Trooper Phil Rawlinson said there was near-zero visibility near the summit of Logan Canyon, and snowplow drivers were struggling to see where they were going.
"We have one trooper that's still up there from day shift that can't get through … to come back home," he said.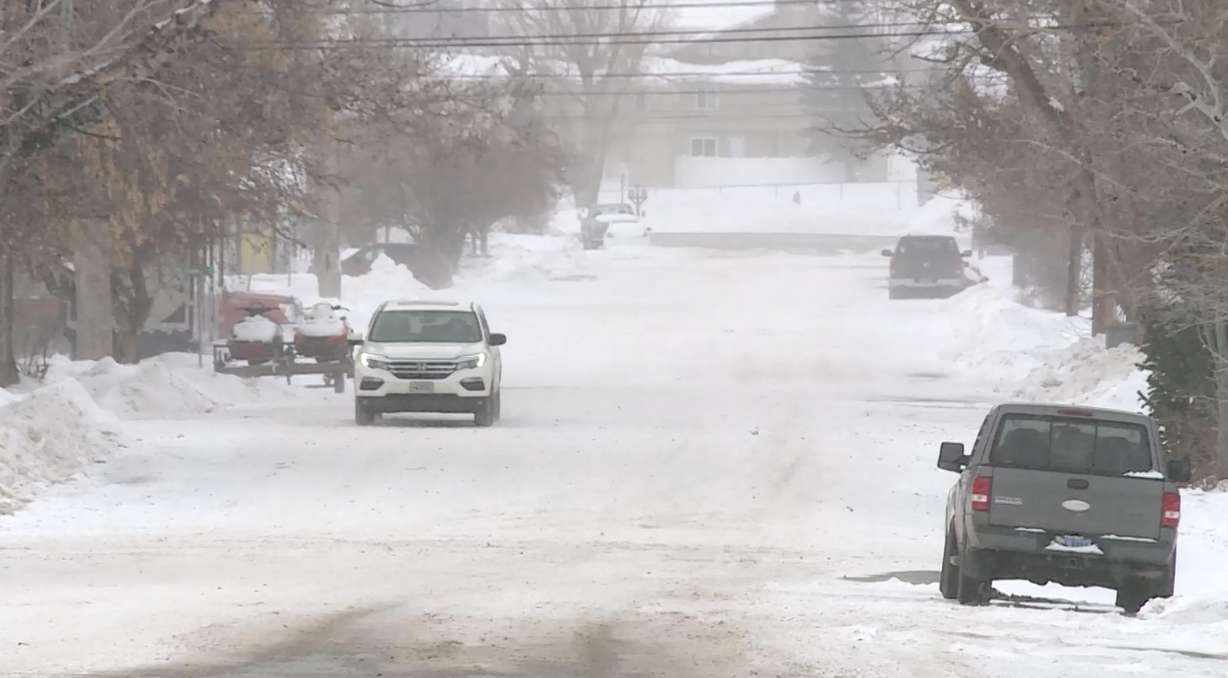 The wind and swirling snow all day Wednesday was just the beginning for residents of Evanston, Wyoming. Meteorologists say the area could see temperatures of 35 degrees below zero in the next day or two. (Photo: Mark Wetzel, KSL-TV)
A wind chill warning went into effect for Cache Valley, eastern Box Elder County and the Wasatch Back beginning at 8 pm Wednesday and will last through 11 am on Thursday. Temperatures in northern Utah could drop to 20 below zero overnight, and the Uintah Basin and southwestern Wyoming are expected to see temperatures of 35 below, according to the weather service.
Weather officials warned residents of affected areas to limit time spent outside and cover all skin, as frostbite can occur on exposed skin in as little as 30 minutes at those temperatures.
Latest updates on today's storm with it's greatest impacts expected this evening for #utwx and #wywx: Strong winds are being observed across the forecast area, and are expected to peak this evening. Especially at risk are areas of Castle Country west of SR-10, gusts to 80 mph. pic.twitter.com/cQ1zSjGY5E
— NWS Salt Lake City (@NWSSaltLakeCity) December 21, 2022
Dangerous winds are also buffeting much of the state, with gusts of up to 80 miles per hour forecasted in Castle Country west of state Route 10, including Ferron, Orangeville, Castle Dale and Huntington. Gusts of 97 miles per hour were recorded at high elevations in the central Wasatch Range Wednesday morning.
Snow will continue through early Thursday morning, with an estimated 1 to 4 inches of accumulation in the northern valleys, and up to 15 inches in the Wasatch and western Uintas.
×
Photos
Most recent Utah weather stories
Andrew Adams
More stories you may be interested in