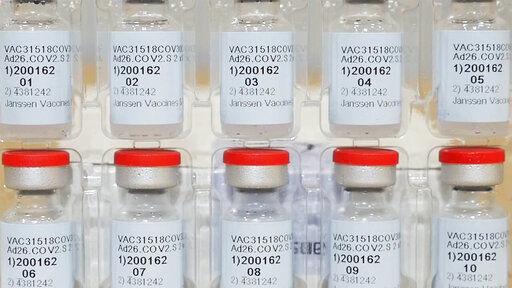 Ogden's McKay-Dee Hospital to Vaccinate If COVID-19 Vaccine Production Rises | Health care
Utah is expected to receive increasing doses of COVID-19 vaccine in excess of the state's 13 local health departments. Therefore, new partners join the effort to vaccinate the public.
That means more places need to be vaccinated and that the vaccination rate in Utah should gradually increase.
Intermountain will also vaccinate at several other hospitals under its system in Logan, Park City, St. George, Riverton and Provo. Likewise, the University of Utah health system will offer immunization at three additional clinics, including the Farmington facility.
"These partners will increase our reach across the state. They will offer large-scale vaccination clinics in some areas where this is currently not possible, "Utah Department of Health spokesman Tom Hudachko said at a press conference Monday to showcase the expanded vaccination effort.
"We therefore assume that we will receive significantly more vaccines in this state in the coming weeks. Therefore, we must rely on additional partners to be able to pass these doses on to the community," said Hudachko.
At the same time, the number of new cases continues to decrease from week to week. This is more good news in efforts to correct COVID-19. In Weber and Morgan counties, the number of new cases was 254 for the week that ended last Saturday, the seventh straight week of declines and the lowest number since September. The number of new cases in Davis County fell below 600 for the first time since October. Nationwide, the average daily number of cases for the seven days up to February 28 was 635.7 per day, the lowest level since mid-September.
Those eligible to receive the vaccine under government health agency guidelines include those 65 years of age, health care workers, first responders, and long-term care facility workers. Teachers and people aged 16 and over with certain medical conditions can also receive the vaccine. The pool of those eligible to be vaccinated will expand to include new groups over time, possibly starting in April, but health officials have not set a precise schedule.
Kristin Dascomb, a doctor at Intermountain Healthcare, said those wishing to schedule a vaccination appointment with McKay-Dee or the other Intermountain locations that offer vaccination should do so online at intermountain.com/covidvaccine. Alternatively, call 887-777-0566 for telephone assistance. The Johnson & Johnson vaccine, which, like the Moderna and Pfizer vaccines, only requires one shot, not two, is available from McKay-Dee.
Nomi Health, mandated by the state, has already offered vaccinations at various Megaplex theaters in Lehi, Vineyard and West Valley City. That is to be extended to Centerville and the Logan area. Register online at getmyshot.utah.gov or call 801-704-5911 for help, said June Steely, a doctor with Nomi Health.
University of Utah health officials will contact eligible patients in their electronic health record system and send them invitations to be vaccinated.
According to the Weber-Morgan Department of Health website, Harmons in Roy, Lee's Market Place in North Ogden, Fresh Market in South Ogden, and Macey's in Ogden also offer vaccinations. Walmart also offers vaccinations at multiple locations in Utah.
A bug on the Utah Department of Health's COVID-19 vaccination website, vacinate.utah.gov, unfairly allowed 7,200 people not in the eligible pool to register for vaccination appointments. The health department tweeted on Saturday that these appointments were canceled and apologized for the mistake.
According to guidelines set by the federal agencies, vaccine doses were distributed proportionally to the proportion of each state in the adult population in the country. In Utah, 0.84% ​​of the adult population live in the country, and according to Hudachko, that is the proportion of the vaccine produced that makes it into the state.