Survivor continues to heal for 18 years after fatal avalanche in Utah County
Matt Long, a survivor of a deadly 2003 avalanche, said Wednesday the potential toll was not worth the chance. (Ray Boone, KSL-TV)
Estimated reading time: 3-4 minutes
PROVO – When forecasters warned of significant avalanche risk in much of northern Utah and high risk in the Uintas, a survivor of a fatal avalanche in 2003 said the potential toll was not worth the chance.
"Everyone wants to say, 'Oh, it won't happen to me' or 'It won't happen' or 'It didn't happen this one time' – we didn't think that either," said Matt Long. "It changed my life, the life of my family, the life of my friends in an instant."
Long was snowboarding with a group of friends in an area outside Sundance Mountain Resort near Aspen Grove on December 26, 2003, with just one "big, long run" going on.
He was on the mountain with Adam Merz, Michael Hebert, Rod Newbury and JD Settle when the unexpected happened.
"As soon as we got to the mouth of the slide, I clearly remember my buddy Mike Hebert standing behind me," Long recalled during an interview with KSL on Wednesday. "All I heard him scream was 'avalanche'. I looked up and saw a 15 meter high white wall. The scariest thing I've ever seen in my life! The noise was unreal. "
Long said the first instinct is to turn and run, but the wind and wall of snow quickly overwhelmed the group.
"I remember seeing Mike fall in front of me and the last thing I saw was stare into his eyes, and then it was a full washing machine," Long said.
Long didn't know where up was when his body came to rest, but he quickly found that he only had about four inches of snow on him and had the opportunity to free his legs from getting stuck in the compacted snow.
It changed my life, the life of my family, the life of my friends in an instant.
–Matt Long, avalanche survivor
"Time during this whole thing, I have no idea – it could have been half an hour, it could have been an hour, I honestly have no idea," Long recalled. "It felt like forever."
He waved toward a grove of trees in case another avalanche fell.
Before long, someone else did. Then another. Then another.
Somehow, Long escaped them all.
"When the fourth finally ended, I was up to my armpits with the way I held myself," Long said. "By God's grace I was able to shovel snow away."
Long said he was utterly scared, and as he was walking down the mountain to look for his friends, he saw a hand sticking out of the snow.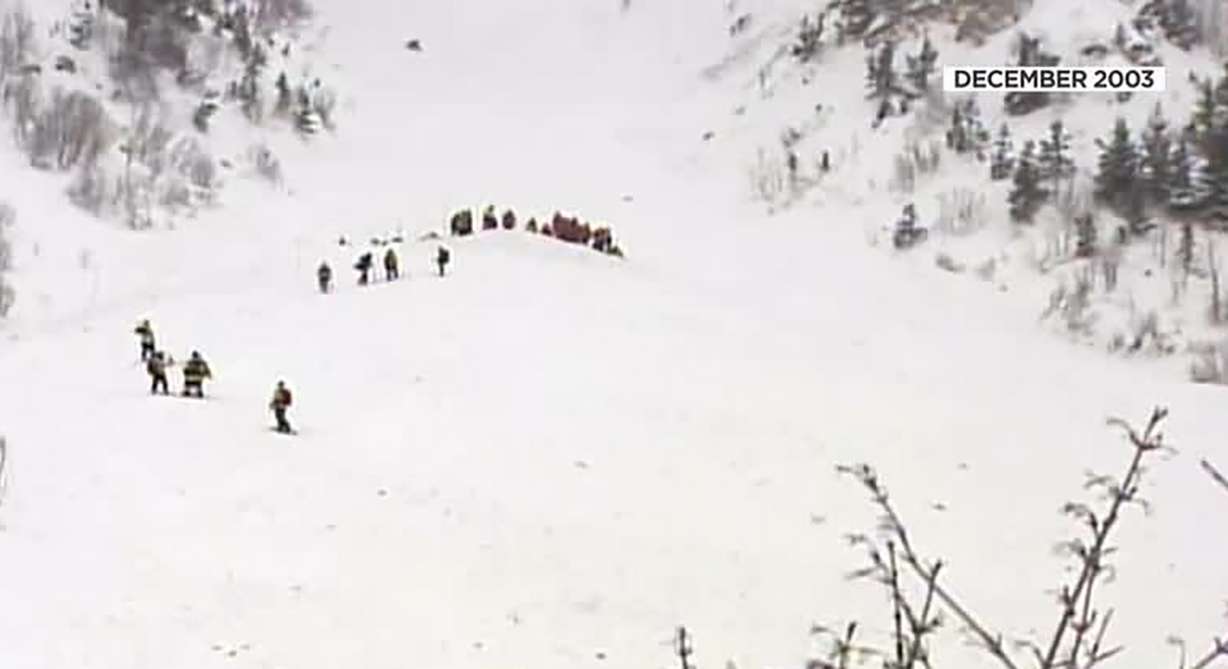 Scene of an avalanche on December 26, 2003 in an area outside Sundance Mountain Resort near Aspen Grove. (Photo: KSL-TV)
"I started digging right away and it wasn't one of my friends," Long said. "It happened to be one of two brothers who were on snowshoes that night that I dug out of the snow. He was one of the guys when I got him out and he could get his phone, he called 911." . "
Although searchers arrived on the scene and tried to locate Long's friends, Settle was the only other member of the group who survived.
"It screwed me up emotionally and spiritually," Long said. "My addiction has been fueled immensely, resulting in many incarcerations and broken relationships."
Long said he finally found sobriety four years ago and started moving forward with the help of friends and others.
He's now warning others to prepare for their way into the hinterland – including knowing the terrain and predicting avalanches.
"Of course I was a stupid young kid and I didn't want to watch it," Long said.
Calm down shortly after the avalanche acknowledges that it is aware of the danger.
Long also said that it is extremely important to let others know where they are going and to have the right equipment.
He said he believed beacons might have made a difference that day.
"Please don't be too ignorant to put money in," Long said. "When doing backcountry, take all necessary precautions. You have loved ones. You are loved and it is a loss – it really is. "
×
similar posts
Andrew Adams
More stories that might interest you