Therapy dog teams turn travel stress into smiles at Salt Lake City International Airport
Estimated read time: 4-5 minutes
SALT LAKE CITY — Traveling can be super stressful during the holidays, especially when delays and cancellations are thrown into the mix. But one group at the Salt Lake City International Airport is giving holiday travelers a reason to relax, even during the thick of the busy travel rush.
Holiday travel hustle can turn into havoc with long airport waits, flights pushed back, and keeping crabby kids contained at the gate.
That's why a group of four-legged furballs walked around Salt Lake City International Airport's terminal one day during the winter season, ready to hand out love.
"Would you guys like to see the dogs?" Cindy Yorgason asked as she and two others approached a group of people waiting at the airport.
Yorgason held the leash with her 3.5-year-old Great Pyrenees, Ardi, on the other end. Susan Daynes walked up with Kingsley, a Golden Retriever.
"Come and say hi!" she said as a young man approached and leaned down to pet the 2.5-year-old pup.
The group was making the rounds to calm anxiety and turn stress into smiles.
"Awww, he's adorable!" two women exclaimed as they walked up to 7-year-old Newfoundland Gus and his human, Steve Luzkow. The women smiled down on the big bear-looking boy, who wore socks to keep his paws from slipping on the floor and a bib that said, "No, I'm not a Bear."
"You like it, huh?" the woman said in a baby voice as she gave a good back scratching to Gus.
Some were afraid to approach, thinking the vests meant the trio were service dogs. But Yorgason was quick to explain their purpose.
"We're with Intermountain Therapy Animals," she said to a couple with their baby. "So, we get to wander all over the airport and just share our puppy love."
"Awww!" the woman responded.
"That's amazing!" the man echoed.
Yorgason, who is ITA's airport animal coordinator, explained how the ITA teams volunteer at the airport each week, including during the holidays.
"We've had people that have flight anxieties, and just having the dogs sit with the people, they get their blood pressure down, they relax," she said.
Yorgason's been with ITA for a decade and coming to the airport for about nine years — two with Ardi.
She explained how this is a way she can help others after her own experience with animal therapy.
"I'm a cancer survivor, and my dog ​​at the time would not leave my side," Yorgason said. "I wanted to pay it forward. So, he became my first therapy dog."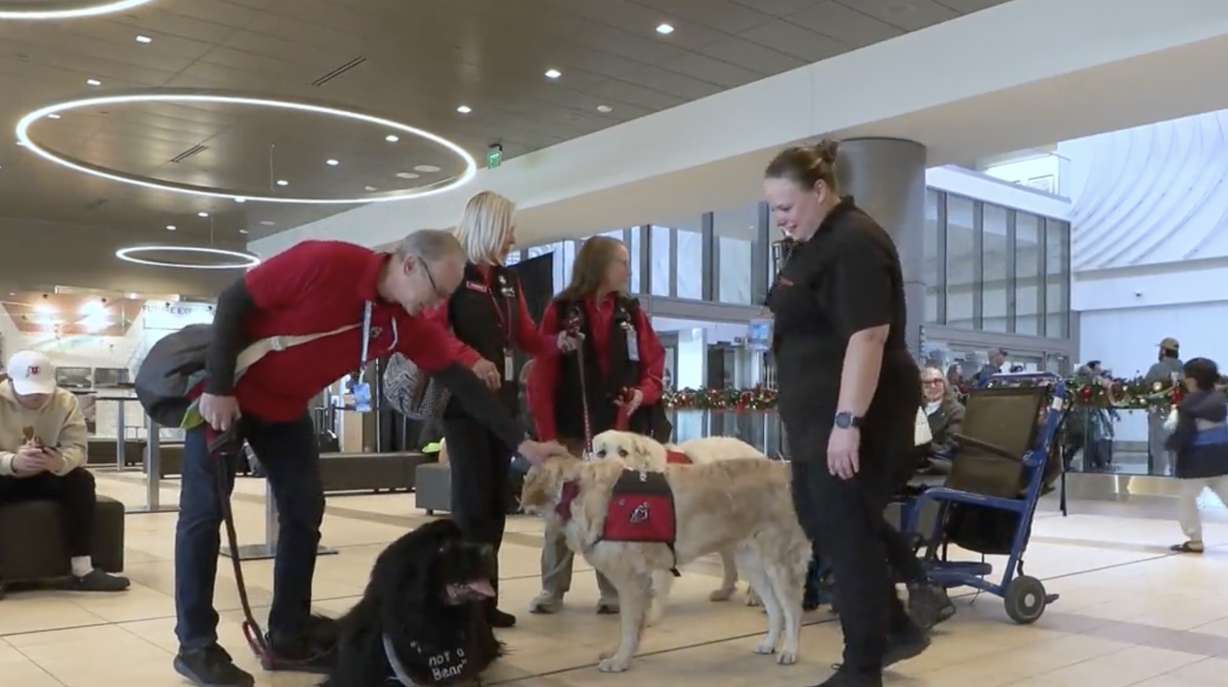 Intermountain Therapy Animals' dogs provide relief for people in stressful places like airports during the holidays. (Photo: Clarissa Hutchinson, KSL-TV)
ITA teams like Yorgason and Ardi visit all kinds of places, including hospitals, rehabilitation facilities, universities during midterms and finals weeks, and other locations for special events. ITA runs the Reading Education Assistance Dogs program, where children read books to therapy dogs to build confidence while improving literacy and communication skills.
She and Luzkow talked about how visiting airports during such a stressful time is especially rewarding.
"It's just a real joy to have people who are under stress, have a long flight, and having to wait for a plane for a long time and aren't happy, see the relief on their faces when they see Gus," Luzkow said . "It's just instantaneous and it's wonderful."
"Everybody — employees, flight attendants, pilots — it doesn't matter who, they just love to see the dogs and get a little relief," Yorgason said.
The group approached a group of people in the terminal that included Danielle Pelmore. She had just flown in from Las Vegas.
"Hi babe!" she exclaimed as Gus walked up to her and she pet his face.
While Pelmore's travel day was fairly easy, it was still a joy for her to see the dogs.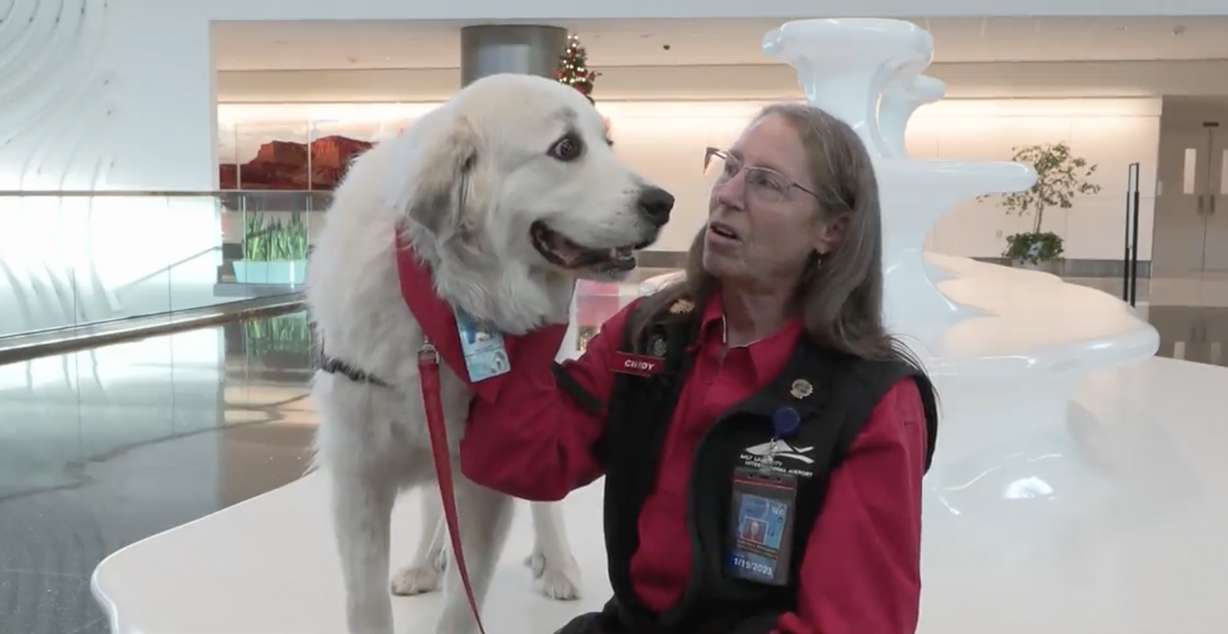 Cindy Yorgason is the airport animal coordinator with Intermountain Therapy Animals. The dogs provide relief for people in stressful places like airports during the holidays. (Photo: Clarissa Hutchinson, KSL-TV)
"It was like, it just made me so happy to see them," she expressed. "'Cause I was just like, 'Oh my gosh!'"
An airport employee pushing a woman in a wheelchair came up to the group, and both women's faces lit up.
The woman in the wheelchair, who was dealing with an ankle injury, sat on the ground and laughed as she pet the dogs.
The airport employee recognized the chonky Newfoundland from other airport visits and squealed. They gave the good pups all the good pets before continuing on their way.
"Thank you guys!" the airport employee said, giving Gus one last pat on the head. "Bye, my Gus Gus!"
Intermountain Therapy Animals teams hang out both in the terminal and out by the gates. If travelers see the dogs with red ITA vests accompanied by human handlers in red ITA shirts, they are encouraged to stop and say hi — and feel the stress melt away.
Learn more about ITA here.
×
Photos
Related stories
Most recent Utah stories
Lauren Steinbrecher
Lauren Steinbrecher is an Emmy award-winning reporter and multimedia journalist who joined KSL in December 2021.
More stories you may be interested in