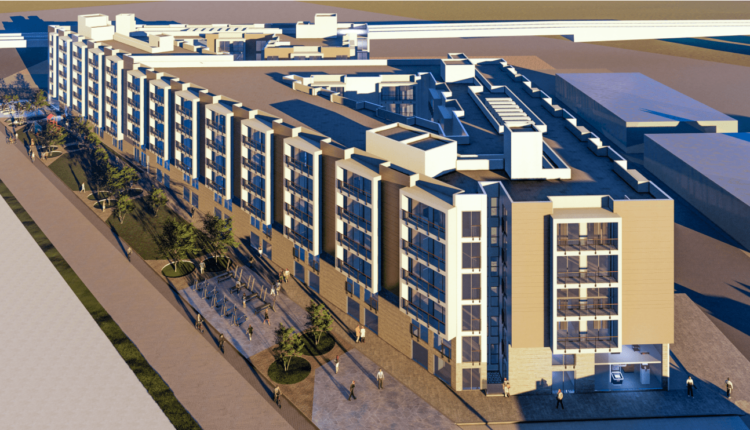 Two proposals would add over 500 housing units in Ballpark
The Bumper House Apartments proposed for the Ballpark neighborhood of Salt Lake City near 1050 S. Washington. Rendering by SMH Builders.
Builders are still drawn to the 300 West Corridor, which continues the ongoing residential development in a historically commercial and auto-centered part of Salt Lake City.
The latest proposal is a six-story apartment building that will bring 287 units to the area south of Central 9th ​​in the Ballpark neighborhood. Add that to the 234-unit building proposed next door and the San Francisco-based developer would add 521 new units to the area.
The newly proposed project, called Bumper House, requires city approval for a little more height. If both projects are approved, they would continue the ongoing and intense interest in bringing denser housing to neighborhoods throughout the city center.
The Chrome Works Apartments have already received planning commission approval for a building that would be about 20 feet taller than what is already permitted.
The Bumper House was originally intended to include underground parking, but the developer, represented by SMH Builders, said water table issues require adding two levels of above ground parking and therefore a building 6 feet taller than what is directly in the general Commercial (CG) Zone.
The two projects would build an auto junkyard near 270 W. Brooklyn Ave. at a time when the city is preparing to convert a large part of 300 West into a full street starting this year.
Chrome Works and Bumper House would replace an open junk car warehouse in the Ballpark neighborhood of Salt Lake City. Photo by Taylor Anderson.
Bumper house Apartments (six floors)
236 studio apartments from 319 to 454 square meters.
20 one bedroom units from 426 to 456 square feet.
31 two bedroom units ranging from 562 to 637 square feet.
Chrome Works Apartments (eight floors)
191 studio apartments from 332 to 447 square meters.
22 one bedroom units ranging from 460 to 673 square feet.
21 two bedroom units ranging from 580 to 677 square feet.
So where is that exactly?
The area is part of the Ballpark neighborhood, which has recently attracted mid-range condominiums and apartments.
But it's also close to the eight-block area known as Central 9th. The compact district with its transit options and urban zones has seen its own rapid expansion in recent years.
The Bumper House and Chrome Works would be built in an area divided by the state's oversized I-15 exit near 900 South.
It does not have the benefit of being removed from the autocentric CG zone. However, developers clearly see the value of increasing density for both 300 West and Infill Land near Central 9th.
Looking north from the Chrome Works- and Bumper House apartment location over the built-up and separated 900 South junction from I-15 and past the developing Central 9th ​​district towards downtown Salt Lake City. Photo by Taylor Anderson.
Bumper House and Chrome Works are just the latest projects proposed along the 300 West Corridor, where new homes are being added along the entire street in the city.
Before the influx of residential buildings, Salt Lake City is completely redeveloping the street. For the first time there will be continuous sidewalks. There will be a two-way cycle path on the west side of the road.
The city has not planned an intersection on Brooklyn Avenue as part of this project. The Render House renders appear to show people pedaling on a path along the vacant railroad tracks that pass it and the Chrome Works properties. But there is no way to ride it or plans to build one.
More details about the Bumper House
It is not immediately clear how many parking spaces on the two above-ground parking levels would be equipped with the bumper housing. The developer said parking is "provided at the 2: 1 ration mandated by CG Zoning," but project materials show space for 145 stalls.
SMH Builders said it needs to go through the design review process as it cannot build an underground parking garage as hoped.
"We have learned that environmental concerns are suggesting that our proposed underground parking space may not be advisable due to the water table," wrote SMH. "So we're asking Design Review to approve the elevation of the building from 60 to 66 feet."
Buildings this tall are allowed in the CG zoning but must go through the design review process. The planning committee would have to agree that the additional height improves the project.
Want to know where developers are proposing and building new homes in Salt Lake, or just want to support a local news source on what's going on in your neighborhood? Learn more about membership.
connected