Utah golf alum Blake Tomlinson cards 3 eagles for Utah Open title, first win as pro
Former University of Utah golfer Blake Tomlinson, who prepped at Skyline High, after he shot 18-under-par 198 to win his first professional golf tournament by two strokes. (Sean Walker, KSL.com)
Estimated read time: 4-5 minutes
PROVO — For anybody wondering how former University of Utah golfer Blake Tomlinson was doing in the final round of the Siegfried and Jensen Utah Open on Sunday, all they had to do was listen for the roar emanating from the 16th green in the mid-afternoon.
That's when a huge swell erupted from Riverside Country Club in Provo, one large enough that the former Skyline star's home neighborhood might have heard it, if they listened hard enough.
Most of it probably came from Tomlinson's mother Annette.
"I think everyone heard her," Tomlinson deadpanned. "But it was awesome.
"I've got a loud family, that's for sure. But you've got to earn it, and I think I did."
It also turned out to be the winning cry.
Tomlinson shot 7-under-par 65 to finish with a three-day total of 18-under 198 Sunday to finish atop the leaderboard for the first time in his professional career.
"It's ideal to have all the support," Tomlinson said. "I know it's down south, but it's not too far south. It's incredible to do this in my home state."
With former teammate Kyler Dunkle on the bag for his final round, Tomlinson shot his best score of 65 that included three eagles — something he's never done before in a competitive event.
None were more exciting than a chip-in on the par-4, 378-yard 16th hole that sent shockwaves — or at least, a shriek-wave — around the course with his 48-yard chip-in.
"It was good. It was fortunate, and a really good boost of confidence for me," said Tomlinson, who also pointed to his 35-foot eagle putt on the par-5, 558-yard seventh hole as a key turning point of his round.
Since graduating from Utah following the 2021-22 season, the former two-time Utah State Amateur runner-up at both Alpine Country Club and Jeremy Ranch played a pair of starts on the PGA Tour Canada after finishing tied for 17th in at qualifying school. But most of his pro ventures have been in local events like the Salt Lake City Open due to higher travel costs and entry fees that he expected.
Of course, a $20,000 check for the winner will help that as Tomlinson heads to Canadian Q-school.
Winning his inaugural event in Provo is just fine for Tomlinson, who became the first former University of Utah golfer to win the state's premier professional open since Bruce Summerhays in 2008 and just the fourth overall.
Two of the other three are members of the Utah golf hall of fame. No pressure, Blake.
"I recognize that name," Tomlinson quipped of Summerhays. "I definitely have got a lot to live up to.
"I played well here in the past as an amateur, and I love the golf course; it's always kept in really good shape. It's just awesome to have a course like (Riverside), and to have all my family and friends able to drive here and support me. They haven't gotten to do that much in my pro career."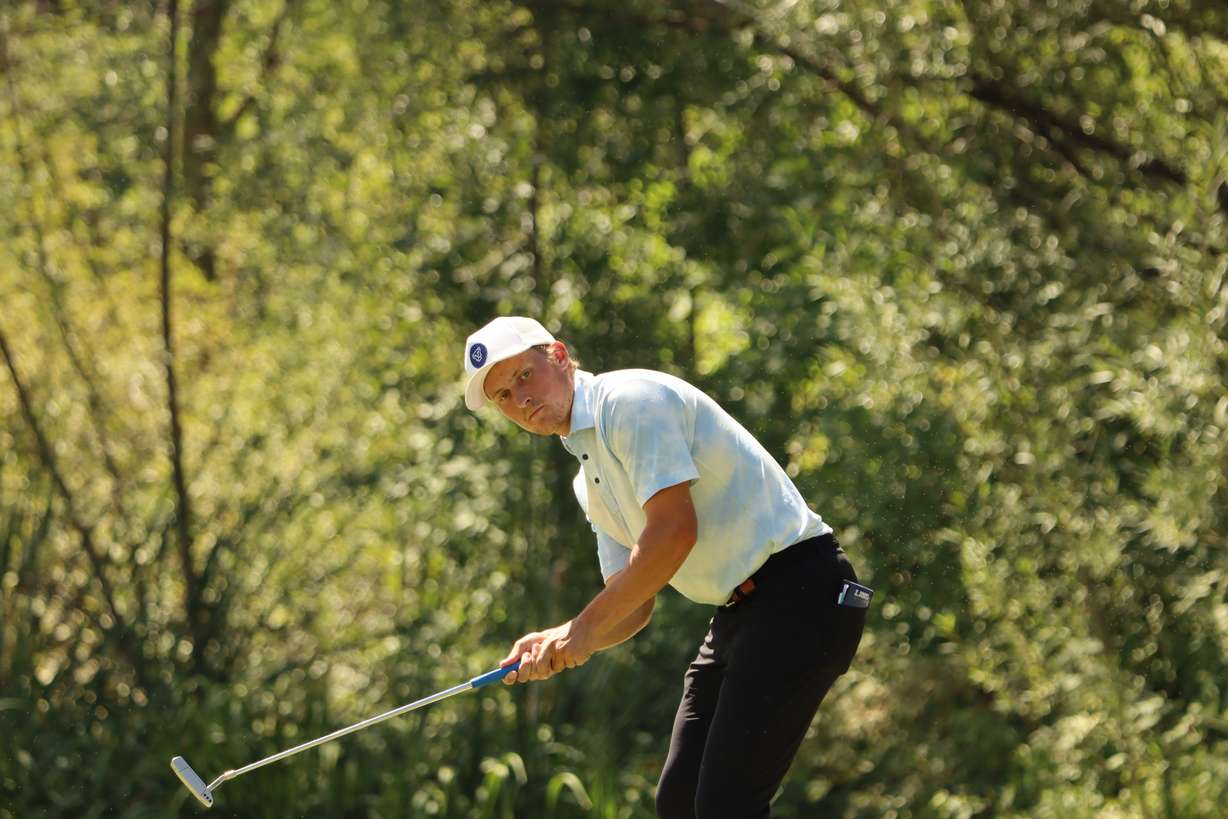 BYU golfer Zac Jones lines up a putt during the third round of the Siegfried and Jensen Utah Open, Sunday, Aug. 21, 2022 at Riverside Country Club in Provo. (Photo: Fairways Media/Randy Dodson)
Texas pro Jere Pelletier finished two shots back for second. The 29 year old from El Paso was tied with former BYU golfer Zac Blair, who shot his second round of 66 as he nears the end of a PGA and Korn Ferry Tour rehab assignment following shoulder surgery.
Blair played his first five holes at 3-under with four birdies and added three-straight birdies on the Nos. 12-14 before a birdie on the par-4 18th lifted him into a tie for second with his second 66 of the tournament.
"I did alright; just a couple too many mistakes over the three days," said Blair, who played six tournaments (including the Korn Ferry Tour's Utah Championship in Farmington) after surgery to repair a torn labrum and will head the Fortinet Championship, Sept 15-18, in Napa, Calif.
"The goal coming back was just to see if I could still golf, and make them when they count. I feel like I definitely did that; I've just got to put four together instead of two-and-a-half.
"It was hurting when I decided to take the medical (exemptions), so I'm looking forward to getting it again."
Blair will have 24 PGA Tour starts next year — most of a season — as part of his medical exemption process.
Las Vegas pro Matt Snyder was fourth at 14-under, followed by Hawaii's John Oda at one shot back. BYU golfer and reigning Utah State Amateur champion Zac Jones was the low amateur, finishing in a three-way tie for eighth at 11-under.
Sandy pro Todd Tanner won the $1,500 check for the Utah Section PGA at 8-under, while Steve Schneiter and Mark Owen tied for the Utah Section PGA low senior.
In a final with as many storylines, though, none were bigger than the win by first-time champion Tomlinson, who will take a few weeks off before the Provo Open scheduled for Sept. 14-17 and play a few events on Arizona's Outlaw Tour while preparing for Canadian Q-School next spring.
"I had a stretch of about four-and-a-half weeks where I didn't play much and just needed to practice," Tomlinson said. "It definitely paid off."
Siegfried and Jensen Utah Open
Riverside Country Club in Provo
Select leaderboard
1st. Blake Tomlinson (Salt Lake City) — 198
T-2nd. Jere Pelletier (El Paso, Texas), Zac Blair (Orem) — 200
4th. Matt Snyder (Vegas) — 202
5th. John Oda (Honolulu) — 203
T-6th. TK Kim (Boise, Idaho), Zahkai Brown (Golden, Colo.), Ben Geyer (Arbuckle, Calif.), Zac Jones (Highland), Clay Ogden (Farmington) — 205
T-11th. Daniel Summerhays (Kaysville), Kihei Akina (Alpine) — 206
Full leaderboard at utahpga.com.
×
Photos
Most recent Utah golf stories
A proud graduate of Syracuse University, Sean Walker has covered BYU for KSL.com since 2015, while also mixing in prep sports, education, and anything else his editors assign him to do.
More stories you may be interested in