Utah Olympians Heading To Tokyo For 2020 Games
SALT LAKE CITY – Whether you were born and raised or brought to Utah to play pro, this year we'll see more locals at the Summer Olympics than ever before.
On Friday the KSL Tokyo Team introduced us to the athletes who call Utah their home and hope that Utah will cheer them on in Tokyo.
"I miss the mountains," said swimmer Rhyan White.
White grew up looking at the Wasatch Mountains from her home in Herriman.
She stunned the field in the US team tests and is ready for the 100 and 200 meter backs.
"I feel connected to my community here and know that they will support me," said Nathaniel Coleman.
Coleman will be one of the first Olympians to compete in sport climbing.
The native of Salt Lake City is supported by Kyra Condie, who, together with the USA Climbing team, now calls Utah at home.
"I can't wait for more people to be introduced to climbing since it's on this world stage," said Condie.
"I think growing up in Park City and Utah was definitely a great opportunity for me," said Haley Batten.
Batten first learned to ride Utah's mountain trails. Now she is playing against the mountains of Japan at the games in Tokyo.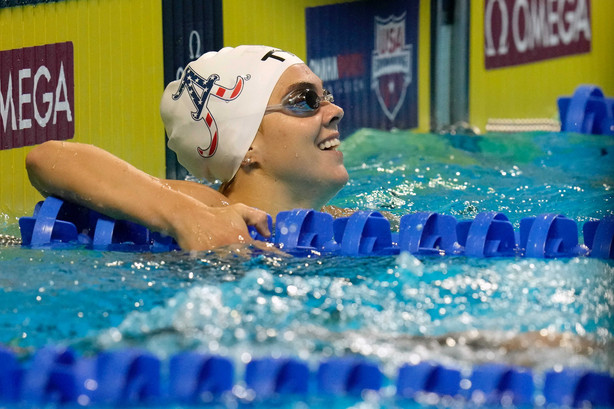 Rhyan White smiles after the women's 200m backstroke during the second wave of the U.S. Olympic Swim Trials on Saturday, June 19, 2021 in Omaha, Neb. (Photo: AP Photo, Jeff Roberson)
"That's exactly what we'd do walking around the neighborhood," said Jake Gibb.
Gibb spent summers as a kid playing volleyball in the back yard in Bountiful. This summer he will take part in his fourth Olympic Games.
"It's an honor to be considered one of the top guys in the US," said Brenden Sander.
The brothers Taylor and Brenden Sander both played for BYU for four years. Now they play side by side in Team USA.
"It was cool to have him by my side," said Taylor.
Utah's colleges and universities have hosted more than a dozen Olympic athletes in Tokyo.
"My BYU experience has allowed me to grow in ways I didn't expect," said Jordan Matyas.
USA Rugby's Jordan Matyas was All-American six times while playing for BYU.
NBA star Damien Lillard played his college years at Weber State University.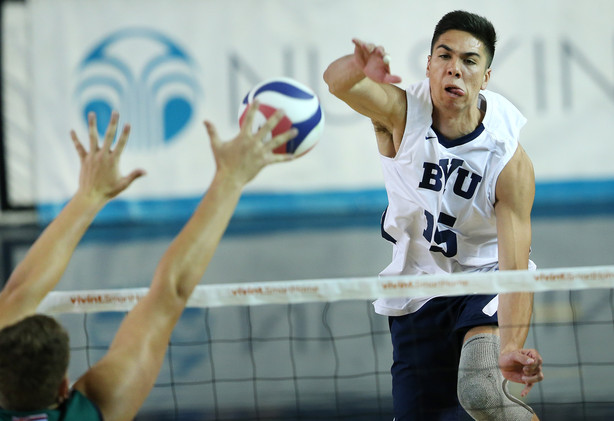 BYU's Brenden Sander tips the ball during volleyball action against Hawaii at Smith Field House in Provo, BYU won 3-0 in straight sets on Friday, March 17, 2017 (Photo: Scott G Winterton, Deseret News)
This will be his first time playing for Team USA.
Hannah Flippen from the USA will travel to Tokyo as a substitute for the American women's softball team.
Pistol shooter Alexis Lagan first discovered the sport while at school at the University of Utah.
"I never thought of going to the Olympics in any discipline, let alone shooting, and the University of Utah was sort of my gateway to it," she said.
Baseball player Eddy Alvarez has been to the Olympics before, but not to play ball. Former Salt Lake Community College Bruin won a silver medal in speed skating at the 2014 Russia Winter Games.
Back then, he compared Olympic-level ice to a feeling he knew all too well on the baseball field.
"I compare it to the 9th inning, bases loaded, you're back by two, the tie run is on the second and you know, there are two outs and it's a three-two count. You have to let this bat fly. "Alvarez said.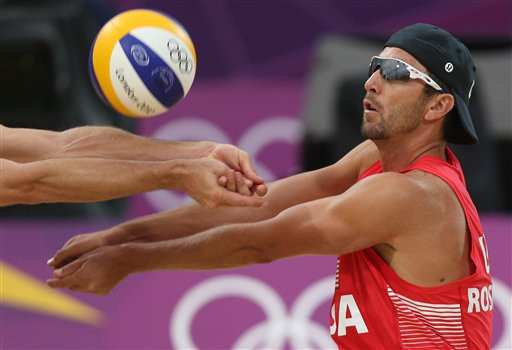 US Jake Gibb, left, and Sean Rosenthal, right, grab a ball during their quarterfinal men's beach volleyball match against Latvia at the 2012 Olympic Summer Games, Monday, August 6, 2012, in London. (Photo: Petr David Josek, AP Photo)
The Utes can claim three members of the US women's gymnastics to Tokyo.
After being a substitute for Team USA in Rio in 2016, MyKayla Skinner represented the Red Rocks at three NCAA championships, finished first in her freshman year, scoring three perfect tens.
"I'm really glad I never gave up on my dream and moved on," she said.
MyKayla's Team USA teammates, Grace McCallum and Kara Eaker, are both committed to competing for the U this fall.
Former University of Utah teammates Leilani Mitchell and Kim Gaucher will both play basketball in Tokyo, but not together. Goucher will represent her home country Canada while Mitchell plays for the Australian women's team.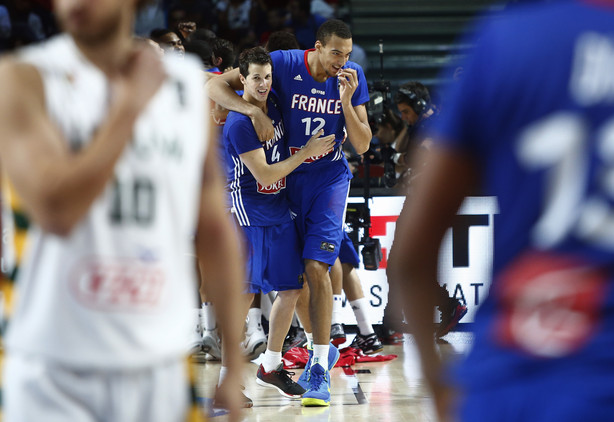 Rudy Gobert played for France in 2014. (Photo: The Associated Press)
A handful of professional athletes from Utah will also play for their home countries in Japan. Jazz man Rudy Gobert will play for France, Joe Ingles will represent Australia and Miye Oni will play in the Nigerian team. Real Salt Lake's Douglas Martinez is also traveling to the games for his native Honduras.
A love of the skeleton brought Nathan Crumpton to Utah years ago. Now he's back and training to test his running skills away from the ice. He qualified for the men's 100 meter run for American Samoa.
Ugandan rower Kathleen Noble came to Utah for a job, but found a lot more.
"When it's flat you can just go and go and go and go," she said.
She rekindled her college love for the crew and will now be the first Ugandan to row in the Olympics.
"I think it is inspiring to see someone from Uganda represent them at the Olympics and I hope that inspires them to dream of competing," said Noble.
×
similar posts
Keira Farrimond
More stories that might interest you