Wildcats leash Ogden in non-conference showdown | Sports
For most of Monday night scoring wasn't an issue.
Tiela Janssen from Glidden-Ralston prepares for a layup during a Jan. 16 game against Ogden.
After a slight scare at the beginning of the game, Glidden-Ralston seemed to take the wake up call to heart as they raced away from a slow start and eventually gained a 57-37 victory over Ogden.
Record-wise Monday's non-conference game seemed like a mismatch. Glidden-Ralston had double the amount of wins that Ogden had. However, Ogden seemed to prove that they were on equal footing. Especially early on in the game.
Glidden-Ralston sputtered in the early part of the game as Ogen was able to build a 5-0 lead early on.
That would be the largest and last time that Ogden held a lead in the game.
Glidden-Ralston was able to recover from the slow start with their first two shots.
As soon as Paige Klocke was able to hit a corner three pointer to tie the game up at five, the Wildcats were able to take off.
The full-court pressure from Glidden-Ralston made Ogden panic early on. Turnovers by the Bulldogs led to easy points by the Wildcats. Soon the 5-5 tie turned into an 11-5 lead by Glidden-Ralston.
Defensive pressure for the Wildcats didn't let up and neither did the offensive mistakes for Ogden.
Glidden-Ralston was able to hold Ogden scoreless for the final six minutes of the first quarter as the Wildcats were able to score 20 points unanswered to take a lead that wouldn't be challenged.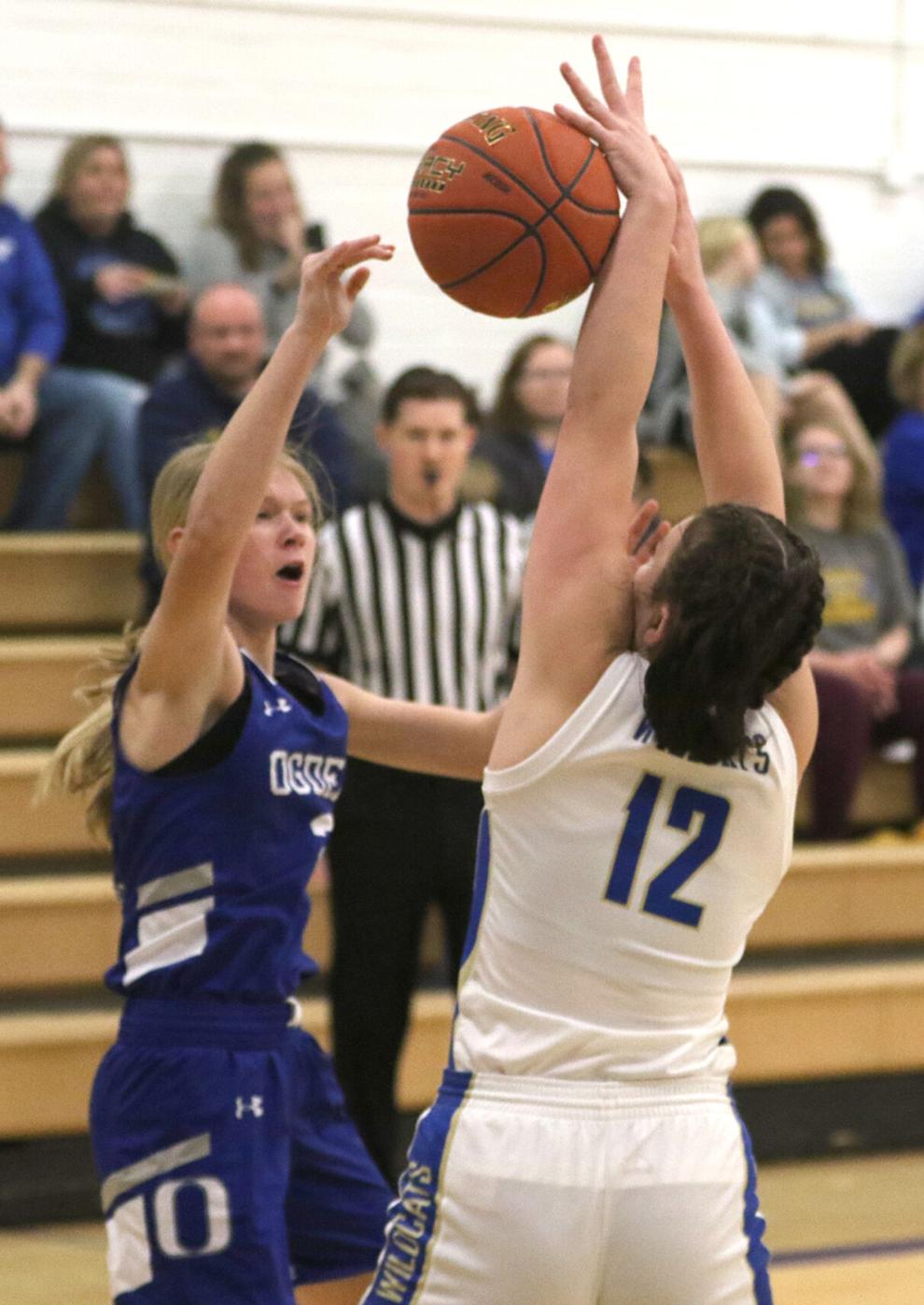 Paige Klocke (12) from Glidden-Ralston blocks the pass attempt of an Ogden player during the first half of a game played Jan. 16 in Glidden. Klocke led the Wildcats with 29 points. She finished with a double-double with 11 rebounds.
Early in the second quarter the Wildcats grew a lead by 20, which is what the lead stayed at for the rest of the game.
By the fourth quarterer the Wildcats were able to rest their starters as both teams allowed the game to end with junior varsity players playing.
Paige Klocke finished the game with a team-high 29 points. She also had 11 rebounds with an assist and four steals.
Tiela Janssen added 11 points. She had four steals, two assists.
Kassidy Wenck finished with eight points. Vanessa Koehler added seven points. Ashtyn Klocke added two points.
Overall the Wildcats improve to 8-6 on the season. They play later tonight when they travel to take on Boyer Valley.