5A softball: Sapp's gem leads Spanish Fork to repeat state title
Spanish fork pitcher Avery Sapp and teammates celebrate their win over Lehi in the 5A softball state championship at Miller Park in Provo on Friday, May 27, 2022. (Spenser Heaps, Deseret News)
Estimated read time: 4-5 minutes
PROVO — Game 2 of the 6A state softball championship series was hardly perfect, with dropped balls, base running errors and even a coaching mistake that cost defending champion Spanish Fork a run.
At the very least, it certainly didn't have the explosive fireworks of Thursday's 14-0 win in Game 1.
But it was more than good enough for Avery Sapp.
Sapp spun a three-hitter with 10 strikeouts as the Dons repeated as 5A champions with a 4-0 win Friday over Lehi at BYU's Gail Miller Field.
Tatum Hall went 2-for-3 with a double, a home run and two runs scored to lead the Dons (28-4), who needed just six hits to dispatch the Pioneers after pounding out 16 a day earlier.
"I think we all came together, and just knew we had to work a little bit harder," Sapp said. "A little bit more effort, a little bit more fight.
"We just came together, we worked for it, and that's what happened. My rise ball and changeup were working really well today. Those are a lot of the pitches I threw today."
Unlike in Thursday's first game of the best-of-three series, Spanish Fork did not get a big early inning to mount a lead.
The Dons didn't need it, either.
Sapp fanned six of the first eight batters she faced to keep the Pioneers scoreless through three innings, and also had some help from her defense in the form of a 5-3-6 double play in the top of the third.
"She's been a fighter all year. She had a team, and she was going to carry them," Spanish Fork coach Natalie Jarvis said of Sapp. "She's always on her game; she starts strong, and she finishes just as strong or stronger."
Sapp wasn't the only fighter on her team, though, one that grew closer through off-the-field activities — most notably, a fiercely competitive pickleball tournament two weeks before the state tournament.
Who was the best pickleball player on the team?
"I mean, me and Emmie (Olson) won last time, so…." Sapp said, with a shrug.
Oh really?
"She's not as good as me," Hall said through an ear-to-ear to grin. "That one wasn't my bad; she had a good teammate who carried her.
"I love playing pickleball, and I love beating people. I am very competitive."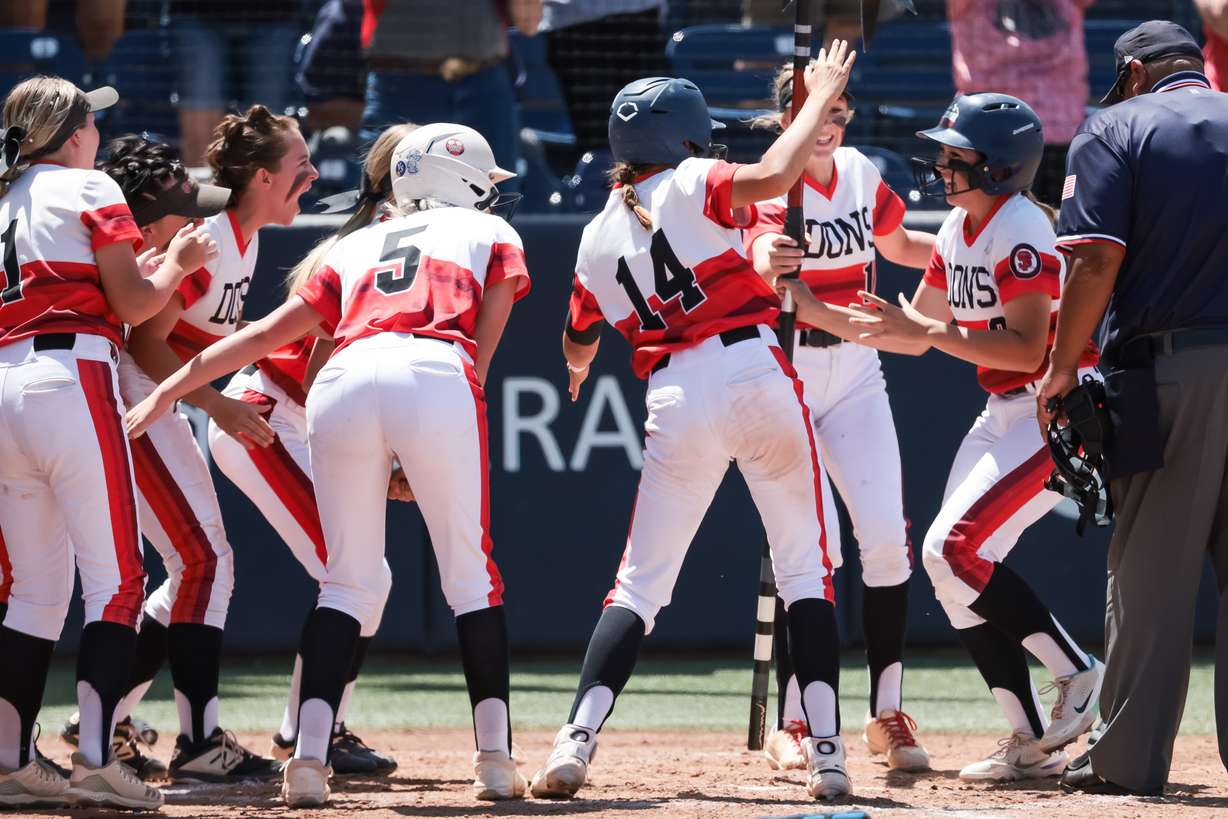 Spanish Fork's Tatum Hall crosses home plate on a three-run home run in the 5A softball state championship against Lehi at Miller Park in Provo on Friday, May 27, 2022. One run was not counted after umpires made an "assisting the runner" call due to contact with the third base coach. (Photo: Spenser Heaps, Deseret News)
Spanish Fork struck first through Peyton Hall's RBI triple in the top of the third, and the Dons took a 1-0 lead into the fifth inning. That's when Tatum Hall pulled a left-handed blast toward the scoreboard in right field, scoring two after a runner was called out for coaching interference on the base paths to go up, 3-0.
"I was overwhelmed; I was so happy. I'm not really a big home-run hitter, just hitting line drives. Being able to hit that for my team to win was great.
"In close games, every run makes a difference," said Tatum Hall, who played designated hitter last year before moving to second base as a sophomore. "Being able to try to score a little here and a little there makes a difference.
It was plenty for Sapp, too, who battled through tough counts and strong winds to clinch the Dons' eighth title in program history.
"Avery's an amazing pitcher — and she's one of my best friends," Hall said. "I knew she was going to go out and be great."
Even if she had to battle through frustration, namely a recurring rule violation, an illegal pitch called against her several times from planting her front foot too soon.
"I don't really get much advantage from it. It's tough," Sapp said. "But at the same time, I know I can come back again. I just believe in myself, and know that I don't need a strikeout; I can get a groundout, or a flyout. I can get around."
The Dons played pickleball together and came together to defend a state title, and when the final out was secured in the sport's return to BYU, Spanish Fork was the last team standing.
Pitcher, converted second baseman, and all.
"They're a team," Jarvis said. "They write 'team' on their hands, and they come to win as a team — and lose as a team, if they do. But today, they showed their winners."
Grace Humes spun three strikeouts for Lehi (24-12), and went 1-for-2 with a walk from the plate. Kenadee Beck was 1-for-2 with a walk and a stolen base for the Pioneers.
×
Photos
Related stories
Sean Walker graduated from Syracuse University and returned to his home state to work for KSL.com covering BYU, prep sports and anything else his editors assign him to do. When he's not covering a game, he's usually listening to Broadway soundtracks or hiking with his dog.
More stories you may be interested in