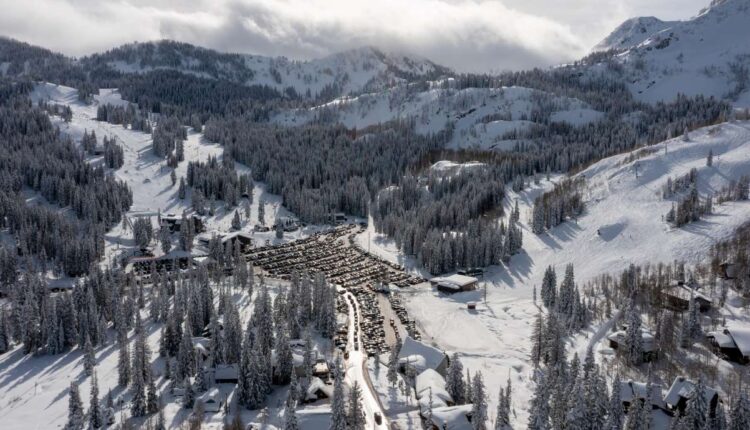 All aboard! Salt Lake's new emergency ski bus service begins service this week
Fresh snow covers the mountains of Brighton Resort in Big Cottonwood Canyon on Jan. 4. A new emergency ski bus service to the Cottonwood canyons begins Thursday. (Spenser Heaps, Deseret News)
Estimated read time: 3-4 minutes
SALT LAKE CITY — Cottonwood Connect is ready to get skiers and snowboarders to the slopes.
Salt Lake County officials on Wednesday began accepting online reservations from anyone seeking to use the emergency ski bus service to resorts in Big and Little Cottonwood Canyons, while also providing more details about how the service will operate.
Snow Country Limousine, the company picked to operate the service, will run four different routes on Thursdays, Fridays, Saturdays, Sundays and holidays, every week, beginning Thursday, wrapping up April 16. The company will use a fleet of mini-coaches and large passenger vans.
The routes are as follows:
Cottonwood: Hyatt Place (3090 E. 6200 South in Cottonwood Heights) to Snowbird and Alta resorts.
Midvale/Midvalley: From Fairfield by Marriott (12117 S. State in Midvale) to Snowbird and Alta resorts.
Sandy A: Courtyard by Marriott (10701 S. Holiday Park Drive) to Snowbird and Alta resorts.
Sandy B: Courtyard by Marriott (10701 S. Holiday Park Drive) to Solitude and Brighton resorts.
The website shows that the service will provide two buses for every route this week. The vehicles will run to the canyons in the morning and back to the valley in the late afternoon. All of the routes have stops along the way, including Utah Transit Authority Park and Ride stops, where skiers with reservations can board, too.
All riders must make an online reservation; the cost is $10 for round trip service. County officials say there is a 736 passenger capacity this week but they expect to reach 1,120 weekly passenger capacity by the end of the season.
The ski bus service was first announced on Jan. 11 after the Salt Lake County Council approved close to $240,000 in funds toward the emergency service. Visit Salt Lake, Utah Transit Authority, Alta Ski Area, Snowbird, Solitude Mountain Resort and Brighton Resort are also contributing to the program, according to county officials.
The project came about to help UTA, which slashed its ski bus service for the canyons in half this winter because of an employee shortage. That decision came well before several storms dumped heavy snow across the state's mountain resorts. The strong snowpack, mixed with fewer transit options, has resulted in canyon closures and long lines up and down the canyons the past few months, prompting the call for an emergency bus service.
Resorts still encourage skiers to ride the regular UTA ski bus when they can; however, UTA's shortage left skiers complaining about long waits trying to get a seat on the next available bus.
"We felt strongly about helping to create a way for our visitors and locals to enjoy more options to reach our mountain playground," said Kaitlin Eskelson, president and CEO at Visit Salt Lake. "Salt Lake is the perfect urban base camp for winter adventures and our goal is to create a seamless experience."
Meanwhile, Utah tourism officials are thrilled by how this ski season is going.
The Utah Office of Tourism said Wednesday that this season has already been "the best in decades," and Alta, Brighton and Snowbird still hold the top-three snowiest ski areas in North America at the moment, according to the Colorado-based snow report app OpenSnow.
Utah's statewide snowpack is currently listed at 93% of normal peak. With more snow likely on the horizon, according to the National Weather Service's Climate Prediction Center, Utah could even surpass its average snowpack peak sometime next week — well ahead of the normal in early April.
"It's safe to say it's the best first half of a season we've had in 40 years," Evan Thayer, OpenSnow forecaster and winter weather expert, said in a statement provided by the tourism office. "We've already seen nearly an entire season's worth of snow in the first half."
×
Related stories
Most recent Utah transportation stories
Carter Williams is an award-winning reporter who covers general news, outdoors, history and sports for KSL.com. He previously worked for the Deseret News. He is a Utah transplant by the way of Rochester, New York.
More stories you may be interested in