Bridge to Somewhere | News | Salt Lake City
click to enlarge
FAIRPARK—For many families in the Jordan Meadows neighborhood, Salt Lake City's Backman Elementary could be as close as 100 yards away from home—as the crow flies—while requiring a half-mile trek or more along busy roads to get there.
That's because Backman sits alongside the Jordan River—at 600 North and approximately 1500 West—with homes to the west cut off from direct, convenient access and pushing children and their families out and around the via high-traffic thoroughfares.
"It wasn't safe enough and it wasn't good enough," City Mayor Erin Mendenhall said on Thursday. "And a river divided the school from the neighborhoods that needed to get here."
But that changed this year with the construction of a new pedestrian bridge spanning the Jordan River to Backman Elementary. The bridge connects to the Jordan River Parkway Trail, offering a safe and inviting pathway for pedestrians.
"We're here to celebrate the opening of a bridge that is so beautiful it feels like it's been there all along," Mendenhall said. "That's what the best public projects look and feel like, like you can't imagine life without them."
click to enlarge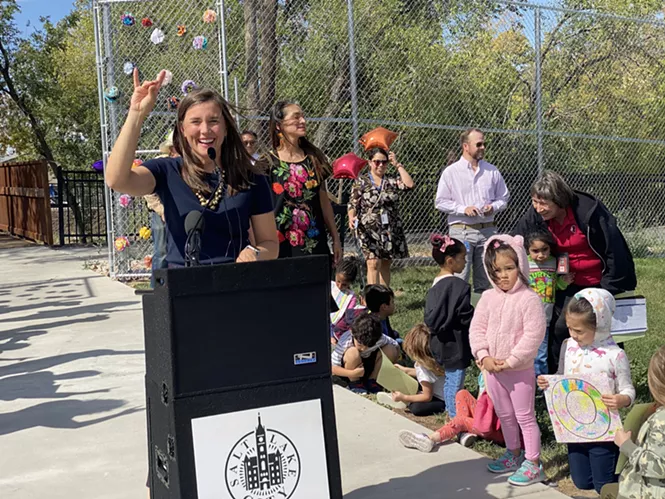 Students, faculty and school community members were out in droves for Thursday's celebration, with a heavy autumn wind snapping at balloons, streamers and a hand-painted banner proclaiming "We Can Do Hard Things." The bridge was the result of an 8-year effort by school administrators—spearheaded by former principal Heather Newell—and community advocates, who long ago recognized the need for safer walking routes to and from the Backman campus.
"Thank you, community, for knowing what you need and then telling us about it and letting your vision guide what happens in the community," Mendenhall said. "There are other bridges—literal and figurative—that the community needs. And we need you to help us know what those needs are and then to help us make them happen."
Bryce Williams—a Backman Elementary alumnus and member of the Salt Lake City School District Board of Education—said the bridge is the start of an effort to better orient educational programming around the Jordan River and its adjacent greenspace.
"The bridge is just Phase 1 ," Williams said. "Up next is the work of building an outdoor classroom and turning this beautiful area into a place where our children can have walkable access to the beauties of nature and open space in their city."
The Backman Elementary bridge is one of several recent pedestrian-oriented improvements on the city's west side. Just south of Backman, new traffic calming measures are under construction along 500 North, and the city is planning a major reconstruction of the 600/700 North corridor to incorporate multi-modal infrastructure into what is currently a card-dominated surface highway.
City Councilperson Victoria Petro-Eschler, whose district includes Backman Elementary, said the bridge is an example of west siders' commitment to "showing up" and pushing for change.
"The reason this bridge looks like it's always been here is because it does what we do on the west side," Petro-Eschler said. "It takes obstacles, it finds solutions and it keeps relentlessly asking people who can make those solutions possible until it happens. This bridge is truly the embodiment of all things west side."
Francis Bacon—notable 16th century philosopher and statesman—was recognized as one of England's finest minds. He gifted our world with a better appreciation for methodical, skeptical use of scientific method in determining the validity of what we observe.
Often quoted for his great intellect, Bacon made a statement about "imagination" that is spot-on in America today. "Imagination was given to man to compensate him for what he is not; a sense of humor to console him for what he is."
Much has been said about imagination. It is probably the most remarkable gift of the human brain, allowing mankind to ascend to ever greater accomplishments and to find solutions to the most challenging of the world's problems. The essence of imagination is that, without it, mankind has no wings.
The flip-side, of course, is that there's a clear difference between imagination and delusion. Bacon's quip about a sense of humor is a brilliant assessment of how we must treat the reality of our failures.
Whether a delusional supporter or a realistic critic of Donald Trump—the Pillsbury "Dough Man" of super-egos—no one can deny that the former president has a boundless imagination. It is also undeniable that he has no sense of humor when confronted with his failures, and that he will do anything in an attempt to convince others of his lies.
He claims he graduated first in his class at the Wharton School of Business and was awarded the glory of class valedictorian. Wow! But professors have noted that Trump was not a good student, and that his laziness made him an academic failure.
He claims to have one of the highest IQs in America, and was the smartest man to ever serve as its president. But our country has had its share of highly intelligent leaders—and Trump wasn't one of them, preferring to use gut instincts over rational decisions.
Trump said he was once named the "Michigan Man of the Year." He recited that BS in front of a Michigan crowd, and it was an outright fabrication.
Trump lauded his first State of the Union address as the best in history. Simply untrue.
He said his personal residence—the penthouse in the Trump Tower—is a whopping 33,000 square feet. But although Trump made that claim to inflate the penthouse's value to lenders, the residence is actually less than one-third that size.
Trump is a multi-billionaire, a self-made—or at least self-described—success who borrowed a million dollars from his father and turned it into a real estate empire. Except Trump actually received roughly $439 million from his father and lost much of it on poor business decisions.
He boasted that his 2016 electoral college win was the biggest since Reagan. Not even close to the truth.
He claims that thousands of people were transported across state lines to vote for his opponent. Proven to be a lie.
Trump proudly funded his own presidential campaign rather than accepting donations from others. And while Trump did use some of his own money, he has been one of the biggest fund-raisers in American political campaign history.
Mar-a-Lago is worth $739 million, Trump says. Yeah right! Appraisals show its value at a mere $75 million.
And then there's the biggest: "The Lie" that Trump won the 2020 election and is the legitimate president of the United States. Except for a delusional fan club, no one actually believes Trump won.
Like James Thurber's The Secret Life of Walter Mitty, Trump's imagination has taken him to the greatest heights. Wanting desperately to be considered a success, he has predictably used his own lies to assume the pain of his failures. There's no question that he dreams—all in the pursuit of the greatness that has so eluded him—and his pathetic ego has prevented him from any self-conscious smile, chuckle or self-deprecation over his remarkably un-stunning successes.
In retrospect, everything he told Forbes to get on their coveted list of the wealthiest people was likely untrue. What he even a billionaire? Probably not.
Great imaginations—and great dreams—require great commitment to achieve. Therein is Trump's failure as both a president and a man. Lazy as they come, and expending all his energy on golf, defrauding others and chasing skirts, he's never tried to become anything great.
The vision of a "legend in his own mind" has kept him from any real achievements. Desperately in need of affirmation, he has embraced the ignorant, the uneducated, the conspiracists and anyone who will tell him what he needs most to hear.
On some level, he must understand that those sycophants are, like him, merely liars who will say anything that soothes their egos or creates a sense of belonging to the group. His own need to be liked has made him a sucker for people like Kim Jong Un and Vladimir Putin. He's even embraced QAnon, though he says, "I don't know much about the movement, other than I understand they like me very much."
To be Trump's "friend," one must merely ignore everything factual and embrace the man's idiotic grandiosity. These people certainly don't care what's true. They choose to believe—beyond believing—when the facts clearly point to the failed reality of their man, both as a human being and as a credible business success.
So, as Francis Bacon observed, "imagination was given to (Trump) to compensate him for what he is not." But the necessary sense of humor—something that might otherwise console the miserable man—is glaringly lacking.
In terms of real value, Trump has little to give to the world. He is the antithesis of the American Dream.
The author is a retired, novelist, columnist, and former Vietnam-era Army assistant public information officer. He resides in Riverton with his wife, Carol, and the beloved ashes of their mongrel dog