BYU women's football No. 4 enters the NCAA title game for the first time in history
BYU women's football is celebrating its 3-2 shootout to eliminate reigning national champions Santa Clara and step into the NCAA College Cup title game for the first time in program history, Friday, December 3, 2021 in Santa Clara, Calif. (Jaren Wilkey, BYU photo)
Estimated reading time: 4-5 minutes
PROVO – Postpone the championship game to Monday; the cougars move into the final.
Cassidy Smith made seven saves that season and fourth-placed BYU women's football made it to the NCAA championship game for the first time in program history, eliminating defending champions Santa Clara on Friday night at Stevens Stadium in Santa Clara with a penalty. California.
Olivia Wade converted on the spot to win the penalty shootout 3-2 for the Cougars, who played in their first ever national College Cup semifinal.
"You always think Cass will make at least one parade. And the other girls get through," said BYU trainer Jennifer Rockwood, who has coached the Cougars since 1989 and launched the 1995 NCAA sanctioning program that she had. She's been through so much; it's been quite a journey for her for seven seasons – and she still gets one game in her career. "
In her seventh eligible season – including two medical red shirts struggling through shoulder injuries and torn knee ligaments – Smith saved her best performance for the youngest. Now the Lone Peak product has brought BYU to the doorstep of the first national championship game in program history.
"I couldn't ask for a cooler environment to just leave everything in the field," said Smith.
And she played on it too.
"Incredible," BYU center-back Grace Johnson told BYU Radio of Smith. "She made this target feel small and I think these girls felt it."
But when Ellie Glenn missed her possible penalty shoot-out penalty to the right, Smith looked back and began preparing for the next attempt. So trapped in the zone on the biggest stage in college football, the sports scientist had no idea the game was over – until she saw her teammates sprint 60 yards to bully her in the penalty area.
BYU TO THE NATIONAL CHAMPIONSHIP GAME 👏 @ byusoccer_w x # WCCsportspic.twitter.com / KyYU52rW3l
– West Coast Conference (@WCCsports) December 4, 2021
"I think I've never run faster in my life," said Johnson. "I ran away when I saw it was heading for the post. I think I might have left a little earlier. Cass turned around and I laughed at her with 'CASS!' the end. It was great. It was a great moment. "
Mikayla Colohan and Jamie Shepherd each missed their first penalty attempts, and the Broncos played Sally Menti's opening shot of the penalty shootout from the front.
But Brecken Mozingo tied the shootout moments later, and Smith brushed aside Kelsey Turnbow's attempt to start. Bella Folino also shot a penalty for the Cougars, who will face senior Florida State at Stevens Stadium on Monday night at 6 p.m. MT. The final was originally scheduled for Sunday, but has been postponed to Monday because the NCAA is considering one of the guidelines of their religious schools not to play on Sunday.
The early adversity only made sense to the Cougars, who hit the post early and saw some other opportunities that came over the bar.
"Our motto throughout the season was to play the full 90 and today it was 110," said Colohan, BYU's only three-time All-American international. "We reminded ourselves to just stay in and not get too high or too low. It's frustrating when you hit the posts, are a little unlucky and when a team is doing as well as Santa Clara.
"We made it difficult for ourselves, but the only thing that counts is victory."
BYU had 20 shots but only six on goal as a rule as Santa Clara stood firm while the hosts had a 7-6 lead on shots on goal before extra time. Northridge graduate Kendell Petersen tore a ball from the edge of the box, which Foutch knocked off the crossbar in the sixth minute of extra time.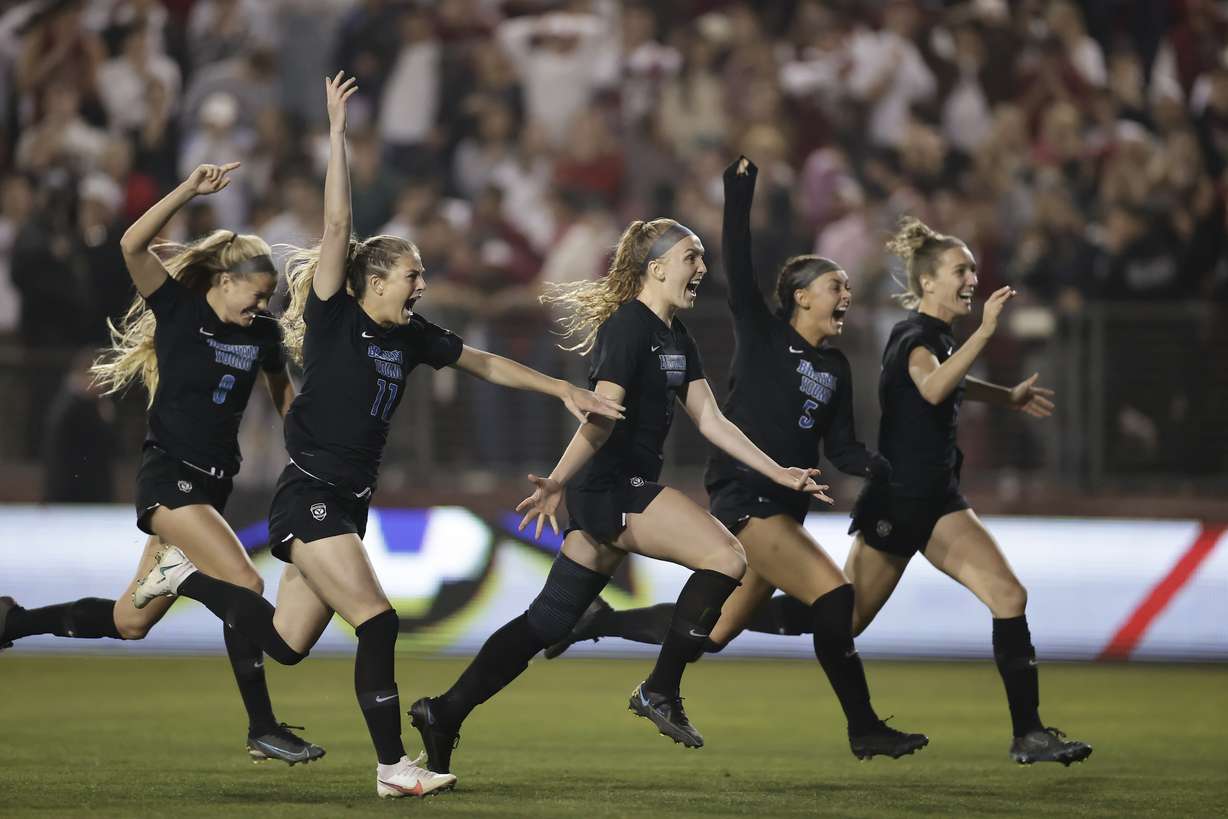 BYU women's soccer players storm goalkeeper Cassidy Smith after the winning penalty against Santa Clara during the NCAA College Cup semifinals in Santa Clara, Calif. On Friday, December 3, 2021. (Photo: Jaren Wilkey, BYU photo)
"What a game. Just really proud of the girls and everyone on the team," said Rockwood. "We had a great game, it was fun and I thought we played really well.
"I thought we were going to get one, but it went to PKs and the girls did a great job."
Izzy D'Aquila almost scored a similar golden goal in extra time, but Smith saved the ball into the lower left corner in the 102nd minute. But the game continued on penalties, where the Broncos survived Florida State a year ago to win the rare national championship held this spring due to the COVID-19 pandemic.
Santa Clara eliminated the Cougars from the NCAA tournament four times during Rockwood's tenure, a statistic she was quick to mention. BYU has seen few major rivals since joining the West Coast Conference in 2011. On Friday evening they almost made it all over again.
Almost.
"It was one hell of a game out there tonight. Congratulations to BYU; they played very well; they played very well," said Santa Clara's coach Jerry Smith, whose team were the last to beat 1-0 on October 30th. "We congratulate you and wish you all the best in the championship game as a WCC partner.
"Who knows, maybe there will be consecutive championships for our conference?"
The https://t.co/mPxwMOjre8 reporter Natalie Bode spoke to Mikayla Colohan from @byusoccer_w about the post-season run of the Cougar. # WCollegeCuppic.twitter.com / EHCQSanKBe
– NCAA Soccer (@NCAASoccer) December 4, 2021×
photos
similar posts
More stories that might interest you