BYU wraps up NCAA men's track and field competition with 3 more All-Americans
BYU steeplechaser Kenneth Rooks finished with his second personal record in three days with a seventh-place finish in the 3,000-meter steeplechase, Friday, June 10, 2022 at the NCAA track and field championships in Eugene, Oregon. (BYU Photo)
Estimated read time: 3-4 minutes
PROVO — BYU men's track and field wrapped up the NCAA national championships with three more All-America honors in Friday's finale at Hayward Field in Eugene, Oregon.
The fourth-ranked Cougars concluded the men's competition tied for 39th with 8 points. Florida, whose 1,600-meter relay squad edged out USC with a meet-record 2:58.88 in the final event of the competition, rolled to the team title with 54 points. The Gators were followed by Texas (38), Tennessee (34), Florida State (33) and Georgia (32).
In the men's 3,000-meter steeplechase final, BYU's Kenneth Rooks finished in a personal-best time of 8 minutes, 22.56 seconds in a final where Eastern Kentucky's Ahmed Jaziri edged out top-seeded Duncan Hamilton of Montana State.
Rooks pushed the pace in the penultimate lap, surging to the front of the pack behind Hamilton, the collegiate leader ahead of Friday's finals. But the sophomore couldn't keep pace down the final stretch and was overtaken by Jaziri and Georgetown's Parker Stokes en route to a sixth-place finish.
The first-team All-American shaved seven seconds off his personal record — his second PR in three days — in earning a qualifying time for the USA Track and Field championships, which will be held June 23-26 at Hayward Field. Barely a year removed from serving a two-year mission for The Church of Jesus Christ of Latter-day Saints, Rooks, a sophomore, joins senior hurdler Colten Yardley with first-team All-America honors in addition to the Cougars' first-day accomplishments .
Yardley added a seventh-place finish in the 400-meter hurdles for BYU, clocking a time of 50.10 seconds.
"Colten has worked his tail off these last five years for that moment," BYU sprints coach Kyle Grossarth said. "I'm so proud of him for who he is and what he represents. He has left a lasting legacy on our sprints and hurdles program."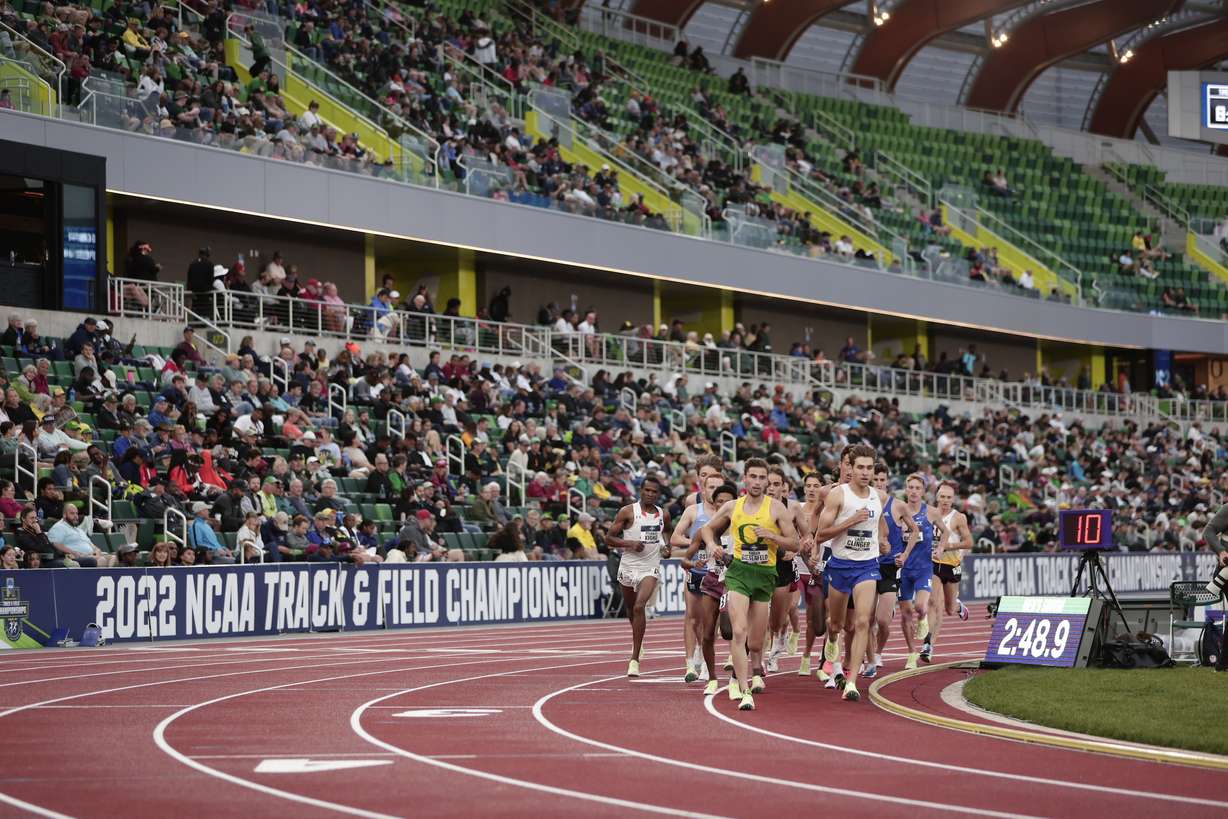 BYU distance runner Casey Clinger leads the pack before finishing 10th in the 5,000-meter run, Friday, June 10, 2022 at the NCAA track and field championships in Eugene, Oregon. (Photo: BYU Photo)
Casey Clinger added a top-10 finish in the 5,000-meter run, totaling a time of 13:33.20 for 10th place and a second-team All-America finish.
The American Fork product set the pace early running into the headwind, fell back into the pack with around 1,600 meters to go, and eventually settled into the pack in the race won by Wisconsin's Olin Hacker in 13:27.73.
Friday also marked the beginning of the women's heptathlon, including BYU's Halley Folsom Walker. The senior opened up the competition by running the 100-meter hurdles in 13.97 seconds, then added 1.69 meters (5 feet, 6 1/2 inches) in the high jump.
Folsom added another solid mark in the shot put, when the 5-foot-9 Oregon native finished 13th with a throw of 11.80 meters (38-6 3/4) before wrapping up the 200-meter run with her best performance of the day in 24.99 seconds. The senior won her heat with the time, and finished 10th overall, and will take 3,361 points (15th place) into the final three events of the heptathlon Saturday.
The Cougars wrap up the NCAA championships with the women's competition Saturday afternoon. ESPN will join coverage of the event at 3 pm MDT, including Courtney Wayment in the 3,000-meter steeplechase final at 3:54 pm and Utah's Cara Woolnough in the 5,000-meter final at 5:25 pm
×
Related stories
Sean Walker graduated from Syracuse University and returned to his home state to work for KSL.com covering BYU, prep sports and anything else his editors assign him to do. When he's not covering a game, he's usually listening to Broadway soundtracks or hiking with his dog.
More stories you may be interested in