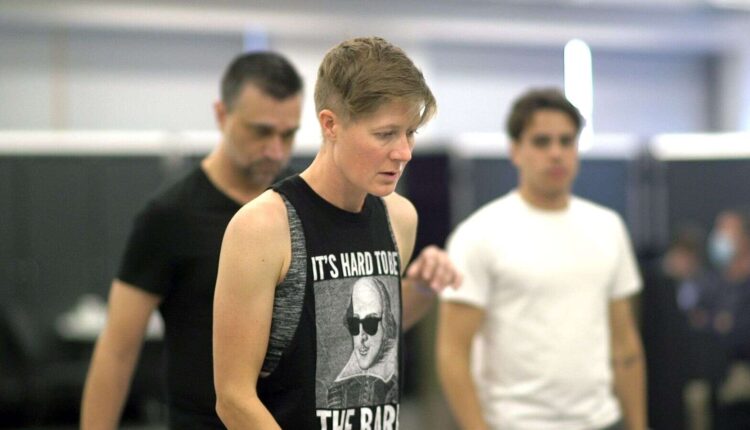 Curtain Call: Choreographing 'White Christmas' in Thomas Theater thrust space both a challenge and a joy – Medford News, Weather, Sports, Breaking News
Choreographer Katie Fuchs-Wackowski works with dancers for Oregon Cabaret Theater's production of "White Christmas," which recently finished a holiday run at OSF's Thomas Theater. OCT photo
Katie Fuchs-Wackowski dances in "Chicago" at Oregon Cabaret Theater in 2016. She recently choreographed "White Christmas" for the company. OCT photo
How are being a river guide, a dancer, a carpenter, and a choreographer alike?
All four have been sources of income for Katie Fuchs-Wackowski, a Steamboat Springs, Colorado, woman who has been working the performing arts in the Rogue Valley the past six years. She just finished choreographing Oregon Cabaret Theatre's production of "White Christmas" at Oregon Shakespeare Festival's Thomas Theatre.
Her first show at OCT was in 2016, assisting and performing in "9 to 5, The Musical" and choreographing and performing in "Chicago."
It was her attendance at the Pacific Conservatory of the Performing Arts (PCPA) in Santa Maria, California, that led to working in the Rogue Valley.
"PCPA has a long history with OCT," she said, "and I had my eye on working with them for a while. It has been a delight to return to the area. I'm a mountain girl at heart."
She was born and raised in Vernal, Utah, a small town in northeastern Utah located in a valley surrounded by mountains. Hers was an outdoorsy family that liked to run rivers, ski, and hike. But everyone in the family was musical, too.
Her dad played the guitar; her mom the piano, sax, and cello; and her brother the violin, guitar, mandolin and banjo.
"I mostly enjoyed singing," she said, "but picked up the flute for a while when we did a family band for a few years. I learned the guitar after college."
When did the dancing come in?
"Oh, lordy, I think I started around age 5 with creative movement, and then learned every style I could as I grew up. Dancing just felt like a natural way to express how music — and life — made me feel."
She credits much of her love and dedication to dance to her teacher, Tanya Wheeler.
"A teacher's approach to any subject can make or break a student's relationship to it," she said. "And she made mine full of joy."
Two musical productions made a big impression early on: the 1997 film of "Cinderella" starring Brandy and Whitney Houston ("the joy expressed!") and the film version of "White Christmas" ("the fun and ease and amazing dancing") .
She also was impressed by "Lord of the Dance" with Michael Flatley, "the way all of their formations moved seamlessly from one to another, and the diversity of style."
She danced, acted and sang her way through junior high and high school, performing in most school shows.
"I'd have to say, it's where I really found a place to 'belong.' Close friendships made then have lasted to this day."
She completed a double major in dance performance and theater performance at Southern Utah University before attending PCPA for two years.
It takes more than skills, a passion for the art, and luck to succeed as a dancer. Fuchs-Wackowski offers this additional prescription:
"Be kind. love what you do Be willing to get it 'wrong,' look silly, and fall on your face. Care for others, care for yourself. Understand the line between discomfort and pain, and avoid letting yourself cross it."
She says she loved choreographing "White Christmas." She enjoys working in thrust spaces like the set-up in the Thomas because of how intimate they feel. But those spaces also present major challenges.
"Especially in a show with so many performance numbers," she said. "Sharing facings to all sides of the audience, keeping formations dynamic, managing entrances and exits with backstage crossovers, and keeping lead performers from being buried amid the ensemble dancers are a few examples."
Because of the short rehearsal time available, she filmed some dance combinations ahead of time and sent them to ensemble members.
"I am so grateful they were all so wonderful about putting in time to learn them ahead of rehearsal," she said. "What a great crew!"
To choreograph a show, she draws inspiration from the story, the characters, then dance style and the music.
"I always make it my goal to watch quite a bit of material from the era or style, while avoiding direct source material until the last quarter of my process," she said.
Lastly, it's the music.
"I spend a lot of time listening to a piece over and over to riddle out what the music is asking us to do physically."
Choreography is also a collaborative process, taking into consideration an individual performer's strengths and impulses.
"Ensemble numbers are more difficult," she said, "because you can't let all eight people choose how to perform a step. However, when staging a number, I take care to observe when there is a majority of impulse and follow it.
"For example, I may have choreographed hats to go to the head at one point, but if I see the majority of dancers are impulsively taking the hat to the chest, and it doesn't affect the number, then I change the choreography to match what the dancers feel to be natural."
All her professional dancing has been through theater as opposed to dance productions alone. Some of her favorite roles include performing as a newsie in "Newsies" and as Dream Laurie in the ballet scene in "Oklahoma."
"A third favorite was as an ensemble in 'The Little Mermaid' where I got to be no less than six wildly diverse characters, including an aerial artist swan!"
Her experience as a dancer informs how she approaches her work as a choreographer, and what qualities she looks for in a dancer.
"Foremost, I want someone with great energy who is a kind person and a team player," she said.
She appreciates dancers with great upper-body presence and who are spatially aware.
She tells aspiring dancers to "just go for it."
"Lean into your strengths and don't apologize for a skill you haven't yet learned or mastered. We are all where we are," she said.
Fuchs-Wackowski says she has never stopped learning. And she doesn't feel she has to play the hero. She knows she can work with assistants and dance captains and let them help.
Her bucket list is an evolving one. "White Christmas" used to be on it. Check. "Something Rotten" was on the list, but she got to choreograph and co-direct that at PCPA. Check.
"A good deal of my bucket list roles these days are for straight plays, including Shakespeare," she said. "But I would re-dance 'Newsies' anytime."
What's next for Katie Fuchs-Wackowski?
"A little over a year ago, my wife and I moved away from the theater as our main profession and out to Colorado in order to help my wife heal from a chronic illness and hopefully start a family."
It was in Steamboat Springs where she began doing some carpentry, helping build mountain homes. The two of them also have created Titania's TeaHouse, which sells blends in local markets, with the goal of eventually opening a brick-and-mortar teahouse.
But when the pandemic eased, the opportunity to choreograph "White Christmas" came along and she took the contract. Will there be more down the line? Possibly yes, she said. stay tuned
Reach writer Jim Flint at [email protected]