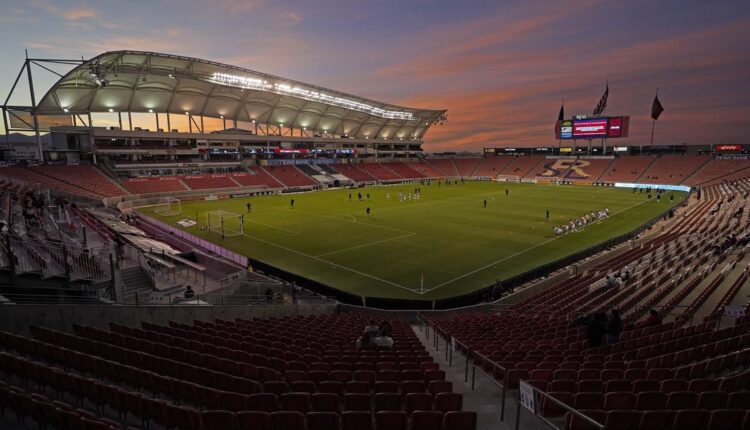 'Deal on the table' for naming rights to Real Salt Lake stadium
RSL in talks with Salt Lake City to replace the name Rio Tinto.
| March 1, 2021, 2 p.m.
A Salt Lake City company name could adorn Real Salt Lake's Sandy football stadium when the 2021 Major League Soccer season kicks off.
Visible Supply Chain Management is in talks with RSL's sales and marketing department to become the new name sponsor for the Rio Tinto Stadium, said John Dudash, the company's chief marketing officer, to The Salt Lake Tribune. The company is currently considering an offer from RSL.
"I can tell you it is not final or agreed, but we have examined the opportunity and continue to do so," said Dudash on Friday.
John Genna, RSL's vice president of corporate sponsorship, confirmed to The Tribune that the club is in talks with Visible SCM. He said the club made a presentation in front of the company on Jan. 28 that included "Visible SCM Stadium" on the digital video board, "so we can excite you to see your name in the light." He added that the presentation went well.
Since then, the club has had two debriefings with Visible SCM, Genna said, but RSL is still waiting for feedback from the company. Genna added that the club had "high level discussions" with other companies about naming rates but had not yet introduced them.
Dudash said, as far as he can tell, it was "business as usual" with the RSL Front Office, including negotiating the stadium naming rights. He said that with the name Rio Tinto on the way out, the club wanted a new sponsor for the stadium early in the 2021 season, April 3.
Genna said the club's schedule for finding a new stadium sponsor is "when the right partner comes up".
Dudash said he hadn't spoken to team owner Dell Loy Hansen in his negotiations over the stadium's naming rights and he was unaware of the league's involvement on that front. However, the department he works with appears to have the authority to sell the rights.
"They have at least suggested to me, if they don't tell me very clearly, that they are able to close a deal regardless of outside influences," said Dudash. "I would be shocked if the league didn't have to leave the club for a while. But they certainly present themselves as if they were the final decision-makers. And whether or not Dell Loy is involved as the owner, I don't know. "
Dudash said RSL interim president John Kimball was part of presentations to Visible SCM, but added that Kimball "is not directly involved in these negotiations".
Genna said Kimball will likely be involved in the decision making process for the stadium's naming rights, and he believes the same will be the case at MLS. However, this dynamic is not clearly defined, he said.
"If we don't know how long this process could possibly take, who knows?" Said Genna. "At the end of the day, I don't know who will be the last person to say, 'Yeah, we're going to do this deal, this offer.'"
Dudash said that in dealing with the club on naming rights, he was told that RSL "has multiple applicants" and Hansen is negotiating with them, with MLS "also facilitating some of those talks to find a new owner so quickly as compatible with the city as possible. "
"That's how I was told," said Dudash. "How much of what goes on behind the scenes is true, I have no idea."
Dudash said there are unanswered questions about the talks due to the current change in ownership and that it would be easier for Visible to make a decision on naming rights if they knew who the team would belong to. But it seems that negotiations are moving forward.
"We have a deal on the table that they have put us at a price, for a term, and with all the benefits that come with it, and we are considering this," said Dudash, who refused to provide details on the terms. "Right now it's just a back and forth."
Genna said the naming rights agreement with Rio Tinto was originally due to expire in late 2018, but the company extended it to December 31, 2020 in 2013.