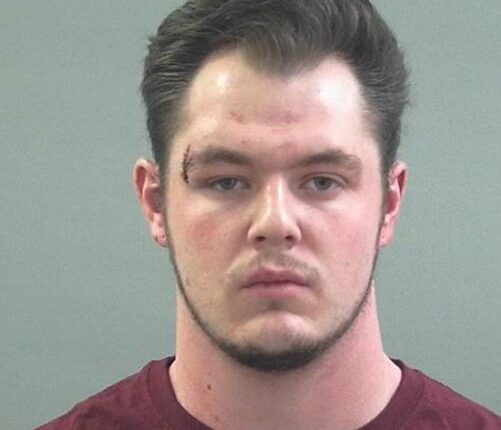 Ogden man charged with violent crimes accused of manipulating 12 new witnesses | dishes
OGDEN – An Ogden man charged with attempted murder has faced 12 new cases of witness manipulation and violations of protection warrants for allegedly trying to get victims to lie or fail to testify against him.
According to the indictment, Colton Shepard allegedly asked a victim to testify that another victim was shot in self-defense. When the victim refused, Shepard allegedly said to her, "When I get out, just be f —— ready."
The Weber County Sheriff's Office arrested the 21-year-old Shepard on February 10 for a series of alleged attacks. According to police, Shepard allegedly strangled his sister-in-law, ambushed his mother, shot his brother and tried to kill another man who intervened.
Charges filed several days later included two first-degree crimes attempted murder, and charges of aggravated robbery, assault, theft, use of a firearm by a disabled person, criminal mischief and release from custody.
On March 24, the Weber District Public Prosecutor filed 12 new charges of witness manipulation, violation of a pre-trial protection order and violation of a release warrant. Five of these cases are criminal offenses and the rest are offenses.
"We have a lot to digest," said Randall Marshall, Shepard's attorney, at a 2nd district court hearing in which Shepard first appeared on the new indictment.
Judge Rita Cornish has scheduled another hearing for April 14th. Shepard is being held in Weber County Jail without bail.
The initial alleged rampage began when Shepard allegedly suffocated a woman in Ogden, then ripped his mother's purse to get her car keys and took her car.
Later in Plain City, Shepard allegedly pointed a gun at the sister-in-law, then shot his brother and shot a man who intervened.
The indictments filed on March 24 set out how Shepard repeatedly violated non-contact ordering in phone calls and emails from prison from February 16 to March 16.
"You have to be on my side and tell them it was self-defense," Shepard reportedly told the sister-in-law on February 16. On March 12, 14, and 16, he made at least 17 tampering calls to the woman and other people, the documents said.
Shepard reportedly sent "a variety of emails" from February 22 to March 13 for the same purposes.