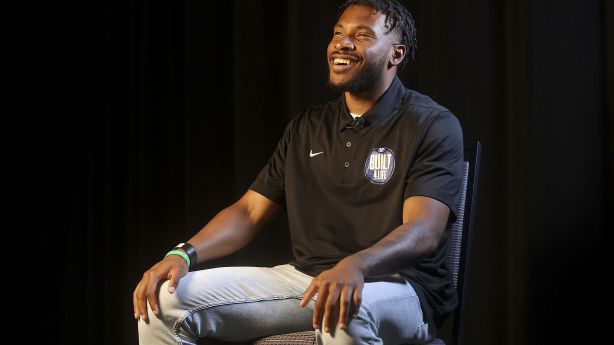 Once a weakness in the BYU defense, cornerback has become a position of depth
BYU cornerback Keenan Ellis speaks to media during BYU Football Media Day at the BYU Broadcasting Building in Provo on Thursday June 17, 2021. (Kristin Murphy, Deseret News)
PROVO – Keenan Ellis originally came to BYU with no position – or at least no prime position – but the versatile defensive player has found a home in the Cougars' defensive secondary school.
Now the junior cornerback has become one of the most seasoned players in a young BYU defense, sticking to last year's 11-1 season, a top 15 placement in every major national poll, and picking Zach Wilson as the No. 2 will tie in with the overall selection of New York Jets.
And while the loss of Wilson, left tackle Brady Christensen, and wide receiver Dax Milne may be the biggest keys to be replaced in 2021, BYU has a strong line of veteran leadership in a place unknown to most outside observers.
The recruiting struggles of the Cougars in the defensive backcourt are well documented. Whatever the reason, BYU has struggled to attract a large group of defensive players who have the right speed, athleticism and skill to patrol the backcourt and force takeaways.
But in 2021, they have just that. While BYU's defensive line and core linebacker offer unique benefits and opportunities, only four full-time starters are returning to a defense that scored 15.3 points, 318 yards, and 4 , 8 yards allowed per game.
Most of them are in secondary education.
"We're the veterans," said Ellis, who had 13 tackles and three passes a year ago. "I think as far as the cornerbacks go we have some of the best experiences of the season. I think the other newbies and sophomores probably see us as veterans too. I think we need to keep pushing the newbies, sophomores and younger guys to to gain the experience they need. "
It's not just Ellis either.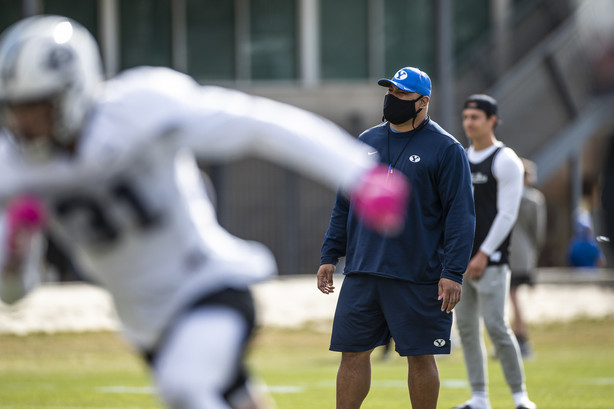 BYU soccer coach Kalani Sitake watches during training on March 18, 2021 in Provo. (Photo: Nate Edwards, BYU Photo)
D'Angelo Mandell returns 30 tackles from nine starts a year ago. Micah Harper saw 25 tackles in five starts as a freshman. Former Weber State signee Shamon Willis – yes, his father Jamal had a decent career as a BYU running back – had six tackles and one tackle for the loss in 10 games last year.
Caleb Christensen. Isaiah Herron. Georg Udo.
For the first time in a long time, BYU's cornerback room is deep. That's a year after Chris Wilcox was selected by the Tampa Bay Buccaneers in the seventh round of the draft, little to be expected.
And that's not even Jakob Robinson, the ex-Orem high-standout who had eight tackles and one sack in four games as a true freshman to the state of Utah before joining Provo.
"I have about five guys who have over 100 snaps," said Jernaro Gilford, BYU Cornerbacks coach. "I have experience. … These are five guys who have had very good experiences. You will be competing with space, which is always good for me. Now it's just a blow to the fact that we stay healthy. "
Gilford briefly stops calling his cornerback unit the team's strength. But the defensive backcourt should be strong in 2021, with Chaz Ah You safe again after missing much of 2020 with injuries and Malik Moore freely patrolling all 13 games a year after playing.
"I'm a low-key guy; I like to stay under the radar," Gilford said. "So we'll just hold back and do what we can. When that happens, we'll just be happy."
Regardless, there aren't too many questions to be asked about defensive backcourt as BYU opens another training camp in Provo on Thursday morning.
Instead, the focus will shift to these five concerns that need to be addressed ahead of the September 4th opening game against Arizona in Las Vegas.
×
similar posts
More stories that might interest you